Discover more from The Mill
Award-winning local journalism from Greater Manchester's new quality newspaper - join our free mailing list or support us as a paying member
Over 39,000 subscribers
'A despicable, shameful act'
Manchester rallies around Marcus Rashford
Good day Millers — well, what a weekend we've had.
If you were distracted by the football and didn't get a chance to look at our weekend read, you can catch up with that piece here. It took us to Wigan's ancient woodland where Dani met the people working to preserve it for future generations.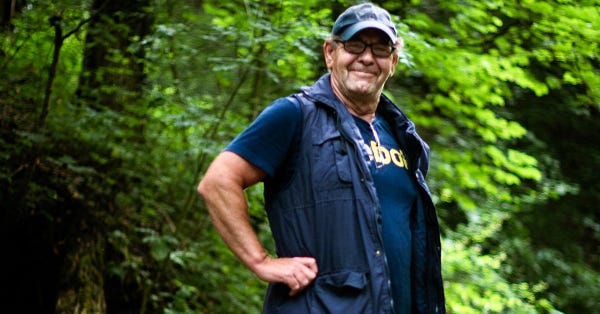 manchestermill.co.uk
The ancient, magical land of Borsdane Wood
'We all scramble down the bank to the pebbled riverbed to see the old channel that veers off the brook's course. It's no more than a depression in the ground, a ghost-river.'
---
This week's weather
---
Covid-19 update
We've seen in recent weeks that hospitalisations have not increased anywhere near as much as they did in past waves of the virus in Greater Manchester, despite the number of new positive cases reaching similar levels to November and February. What's even more stark is how low Covid-19 deaths are in our hospitals (defined as patients who have died in hospital having had a positive test).
In early February we were averaging almost 30 deaths each day in the worst week, and back in November more than 35 per day. Back at the very start of the pandemic in April last year GM's hospitals were seeing almost 50 Covid deaths per day in the week with the highest mortality.
So far during this wave, deaths have stayed very low. In the week ending last Wednesday, GM's hospitals averaged around three Covid deaths per day, a tenth of the level we saw in February. Daily mortality is slightly up on where it was a fortnight ago, when the weekly average death toll was one per day. But so far we've seen no sign that it is shooting up like it did in previous waves.
Cases: The case rate for Greater Manchester looks like it is starting to flatten out — it's now 477.1, up 3.9% compared to England's 322.6, up 34.4%. Oldham has the highest infection rate, around the 600-mark and Bolton has the lowest at around 300.
Hospitalisations: As of last week, there were 63 patients with Covid-19 in critical care in Greater Manchester, an identical number to the week before and still well below the peak of 170 we saw in February.
Vaccinations: Over 1.3 million people have had both doses of the vaccine in GM now, including 92% of over-70s, 83% of 50-69s and 31% of 18-49s. The overall percentage is 54%, and these numbers were updated a week ago.
Go deeper: Why is Greater Manchester falling behind the country on vaccinations? Last week we took a look at the data and reasons behind plummeting jab rates. Read that here.
---
The big story: Manchester rallies behind Rashford
Top line: At Wembley last night, Marcus Rashford was given the un-enviable task of taking a penalty for England despite having barely touched the ball in the game and barely played in the tournament. He was one of three England players to miss a spot-kick in the team's defeat to Italy, but this morning Manchester woke up to the news that his mural in Withington had been defaced by vandals.
Reaction: The mural was commissioned as part of the Withington Walls initiative, and was created in recognition of Rashford's efforts to tackle child food poverty. "The saddest thing is this was predictable," the organiser behind the mural told Granada Reports.
Andy Burnham told journalists just now: "It is a despicable, shameful act. And 99.9% of people will be utterly appalled by it and want the strongest action taken."

Labour's deputy leader Angela Rayner tweeted: "Whoever vandalised this mural of our hero in our city: you are scum and I hope you feel the full force of the law when you are caught."
This morning a local woman covered the defaced parts of the mural with red love hearts. "This is a great reminder that love will always win over hate in this city," said the MEN's senior reporter Sophie Halle-Richards, who covers Rashford's old stomping ground Wythenshawe. A solidarity meet up at the mural has been planned for tomorrow at 6.30pm and there are plans to repaint the defaced sections.
Racist abuse: Rashford and his England teammates Jadon Sancho and Bukayo Saka were targeted with racist abuse on social media following the match. The Football Association condemned the abuse and the players have received a tidal wave of support and positivity from England fans across the country, with thousands posting grateful messages under their pictures on Instagram to drown out the trolling.
Manchester troll: The property company Savills is investigating one of its Manchester-based employees after racist tweets were posted from an account under the staff member's name. One tweet used the n-word to blame black players for England's defeat. The man describes himself as a "commercial building manager" at the firm but his Twitter account and LinkedIn profile have since been deleted.
Multiple companies who work with Savills have threatened to withdraw their custom if the man isn't sacked.

In a statement, Savills said it was "appalled" and has "zero tolerance to any form of racism and racial discrimination."
---
Other local news in brief
---
Grist to The Mill: If you want to tell us about a story or pass us some information, please email joshi@manchestermill.co.uk, mollie@manchestermill.co.uk or dani@manchestermill.co.uk. We are always happy to speak to people off the record in the first instance, and we will treat your information with confidence and sensitivity.
---
Home of the week
A 4-bed detached Georgian farmhouse is up for sale in the conservation area of Chorlton Green, with original features like an exposed brick fireplace and solid oak beams. It's on the market for £1.1m.
---
Our favourite reads
Wigan Today: This was a great piece about Hasan Dhaimish, nicknamed Alsatoor ('The Cleaver'), an anonymous political cartoonist from Libya who later settled in Burnley. He died in 2016, but his passion for Libya's freedom never waned. "Even when Gaddafi was killed, he was like, 'Okay, on to the next one; right, this is the problem with you and you're in charge now, so I'll criticise you.'"
The New York Times: Art critic Roslyn Sulcas visited MIF21 and wondered if the focus on protest, community, and desire in the exhibits could be a sign of how the pandemic has changed us. She writes: "Themes emerged and mutated. One group counted down repetitively from 100; another ran in place in different ways; a third shouted out angry slogans ('My body, my choice!' 'Boris, out, out, out!' 'Free, free Palestine!')."
The Economist: Get absorbed in this piece about Sheldon Edwards, a first-generation immigrant from Jamaica and self-taught barber whose clients include Paul Pogba, Raheem Sterling and Jadon Sancho. "A typical day for Edwards begins at 4am in London. He makes it to Birmingham for 8am, Sheffield at 10.30am and then Manchester, Liverpool and Leeds, before returning home to London in the early hours. 'I can't recall the last time I slept for over five hours,' he says."
i-D Magazine: It's worth revisiting this deeply enjoyable profile of Phil Foden in arts and culture magazine i-D. Writer Jacob Davey meets Foden in a village hall in Edgeley near where the Manchester City star grew up: "Where I've come from has helped me achieve what I want in the game. Playing football with my mates everyday on the streets, or when I'm at home constantly doing keepy ups, I think I've always been obsessed with football."
---
Things to do
Open mic | This evening The Gherkin in Levenshulme is holding an open mic storytelling night, 'The Long Story Short'. Storytellers get five minutes of fame and one prompt, which sounds rather fun and a bit chaotic. If you're interested in taking part or want to go along, tickets and information here.
Rumi poetry | You'll get the chance to hear Rumi's poetry set to Persian Sufi music and see it accompanied by whirling dervishes. Seyed Ali Jaberi is an internationally acclaimed musician, and his band the Hamdel Ensemble will be performing in Manchester Central Library on Saturday. More tickets and information here.
Live music | Tonight you can catch two new bands, Blanketman and The Lounge Society playing in Cathedral Gardens for MIF21. The music's been curated by Dave Haslam, and there will also be a DJ set by Charlotte Davies. More information here.
Eat out | The Observer's Jay Rayner visited Manchester's Pho Cue and declared that the pho — traditional Vietnamese soup — "was everything it should be" and the broth "helps you conclude everything is right with the world." We take that as a hearty invitation to get ourselves down there to try it. More information here.
Vegan Market | Riverbank Outdoor Market in Rochdale will have an array of 40 stalls this weekend. It's promised to be filled with yummy vegan eats, handcrafted goods and ethical clothing. It's the first time the vegan market has run in this space, so do head over. More information here.
Nature walk | It's going to be gorgeous weather this week, and parakeets have been spotted visiting Manchester's parks and gardens. We recommend following the nature trail through Stenner Woods in Fletcher Moss Park in Didsbury to see the wildflowers and birds that live there. More information here.
---
Letters to the editor
Thanks for shining a light on this. ('Grooming gangs, cartels and the poisoning of Oldham's politics'). I live in the borough and heard the odd thing about this but hadn't heard about what was happening in Failsworth until the results came in. The only thing I had heard about Sean Fielding was that he was just Jim McMahon by proxy. Oldham council does make some strange decisions — effectively buying a shopping centre and one street in the town centre without a real plan for what it is going to do with them. It also provides some of the lower levels of service in the area for some of the highest council taxes. This article goes some way to explaining this, although it only covers the political aspect of the council, presumably there are plenty of local civil servants who are equally culpable. Will, Oldham
This is why I subscribe to The Mill. I would never have known about the Dante Society ('Dante gave them the language to describe something hellish') otherwise or about the connections of our city to Italy. Those boxes left in the corridor contained such treasure and I envy the researcher reading the letters and being able to now tell us the contents. If I ever get to Ravenna I know what I'm going to look for the word 'Manchester'. Anne, West Midlands
Thank you for this article. ('It was predatory to incentivise what was an illness'). Gambling companies are incredibly predatory and need regulating. If you start winning against them too regularly, they just ban you or limit the size of the bet that you can make. They focus on those that they can exploit, those who they know will lose. It angers me that they are still allowed to advertise. I'd rather have daytime adverts for cannabis and ecstasy than any more of these that make out that placing a bet will improve your life. Arthur, Tameside