Discover more from The Mill
Award-winning local journalism from Greater Manchester's new quality newspaper - join our free mailing list or support us as a paying member
Over 39,000 subscribers
Are a third of Manchester's pubs, clubs and restaurants about to go bust?
Sacha Lord says they might - and the rest of our weekly briefing
Welcome to the second Mill Briefing. Our weekly briefings are designed to help you make sense of what is happening in the Manchester area by pointing out stories you might have missed and saving you sifting through dozens of ad-infested sites online. Today's one was a bit delayed while I tried to figure out a mini mystery about Greater Manchester's clubbing impresario and nighttime advisor Sacha Lord.
---
Firstly, some exciting news. BBC North West did a segment on James Watkins last night after reading The Mill's long read about him. The report features a brief cameo from me and is available on iPlayer. It's fantastic that Watkins and his anti-slavery campaigning are becoming better known. We will do more on him in future because Dr. Hannah-Rose Murray, a historian at Edinburgh University, told me last week she is researching Watkins for her next book. I'll try to do a podcast interview with her for Mill members about what she finds out.
Secondly, I'd like to hear from you about where you get your information about restaurants, gigs, plays, exhibitions and other events in Manchester. I'm planning which other types of content to publish on The Mill (on top of the original journalism and the briefings), and it would be useful to know how much you would value well-written reviews of local food and culture as part of the mix, and who you think should write them. Just hit reply if you have a second.
Ok, on to the news.
---
Sacha Lord and the vanishing forecast of doom
Most readers will be aware of Sacha Lord, co-creator of Parklife and The Warehouse Project, and Night Time Economy Adviser for Greater Manchester. Yesterday he gave an interview to BBC North West in which he welcomed the government's dramatic loosening of the lockdown on July 4th, but said he fears 30 per cent of businesses in Greater Manchester could still go bust.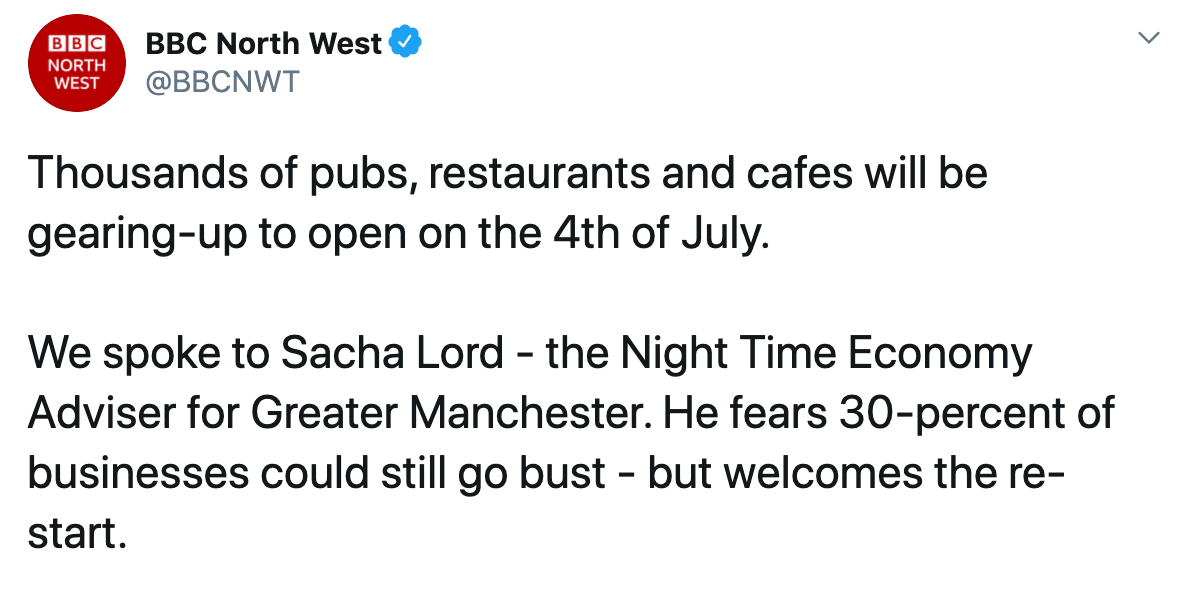 Or did he? BBC North West said so on their Facebook and Twitter accounts last night (see above), but Lord's forecast of doom about a third of businesses shutting down doesn't appear in the BBC videos being shared. I didn't hear him saying it on North West Tonight last night either. So what's going on here?
If someone like Lord is forecasting massive business closures in the region (I think we can safely assume he is talking about hospitality businesses, not all businesses, given his wheelhouse), it's worth paying attention to. Lord is close to Andy Burnham and is extremely well connected in the hospitality industry. A few weeks ago he released research suggesting that one in ten businesses in the region's night time economy think they will be permanently closing. That wouldn't be great, but 30 per cent would amount to an unimaginable economic catastrophe, and to say it on the day the government invites most of these businesses to reopen is particularly striking. Around 100,000 people work in the sector in Greater Manchester, according to a government estimate, including a lot of young people.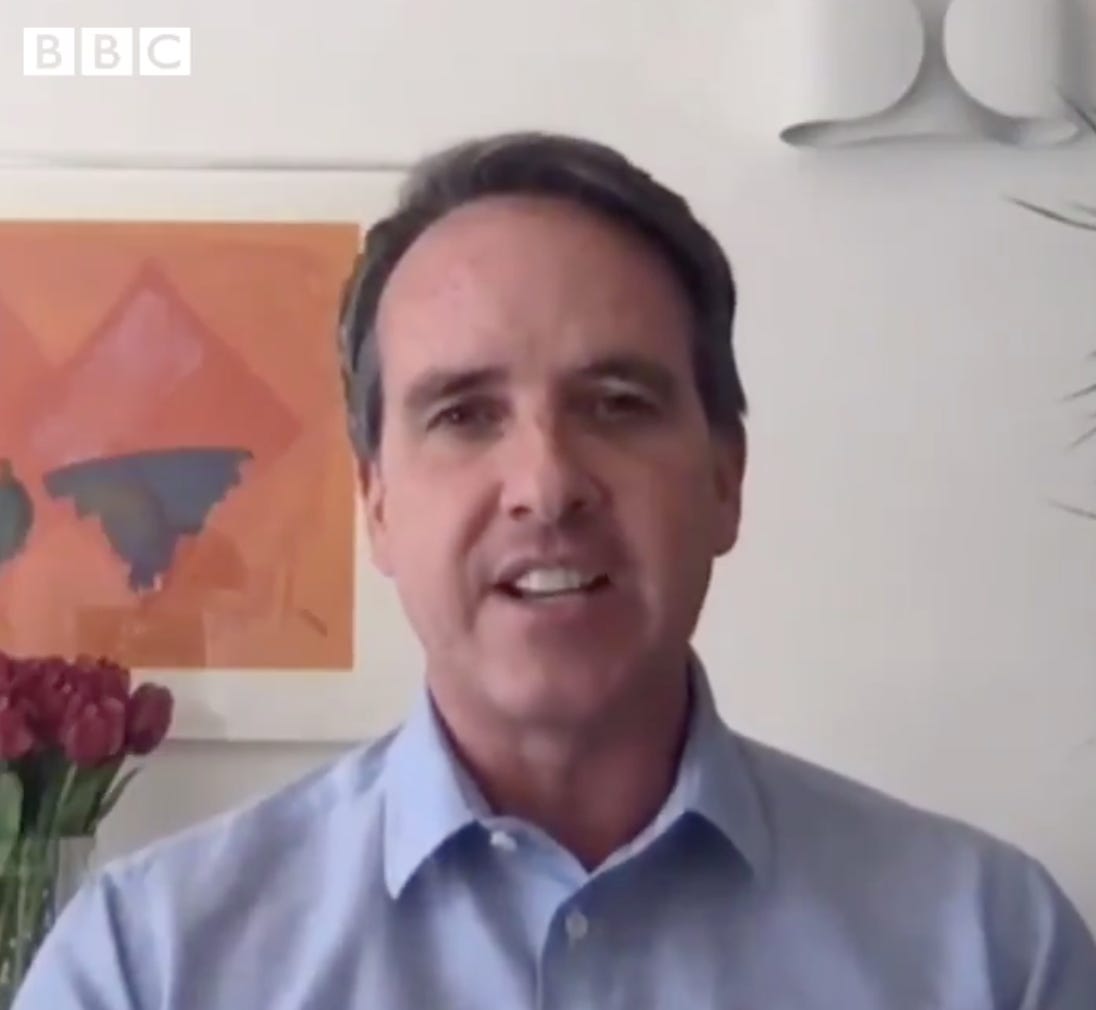 But did he say it? I asked someone at the BBC why the quote was in their social shares but not in the videos or on North West Tonight. A staffer there told me Lord did make the comment, "but for some unaccountable reason it was edited out of the broadcast interview." It seems like an extreme case of what American journalists call "burying the lede". A spokesman at the Greater Manchester Combined Authority says the 30 per cent closures estimate doesn't come from them, and isn't based on their modelling.
JUST BEFORE I SENT THIS BRIEFING, someone at the BBC transcribed the Lord quote from the interview tape and sent it my way. Lord was talking about different scenarios of doom, based on how many metres of social distancing were enforced. He then told the show's host Roger Johnson: "At 1 metre this gives us a fighting chance but we still think around 30 per cent of businesses could still fail." So there it is. Here's to hoping that Lord's prophesied Götterdämmerung of Manchester nightlife doesn't come to pass.
We will be covering this story in the weeks and months to come either way, so if you know something, send it to The Mill (reply to this email or joshi@manchestermill.co.uk).
---
Another link in Manchester's Libyan terror connection
A 25-year old Libyan asylum seeker called Khairi Saadallah is being questioned by police under the Terrorism Act after three men were stabbed to death in a city centre park in Reading on Saturday night. It's been reported that Saadallah arrived in Britain eight years ago, initially living in Greater Manchester. Former neighbours and friends of his in Bury told The Telegraph that he was known for hosting big parties.
Saadallah hasn't yet been charged, but his arrest in connection with a terrorist incident shines a light back onto Manchester's Libyan terror connection. The Times points out that many members of the Libyan Islamic Fighting Group (LIFG), an Islamist organisation, settled in Manchester in the 1990s, after fleeing the regime of Muammar Gaddafi.
One of the men granted political asylum was Abu Anas al-Liby, who settled in Cheetham Hill. "Al-Liby was placed on the FBI "most wanted" list after being implicated in the al-Qaeda bomb attacks on US embassies in East Africa," The Times writes. "He went on the run before the police raided his home in Cheetham Hill and uncovered the first copy of the al- Qaeda manual." He died before he could come to trial in New York. Another LIFG member who found a home in Manchester was Ramadan Abedi, who lived in Fallowfield with his family and attended Didsbury Mosque. Abedi later returned to Libya with his British-born sons Salman and Hashem. No one in this city needs to be reminded who they are.
Should Saadallah be charged, we might learn some more about Manchester's unfortunate links to Libya and terror.
---
The Great Re-opening, and other things worth knowing
The government's green light for pubs, bars and restaurants on July 4th will set off a wave of re-openings. Some owners are complaining that it doesn't give them enough time to prepare, and are annoyed that detailed guidance still hasn't been released. But most are opening all the same. MEN reports that reservations at Manchester's only Michelin-starred restaurant, Mana, are 70 per cent full for the coming weeks. Most people follow their favourite venues on social media and will see announcements in the coming days, but not everywhere will open at the first opportunity. Arts venue HOME says it won't open until September, posting: "We're cautiously pleased to be able to announce that we're planning to start reopening on 4th September. Our cinemas, bar and restaurant will be the first to open, followed later by our gallery and theatre."

Manchester has suffered one of the steepest cuts to its local authority budget in the decade of austerity, according to new analysis reported in The Guardian. The data has Manchester alongside Knowsley and a couple of London councils at around a 40 per cent reduction.

A billboard in Boothstown seems to have become an interesting microcosm of the culture war in recent days, according to users in the Manchester Reddit. First it had a tribute to the NHS, which was reportedly taken down and replaced by a mural of George Floyd. That was then removed in favour of an ecumenical quote from Marcus Rashford: "Look at what we can do when we work together."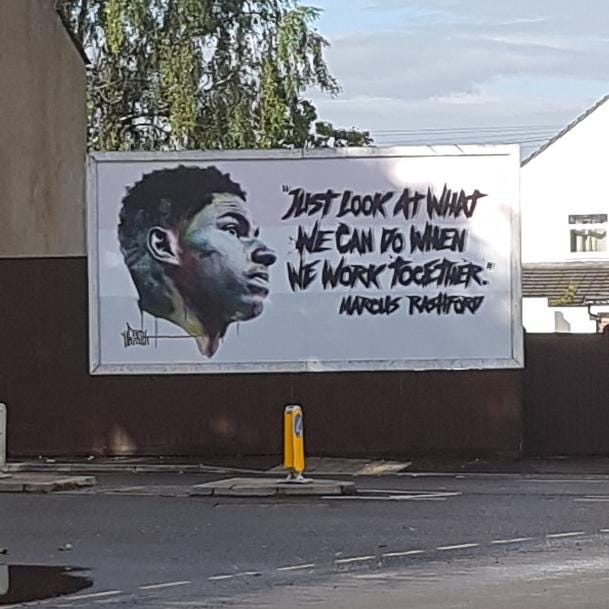 ---
Eat: Porky Pig is one of the best places to have kept serving cooked breakfasts in the city centre, including good coffees and vegetarian and vegan options.
Read: Superstar architect Norman Foster wrote a nice piece for the Observer about how Manchester town hall inspired his career.
Listen: Mill reader Rosie Dawson, a distinguished Manchester journalist who has made dozens of programmes for the BBC and others, has started a fascinating podcast about rape and the bible.
---
Coming up on The Mill: This weekend I am publishing an investigation into why three teenagers vanished in Manchester, and how their disappearance pointed to a massive trafficking scandal involving school children and nail bars. Until then, thanks for reading The Mill, and please do forward this email to a few friends.
If this was forwarded to you, please join our email list below:
As always, please reply with any feedback, suggestions, corrections or ideas for what The Mill should cover next.