Discover more from The Mill
Award-winning local journalism from Greater Manchester's new quality newspaper - join our free mailing list or support us as a paying member
Over 39,000 subscribers
As the virus spreads, Oldham is daring to think for itself
We paid a visit
Good morning Millers. On Friday evening I went to Oldham to see how the town's residents are thinking about the Covid-19 outbreak there. Halfway down the story, I compare the size of the outbreak in Oldham to the other boroughs, based on the latest data.
If you think someone you know might find this post useful, please use the button below.
---
On Oldham's gothic Lecture Hall, a beautiful and decaying extension to the town's Old Central Library, is inscribed a Latin phrase that is closely associated with the Enlightenment. "Sapere aude" comes from the Roman poet Horace, who used it in a story about a fool who waits for a stream to stop flowing before trying to cross it, and it means something like "Dare to know" or "Dare to be wise." Or, according to one translation, "Dare to think for yourself."
The building went up when this town was in its golden age - when it had the most productive mills in the world and churned out more cotton than France and Germany combined. Today the hall looks like it is barely in use, and the town has some of the highest rates of child poverty in England.
There is a Covid-19 testing centre in the adjacent car park, where masked operatives from the global security firm G4S were shepherding people into white tents when we visited. We met a family crammed into a red Nissan Micra, who were taking turns to go and have their tests. The driver Raza, 31, said he had come with his wife and child because his mum had tested positive recently. He told The Mill he isn't overly worried about the virus and thinks his mum caught it because she sits outside the house all day on a busy street where lots of people walk past to one of the local parks.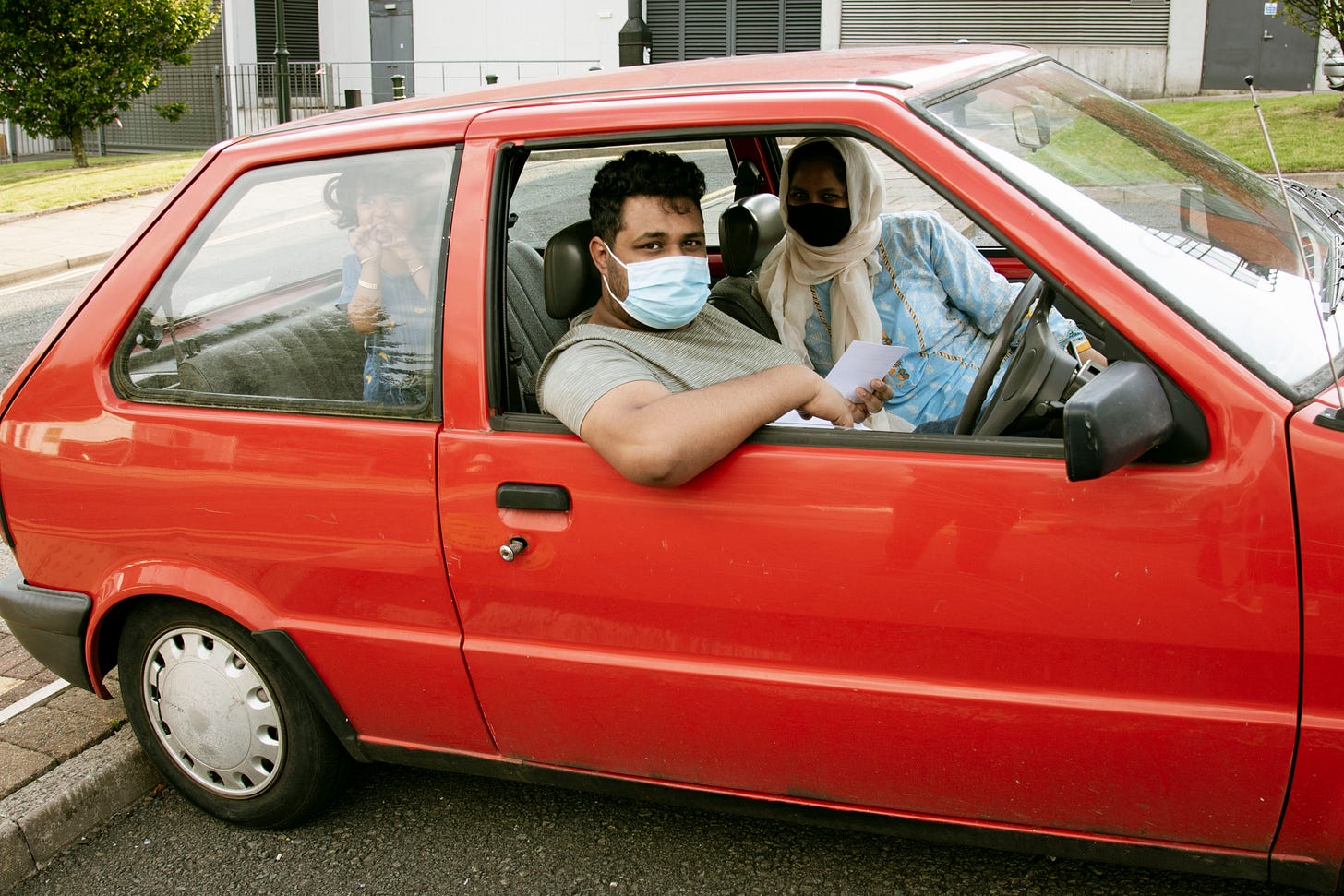 Raza and his family in their Nissan Micra. Photograph by Oldham resident and photographer Sharmaine Entwistle, who photographs under the name Shiney Shoo.
A few minutes' walk away we meet a group of girls who are studying at college. One of them is wearing a mask, but they say they are relaxed about the threat of Covid-19. "There's nothing you can do to stop it," one of them tells us. "If it's going to happen it's going to happen." And then a few Asian boys, one of whom is wearing an electronic tag on his ankle, and isn't supposed to be hanging out with the other two. One is wearing a mask, but they don't seem overly concerned about the restrictions or the threat of a lockdown. "I don't really care," one of them says. "No one gives a fuck."
The data this week certainly suggests not many fucks are being given in Oldham. It has by far the highest infection rate in Greater Manchester, and when we visited it had the highest in the country (now overtaken by a severe outbreak at a sandwich factory in Northampton). In the week ending on Tuesday Oldham had an infection rate (new positive tests per 100,000 residents) of 113, several times higher than most of our boroughs and 63 per cent up on the week before. If its rate grew again like it did in the week to Tuesday it would have a higher rate than Leicester reached in late June, which is considered the benchmark for an extremely worrying outbreak.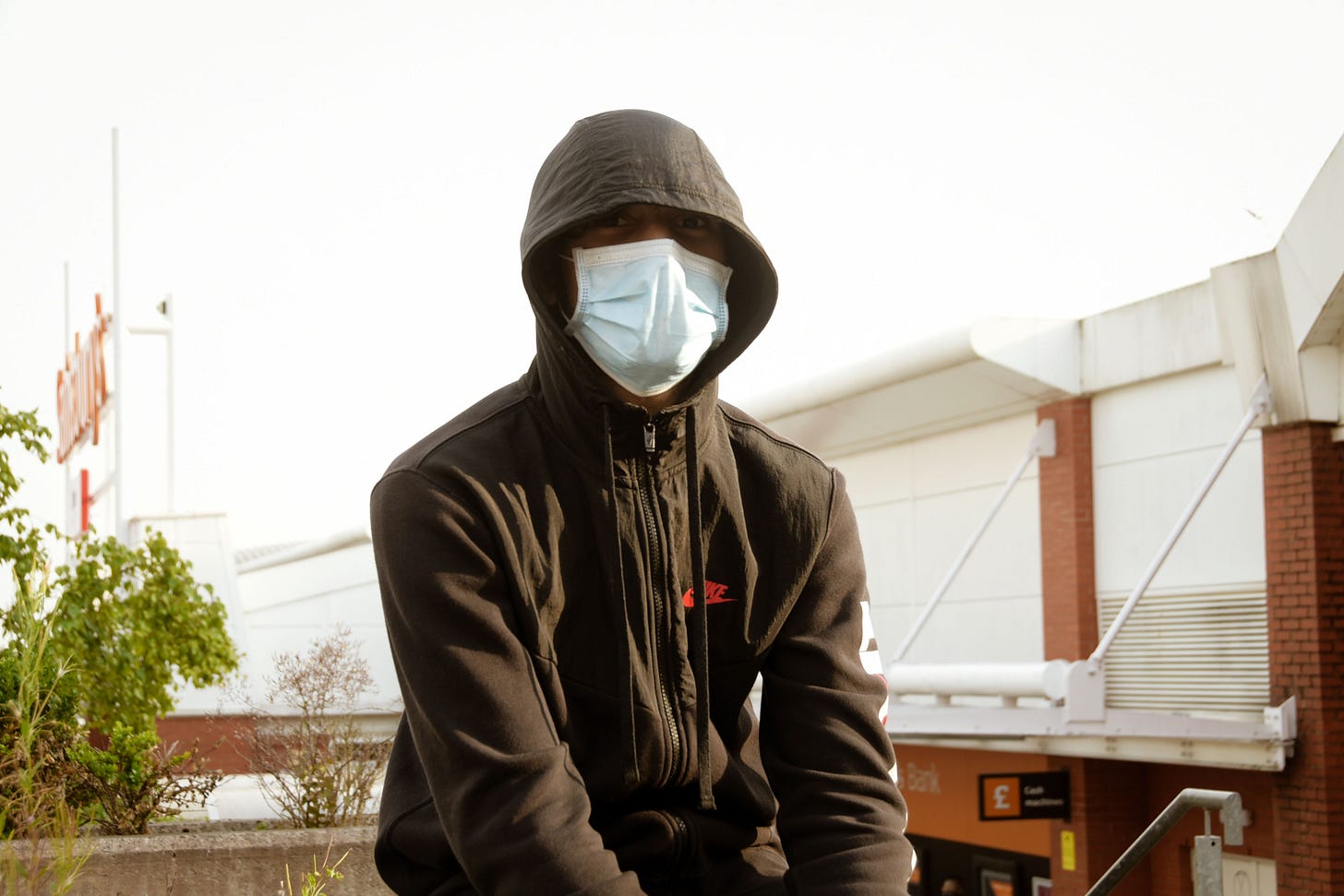 Photograph by Sharmaine Entwistle (Shiney Shoo)
The only boroughs whose infections rates are currently in the 40s are Rochdale (46) and Manchester (42), both of which border Oldham, but which are both growing much more slowly - their rates are up about a quarter over the week. The rest of the boroughs all have outbreaks that are less than a third or a quarter the seriousness of Oldham - infection rates in the 30s or 20s and none growing in a way that suggests they are heading anywhere near Leicester level in the coming weeks. Rates in Tameside and Bury have fallen, Wigan is flat, and Bolton, Salford and Trafford have grown by less than 10 per cent. Stockport's rate grew by 30 per cent in the week to Tuesday but from a low rate to 30. If it weren't for Oldham, it's difficult to see how the government could have justified extending the additional lockdown restrictions this week.
Data published by Oldham Council suggests the current outbreak is spreading fast among the town's large Asian community. Whereas since the start of the pandemic there have been ten times more positive tests from white residents, in the past month new cases from people who describe themselves as Asian or Asian British outnumber those from people who say they are white by more than two and a half times.
That could be because of changes in how the virus is spreading, or it could show that more people in the Asian community are now getting tested, as a result of better communication from the council or other factors. We know that some of the increase in cases will be the result of Oldham doing more testing (it increased testing by 66 per cent in the final week of August) but because the councils don't publish weekly testing totals every week going back into July or June, we are left in the dark about the role greater testing is playing in higher infection rates.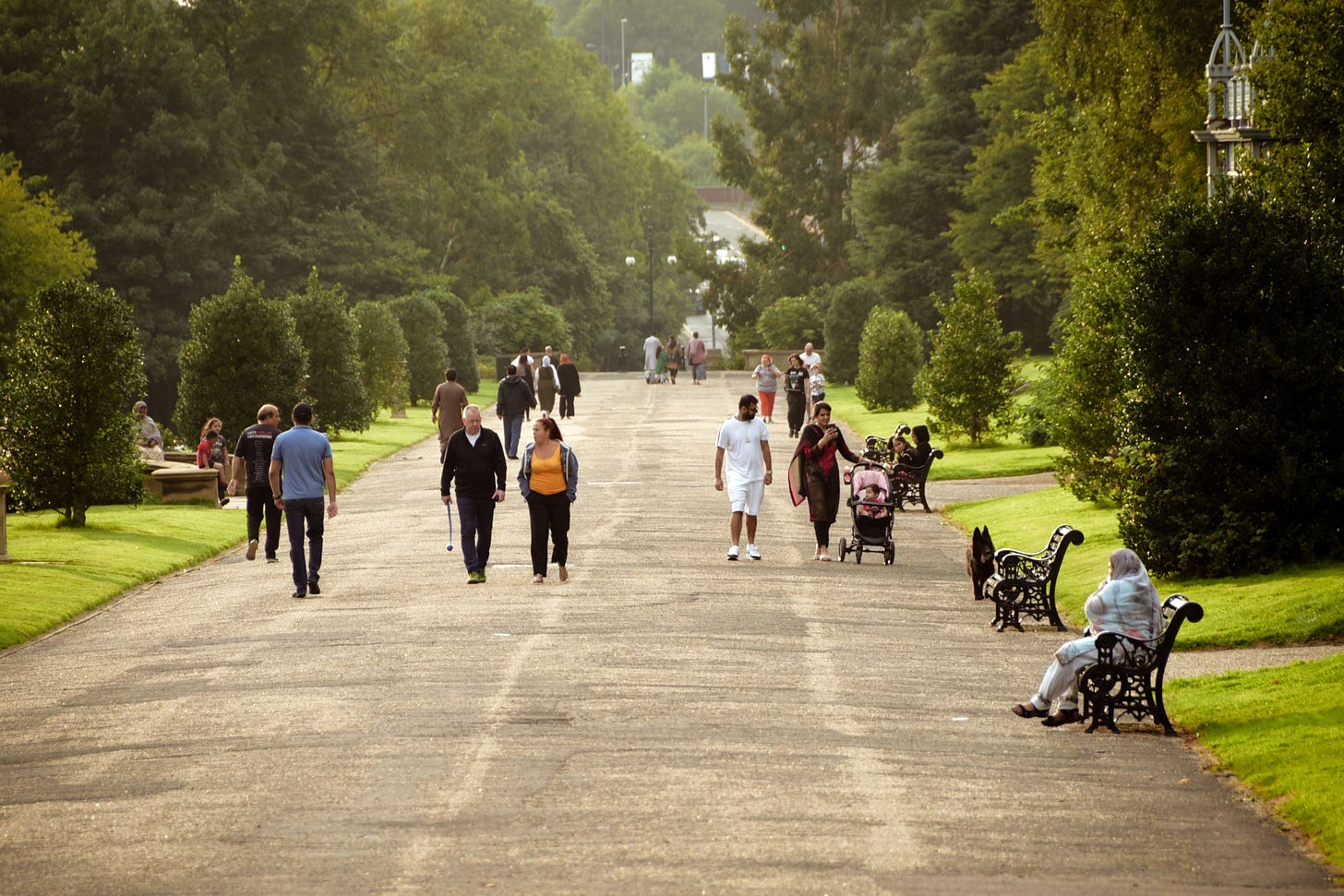 Photograph by Sharmaine Entwistle (Shiney Shoo)
What strikes you when you speak to people in Oldham is how little urgency many of them feel about the pandemic. Their council leaders are putting out press releases calling for "everyone to act now and make changes to the way they live, to prevent strict lockdown restrictions being implemented." But most of the people we spoke to were notably blasé about being the country's leading Covid-19 hotspot or felt the government and the media had exaggerated the dangers of the virus. It highlights how poorly the authorities' messages seem to get through to people here, especially ones who don't read the news all day or follow local councillors on Twitter.
"People don't know the true facts," says Mark, 53, a white man who was walking his dog with his wife Lou in Alexandra Park. "You have to look at how many deaths there are in the UK," he told us. "How many are just old age?" Sarah, who is from the Pakistani community, is sitting outside her mother's large house on the edge of the park. "I see a lot of people are in the park and they're not keeping their distance," she says. "They're not bothered." She is worried about her mum, who is sitting a few metres away. "That's why it winds me up that people aren't following it."
Oldham is daring to think for itself and daring the government to send it into a Leicester-style lockdown. Whether that happens probably depends on how the infection rate moves in the next few days, not that you sense many people here will be watching it closely.
---
Join The Mill's mailing list, to get quality Manchester journalism direct to your inbox.