Discover more from The Mill
Award-winning local journalism from Greater Manchester's new quality newspaper - join our free mailing list or support us as a paying member
Over 39,000 subscribers
Covid hospital admissions in Greater Manchester are still low and flat
And the rest of our Monday briefing
Good morning Millers - today is Members' Day at The Mill. We're sending out our first ever members-only story tonight and starting our members' discussion group too. Click below to join us.
Before we get to this morning's briefing, I'll just say this: I've exchanged dozens of lovely emails with new members this week. It's surreal that something I started on my own in June while waiting out the lockdown in my mum's garden now has so many people who are inspired by it and who are part of making it grow. One of our new members ended their email yesterday by saying this:
"My best wishes for this adventure; one day I will be able to say with pride, "I am one of the first 400 subscribers"
If you sign up now, you can too!
---
Monday news briefing
Lockdown |  Ministers are preparing to impose a "total social lockdown" across large parts of northern Britain, The Times reports this morning. "Under the new emergency plan, all pubs, restaurants and bars would be ordered to shut for two weeks initially," the story says. "Households would also be banned indefinitely from meeting each other in any indoor location where they were not already under the order." Merseyside, Lancashire and the northeast could get the measure as early as this week it says, so it might be a sign of things to come in Greater Manchester. If you missed Mollie Simpson's story from last night about the lockdown of two student halls at MMU, it's quite something. This morning, Andy Burnham called for an "urgent simplification" of lockdown rules.
Covid data | Infection rates in GM are still very high, with eight out of ten boroughs recording a rate (new cases in a week per 100,000 residents) over 100, and both Bolton and Manchester now over 200. However, hospital admissions remain low and are not currently showing any sign of rising. The latest figures show 36 patients were admitted to hospitals in Greater Manchester with Covid symptoms in the week ending last Tuesday, which is almost identical to the number for the previous week (37) and the week before that (35). There are 28 people in ICU beds with Covid, up from 20 the week before and 14 the week before that, so that's doubled in three weeks, albeit from a low base. There are currently 173 people with Covid in non-ICU beds across the city-region, a bit up on the 105 we had in early August but much lower than the April peak.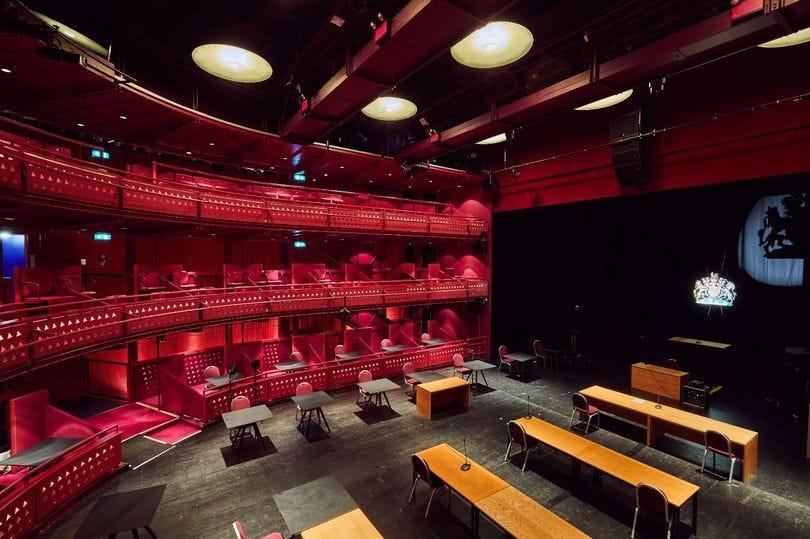 The Lowry transformed into a court, which opens today
Nightingale court | The Lowry's theatre space has sat empty for months but will today be filled with barristers. It has been transformed into a "Nightingale court" after doing a deal with the Ministry of Justice to become one of the overspill venues that are helping to alleviate the pressure on courts caused by the pandemic. It will hear civil cases, family cases, tribunals and non-custodial criminal cases. The Mill will be in attendance for the first day's proceedings.
Islington Mill | One of the last bits of EU funding to hit the UK will be the £3.3 million that's just been awarded to Salford's Islington Mill, an arts hub that houses more than 50 businesses and 100 artists. The money comes from the European Regional Development Fund and will be used to secure the project's space long term and help it to "make strong and long lasting ties with our European neighbours."
Blue wall | One of the biggest questions in British politics is what the voters who left Labour at the last election will do next time. Hannah Al-Othman from the Sunday Times has been on a tour of former Labour heartland seats which she visited during last year's election and reports that the bricks of the "blue wall" are loosening. In Bolton North East, a woman who voted Conservative last time is quoted saying: "I've just totally lost faith in them."
---
Things to do this week
Photography | This week is your last chance to see 'The People's City' - an exhibition curated by the British Culture Archive at The Refuge on Oxford Street. It includes some stunning images from Manchester in the 80s and 90s, including Peter Walsh's work documenting Acid House and the city's club scene, and some bleak, iconic shots of the council estates in Hulme by Richard Davis. The exhibition closes on Wednesday.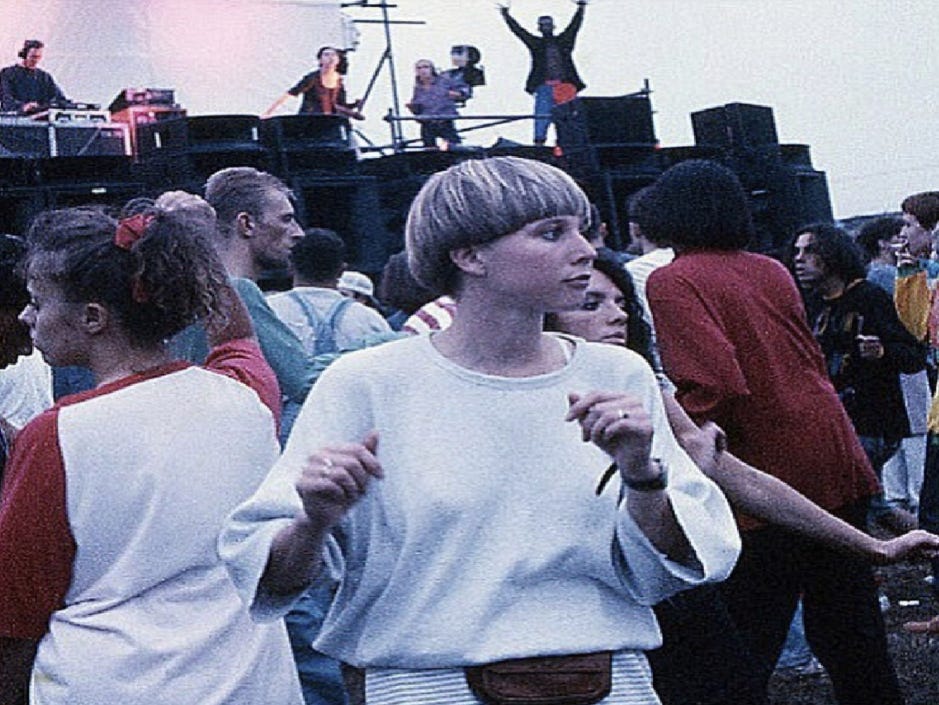 Art | The paintings of Adolphe Valette, who taught LS Lowry at Manchester School of Art, are on sale in a small gallery in Hale, offering a chance to see some of his works before they disappear into private collections. Valette was born in France in 1876 and came to Manchester in 1905. He painted "Manchesterscapes" in the early 20th century, which are on show at Clark Art alongside a dozen works by Lowry himself. Lowry's 1964 'Mill Scene' is on sale, and we are confident one of our members will purchase it for the future Mill newsroom using funds freed up by the enormous long-term saving they have made by grabbing the early-bird discount. The exhibition closes on Wednesday.
Spoken word | Verbose Manchester first started at Fallow Cafe in Fallowfield in 2015 and has since built up great reputation for its performance poetry and literature readings. It is back tonight as a virtual event, featuring headliners Antony Szmierek, Amy King and The Fragile Poet plus a bill of open mic performers. You can register for free here.
Halloween | Cockfields Farm near, between Ashton and Oldham, opens its Pumpkin Festival on Saturday, for those who want to kick off their Halloween season early. It features a Spooky Carving Cave, a fairground carousel and some barn animals that are amenable to hand-feeding. Book your tickets here.
Join The Mill now to get our early-bird discount - which closes at midday. Members-only stories start this evening.