Discover more from The Mill
Award-winning local journalism from Greater Manchester's new quality newspaper - join our free mailing list or support us as a paying member
Over 39,000 subscribers
Covid's uneven mortality in Greater Manchester
Why are so few people dying in neighbourhoods like Didsbury and Chorlton?
Good morning Millers — welcome to this week's Mill briefing.
If you missed our weekend read, it was a fascinating 'biography of a building' by Dani Cole, who charted the 220-year history of the now-derelict Hotspur Press in the city centre.
A warm welcome to our new members who joined over the weekend. We have some brilliant stories lined up for members this week, including:
Our interview with an academic whose data model predicts which Greater Manchester neighbourhoods will benefit from the move to remote work, and which will lose out.

A gripping history of the anti-Irish riots that raged in Stockport in 1852, based on a dig through the archives and old newspaper reports that show the depth of anti-Catholic prejudice in the town.

The follow-up to our long read about the 'low traffic neighbourhood' initiative in Levenshulme, in which we ask: What kind of future do these projects have in GM?
To receive those stories in your inbox and get access to all the members-only pieces we've published since September, join us as a member by clicking the button below.
---
For the first time, we are inviting local organisations and businesses to sponsor our Monday briefing. The income will help to fund the reporting we publish for free, diversify our revenue and allow us to grow faster. If you want to reach our 11,553 Greater Manchester readers with your message by appearing in this slot, hit reply to this email or contact editor@manchestermill.co.uk.
---
The big story: Covid's unequal threat
Top line: Something we miss when we look at the headline Covid-19 numbers is how unevenly the virus has impacted different communities. That was brought home recently when the Office for National Statistics published a map showing how many people have died with Covid in each neighbourhood.
For example, Piccadilly & Ancoats in the city centre has recorded one death during the entire pandemic, whereas Higher Broughton in Salford has seen 44 deaths. Those two areas (which have an almost identical population) are only 20 minutes apart on the bus.
Behind the numbers: Clearly, age will be a big factor here (city centre areas will over-index on young people), as will the location of care homes. But research suggests that poverty is a big factor in the spread and mortality of this coronavirus. The Mill's data reporter Jacklin Kwan plotted Covid deaths against average income in the neighbourhoods of Manchester (not GM, just to keep the graph clearer).
Here's what it looks like: with wealthier areas like Didsbury Village recording single-figure death numbers, and poorer ones like Newton Heath and Crumpsall South suffering much higher mortality.
Context: Why are so few people dying in places like Didsbury and Chorlton? Firstly, because the virus is less likely to spread in areas where a lot of residents can do their jobs from home and live in houses where there is space to self-isolate if they need to. In more deprived areas, people are more likely to work frontline jobs and live in houses where multiple family members share bedrooms.
There are also underlying health issues in less well-off areas to consider. As Jacklin puts it:
People from these communities are also more likely to suffer from illnesses such as diabetes, heart disease, and pulmonary issues. When combined with these pre-existing health problems, the higher presence of Covid-19 in these areas may lead to many more deaths.
Zoom out: These same dynamics probably explain a broader question some Millers have been asking us: Why has Greater Manchester's case rate been falling more slowly than the national average, remaining doggedly high despite weeks of lockdown while the London rate has shot down?
A big part of the answer is probably that GM has more people who can't work from home and who live in poor housing than the national average. In the national context, ours is a lower-income neighbourhood where the virus finds it easier to spread.
Datapoint: Greater Manchester is, on average, less affluent than people tend to imagine. The gross disposable household income per head in GM was £15,917 in 2016, for example, whereas the UK average was £19,432 and in Greater London it was £27,151.
The latest local Covid-19 numbers are below.
---
This week's weather
The location of this forecast is Manchester and it's sourced from the Met Office.
---
The March equinox lands on the third Saturday of this month, but many people consider March 1st to be the start of Spring and this photo taken in Didsbury by The Mill's reporter Tom Taylor over the weekend supports that argument.
---
Covid-19 update
Case rates in GM are falling a bit faster again — down 15.5% on the previous week to 153.6. It means the GM rate is finally down to where it was in mid-December between the November wave and the January one. The rate across England is now 96.4, down 21.6% in a week.

Hospitals are seeing fewer Covid-19 patients, and have fewer in ICUs than we saw in January. There were 140 Covid patients in critical wards last week, down from 160 two weeks before. See all the hospital numbers here.

Vaccine first doses have now been given to 737,248 people in Greater Manchester. That's 34% of over-18s in the city region, including 91% of over-70s and 37% of over-50s.
---
Home of the week
This house just north of Bolton has Art Deco stained-glass windows and sweeping views of the Lancashire countryside. On sale for £375,000.
---
Five stories worth reading
1. Father unlawfully killed
Jack Barnes, a 29-year-old father who died after being pinned down by staff contracted to Metrolink in Manchester city centre, was unlawfully killed, a coroner has found. Coroner Nigel Meadows concluded that the men used 'excessive' and 'unreasonable' force while restraining Barnes, who died after suffering a cardiac arrest. The incident was captured on body cam footage and shows Barnes begging to be released.
2. A rap music factory
Is NQ the successor to Factory Records — a record label that signals Manchester's newfound relevance in rap music like Factory did in the post-punk wave? That's the suggestion in this great feature about the company in The Face magazine. "For NQ, there are tall obstacles ahead," it says. "But already, the sheer ambition of this project is sending a ripple of inspiration across the North."
3. Remembering Sankeys
"At one time in the 90s, Sankeys was literally the only reason anyone in Manchester ever ventured into Ancoats," writes Ben Brown in this nice piece about the history of the former nightclub. "Kicking things off in 1994, Sankeys rode on the coattails of a diminishing acid house movement," he writes, "one which saw the Hacienda slowly die and the city move towards a new clubbing experience."
4. The politics of planning
"Few places illustrate the anti-democratic nature of the current planning system better than Manchester," argues Andrea Sandor in this interesting piece for Red Pepper, in which she highlights one instance in which a major developer used a consultation event to announce the next-day demolition of a historic building in a conservation area. She makes the case that proposed changes to the planning laws could weaken the voice of residents in big decisions.
5. Kuusisto conducts
"I wonder how the players of the Manchester Camerata reacted to the news that they would be working with Pekka Kuusisto, one of the world's most inspiring violinists — but that he would be leaving his fiddle at home and just conducting," asks this three-star Times review of the group's broadcast from Stoller Hall. The program was "full of the sort of music they might play in railway stations to calm rowdy teenagers," the critic says. Ouch.
---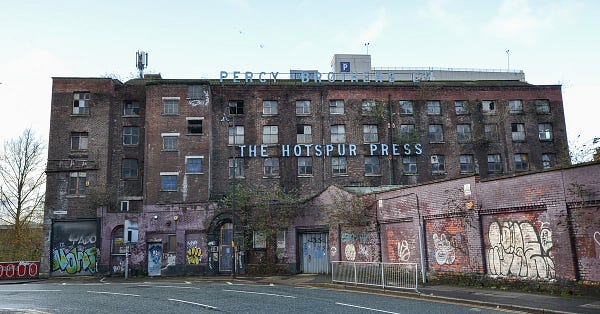 manchestermill.co.uk
If these walls could talk: The life and times of the Hotspur Press
'The flames were wholly extinguished by about eight o'clock. The south-west corner of the building is almost entirely destroyed'
Join us! Get great stories about Greater Manchester in your inbox five days a week by clicking the button below.
---
Things to do this week
Talks | Join Manchester Museum to celebrate UN World Wildlife Day on Wednesday. They're hosting an afternoon of online events, including 'Forests and Livelihoods: Sustaining People & Planet'.
What to expect: They'll be launching '60 Second Species' — informative weekly video clips by the Vivarium Team. There's also an exclusive performance by Mexican composer and musician Francisco Lozano.
Podcast | True crime fans will love BBC Radio 5 Live's 'Paradise', which re-examines the case of missing British backpackers Chris Farmer and Peta Frampton, childhood sweethearts from Chorlton. Listen on BBC Sounds.
Literature | Victoria Baths is launching a series of virtual talks, starting this Thursday at 7pm. Their first event falls on World Book Day. So, get your little ones to dress up as their favourite characters (and you can too) and get comfortable for 'Twisted Tales for Terrible Children'.
Be prepared for "extra nonsense and nastiness that will trigger giggles and gasps." Book tickets here.
Poetry | The Poetry Health Service (PHS), founded by Manchester-based poet Hafsah Aneela Bashir, is a "creative service offering both contemporary and classical poetry as a tool for connection and healing." It's in partnership with HOME and Oldham Coliseum Theatre, and you'll get poems texted directly to you. 
Music | Listen to Elbow's recording of 'Starlings' with the BBC Concert Orchestra at Abbey Studios. It's an old recording, but very befitting of the blue skies we've been having recently. 
---
If that's you, please email editor@manchestermill.co.uk or hit reply to this newsletter.
---
Letters to the editor
I really welcomed the article on Greater Manchester's efforts to become 'age friendly'. However, for those people who are lucky enough to enjoy financial security and good health, it is not about resources but about attitudes. Until the age of 60, I was never patronised by being called "darling" or "sweetheart" in shops. There is a sign in a local takeaway which refers to "old age pensioners" rather than Senior Citizens. Photos attached to articles about older people in the media often show wrinkled and withered hands more likely those of someone over 100, not those of someone who, at 70, still likes to party and to travel. How does society show that older people are to be valued for their experience and wisdom, not seen as a problem or burden but as an asset? Moira Sykes, Didsbury
Dani Cole's piece on new skaters resonated with me — not just as someone who's just taken it up recently — but also that, for all Manchester's footballing heritage, skating seems to be a sport that fits the city well. It's about individualism within a collective, getting back up time and time again, and doing your own thing when everybody else just stares. Let's hope the pandemic has brought skating to more people who can make Manchester the UK skate capital, and take the title from Milton Keynes! Ethan Davies, East Salford
Thank you for highlighting the plight of the 3 million 'excluded' in your article this week. These people deserve much, much better from the government to which they have paid their taxes for many years, and I hope they get a ray of light in the Budget this week. Tony Dunsden, Stockport
---
Obituary: Johnny Briggs
Johnny Briggs was an actor best known for his role as the straight-talking Cockney Mike Baldwin on Coronation Street, where he was a regular for three decades. Briggs first joined the cast in 1976 when the Salford-based soap was still being filmed in Granada Studios. His character, a flash Londoner, was originally introduced to boost audience figures in the South.
The tabloids of the early 1980s kept a running commentary of Mike's affair with Deirdre Barlow and the love triangle that resulted with her husband Ken. "In the end, almost 20 million viewers watched the episode in which they were reconciled," says the Guardian. "Such was the massive public interest that the electronic scoreboard at Old Trafford – where Manchester United were playing against Arsenal – informed the 56,000 football fans: 'Deirdre and Ken united again!'"
Johnny Briggs, born 5 September 1935, died 28 February 2021.
---
To get all our members-only stories in your inbox this week, join The Mill as a member today and support the growth of a new model for thoughtful, balanced local journalism.
If you want to sponsor this newsletter and reach the most discerning 11,553 readers in Greater Manchester with your message, please hit reply to this email or email editor@manchestermill.co.uk.