Discover more from The Mill
Award-winning local journalism from Greater Manchester's new quality newspaper - join our free mailing list or support us as a paying member
Over 39,000 subscribers
Fancy partnering up?
A not-very-spooky Halloween editor's note from Joshi
Dear Millers, it's been a very significant few months for us at Mill HQ. In August, we announced that we had secured investment from backers like (the former BBC director general and New York Times CEO) Mark Thompson and Dame Diane Coyle, one of the country's top economists; then in September we had our record month of subscriber growth, pushing us past 2,500 members; and last week, our new sister title The Dispatch launched in Birmingham, spreading the journalistic model we've pioneered here in Manchester to another part of the country where it is much needed. 
There's a huge amount of positivity and excitement surrounding what we're doing at the moment, and that's a lovely thing to see because it feels like our hard work — and your crucial support — is paying off.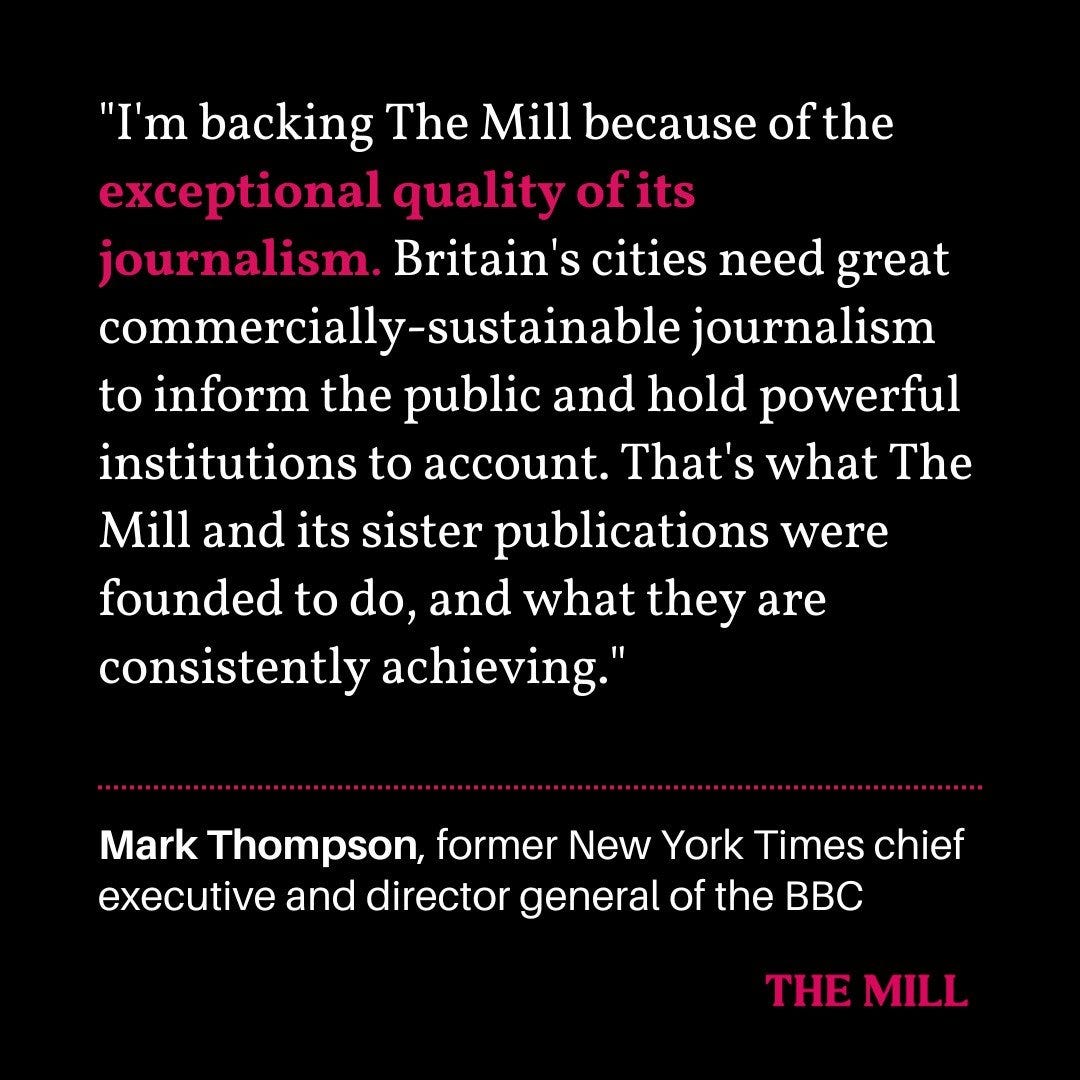 While our member numbers have been growing, something we've perhaps been a bit slower to build is our commercial operation, despite plenty of prompting from some of our more business-minded readers to do so. Until very recently, everyone who worked for the company was a journalist – it was only this summer that Hannah joined us for a few months to boost our growth (partly as a result of a few of you badgering me to bulk up our marketing efforts at members' events). We're currently hiring a Head of Commercial to grow and diversify our income by developing revenue streams like corporate subscriptions, sponsorships and events, and our excellent data journalist Daniel has been helping me out a lot in that area in recent weeks. 
We want to get to the point where The Mill can sustain a larger team of journalists – three or four full-time reporters by this time next year – and where we have a healthy income from a range of sources, always led by reader memberships as our main funding stream. As Daniel and I draw up our commercial strategy for the coming year, we're trying to map out a healthy, diversified media company that makes the most of the assets we've built, including our excellent journalistic coverage and the close to 40,000 Millers on our free mailing list. 
That's where you might be able to help. We're now trying to speak to any organisation or company who might want to partner with us in the months ahead, either by taking out corporate subscriptions for your staff or by sponsoring one (or several…) of our editions in order to reach our influential audience. Let me just explain a bit more about those opportunities. 
We now provide a discounted rate for corporate subscriptions, which means you can offer your staff an exceptionally thoughtful perk that will cost you much less than a gym membership and will be used much more. The service allows you to easily add and remove users as needed, and you can choose to buy annual or monthly accounts. Crucially, having Mill memberships will help your employees or students to feel more connected to the city and region. It will also provide your team with much deeper insights into what's really going on in GM — helping you to do business here, win work here and take a full part in one of the fastest growing economies in the country. 
One of the companies that currently takes out a corporate subscription is Metro Dynamics, a leading consultancy focused on local economics and policy. Director Alex Gardiner told us: 
"The Mill subscription is really valuable for us. The articles are well written and thought provoking and provide interesting analysis to inform our work. Equally I enjoy the people portraits and focus on small elements of Mancunian life and being able to discuss these with others in the office."
Another way you can help us to fund more great journalism and diversify our revenue is by sponsoring a newsletter. On Mondays and Thursdays, we feature local businesses and organisations early on in our regular roundups – for example, we've recently worked with the Manchester Statistical Society and the Great Northern Craft Fair to get the word out about the good work they're doing. It's a chance to get yourself in front of Manchester's most discerning readership — the 39,000 people who receive The Mill in their inboxes every week, including key local decision makers and lots of people who really do take part in the civic life of the city. We also offer sponsorship for our popular podcast, Manchester Weekly, and we always offer great discounts for local companies and organisations. 
There might be other ways of partnering with us as well — such as working with us to organise events or having us chair a panel at your conference. And if you have colleagues in any of the cities served by our sister titles — Liverpool, Sheffield, and Birmingham — there could be opportunities there as well.
If any of this sounds like it could be of interest, please get in touch so we can have an initial conversation and hear about your needs – just drop Daniel an email on daniel@millmediaco.uk or hit reply to this email. If you think there's anything else we could do to support your work, we'd love to hear that too.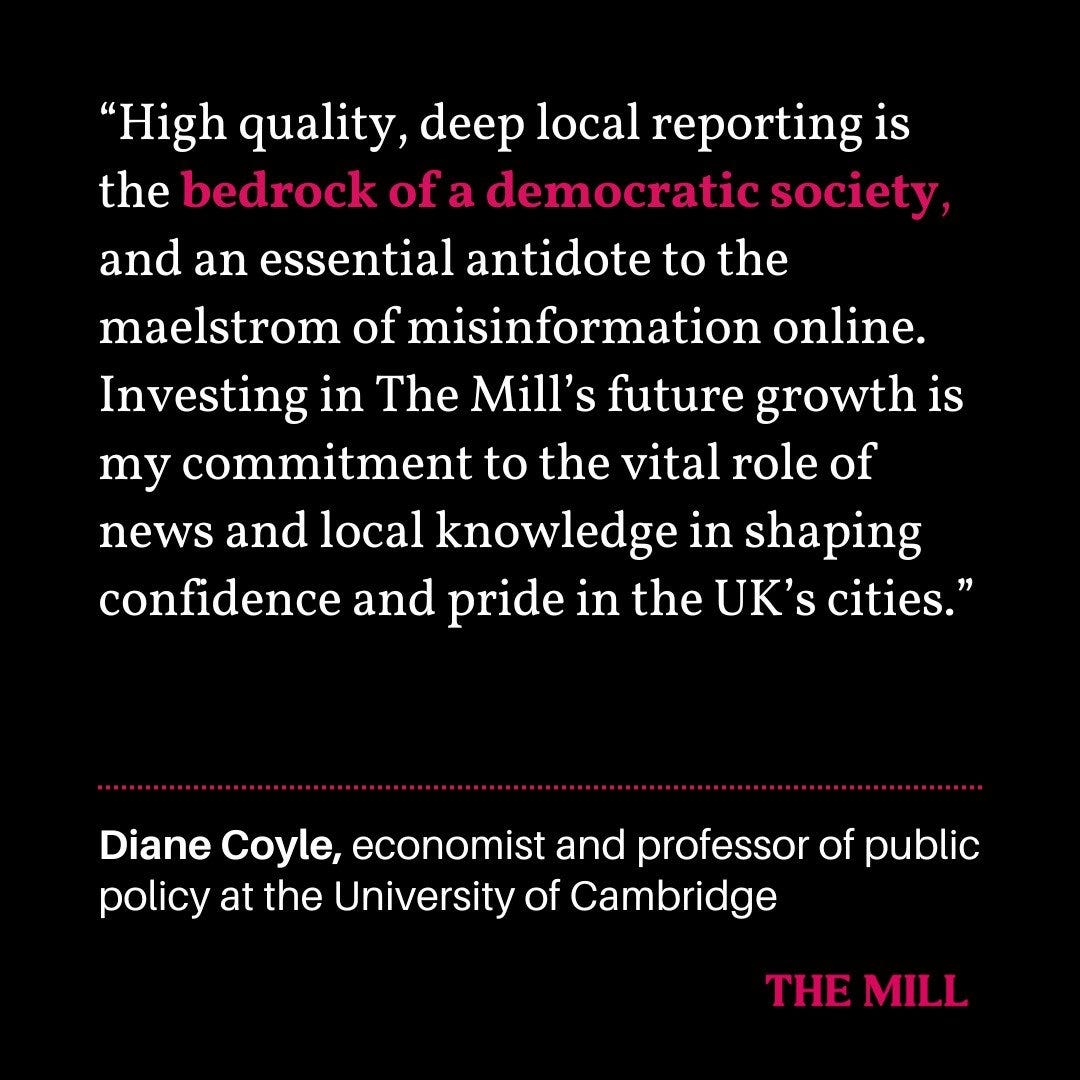 This may seem an incongruous message to be sending out on the spookiest day of the year, but we're anything but terrified about the year ahead. In fact, we're extremely excited about the potential this company has to keep confounding the doubters and turning the tables on two decades of decline in local media that has damaged our city. We think a strong, commercially sustainable media is critical to civic renewal — challenging wrongdoing, connecting people and spreading good ideas. That's where we are heading, and — as always — we will be relying on your help, support and wise counsel to get there.