Discover more from The Mill
Award-winning local journalism from Greater Manchester's new quality newspaper - join our free mailing list or support us as a paying member
Over 39,000 subscribers
Covid deaths in GM hospitals rise to 17 per day, one third of the April peak
The latest data and the rest of our Monday briefing
Good morning Millers - welcome to the Monday briefing. At the end of the newsletter you can find the latest Covid-19 stats, including an increase to 17 Covid deaths per day in Greater Manchester's hospitals, up from 10 per day last week.
If you find this briefing useful, please do forward it to a few friends and tell them why you follow The Mill, or use the share button below.
---
Your news briefing
Rashford | Could Marcus Rashford be about to force a u-turn from the government over food vouchers for school children on free school meals? Stories in The Times and The Sun this morning suggest ministers realise they made a mistake by opposing the United's striker's campaign to fund the vouchers through half-term and the Christmas holidays and will try to backtrack by offering some sort of funding. Ever since last week's vote, Rashford has been tweeting the names of restaurants and cafes who are offering to step in and provide food to families who need it this half-term, which has helped to keep the issue in the news. Tory backbencher Sir Bernard Jenkin told Sky News this weekend: "We have to admit that we have misunderstood the mood of the country here."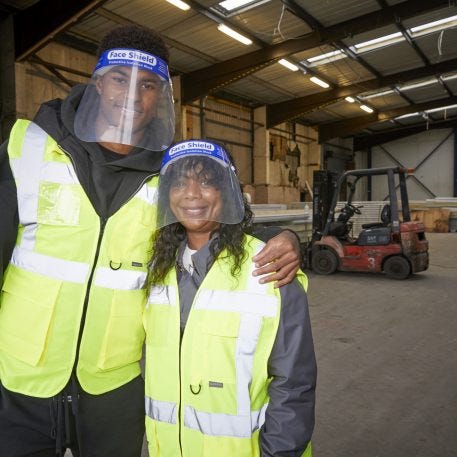 Rashford visiting FareShare's Greater Manchester warehouse with his mum Melanie
Substantial meals | Almost 2,000 bars across Greater Manchester have had to close their doors since Friday as a result of the new Tier 3 rules, but there are plenty more who are working out if they can stay open. "We're finding [the rules] impossible to interpret," a council official told the Sunday Times. "We've been having some ludicrous conversations with bar owners about pasties, beans on toast, toasties, bowls of chips with gravy." The newspaper reports that bars are using workarounds to satisfy the "substantial meal" rule like offering pizzas made next door, and neither the councils nor Greater Manchester Police seem to be in the mood to stop them.
New arena | The pop star Harry Styles has given an interview to the FT this morning, revealing that he is an investor in the new Co-op Live arena, where construction begins next month. The £350 million project is being backed by the American Oak View Group, which has given Styles some sort of role feeding in ideas about the design of the venue. Clearly his biggest advantage to the project is the publicity he brings as one of the best-selling solo artists in the world. Cheshire-born Styles told the FT: "It's about bringing more music to Manchester, wanting to bring more artists there, to use this building as a reminder of why it's such a great music city, not trying to wipe out other venues."
Burnham | The Guardian published an interesting profile of Andy Burnham this weekend, including interviews with former colleagues and critics. The piece looks at how far the mayor has come from his disastrous 2015 leadership campaign, and how he has found his voice again as an advocate for the North. It quotes one Labour frontbencher saying: "I suspect he doesn't have serious ambitions to lead the party any more, and of course that's hugely liberating."
---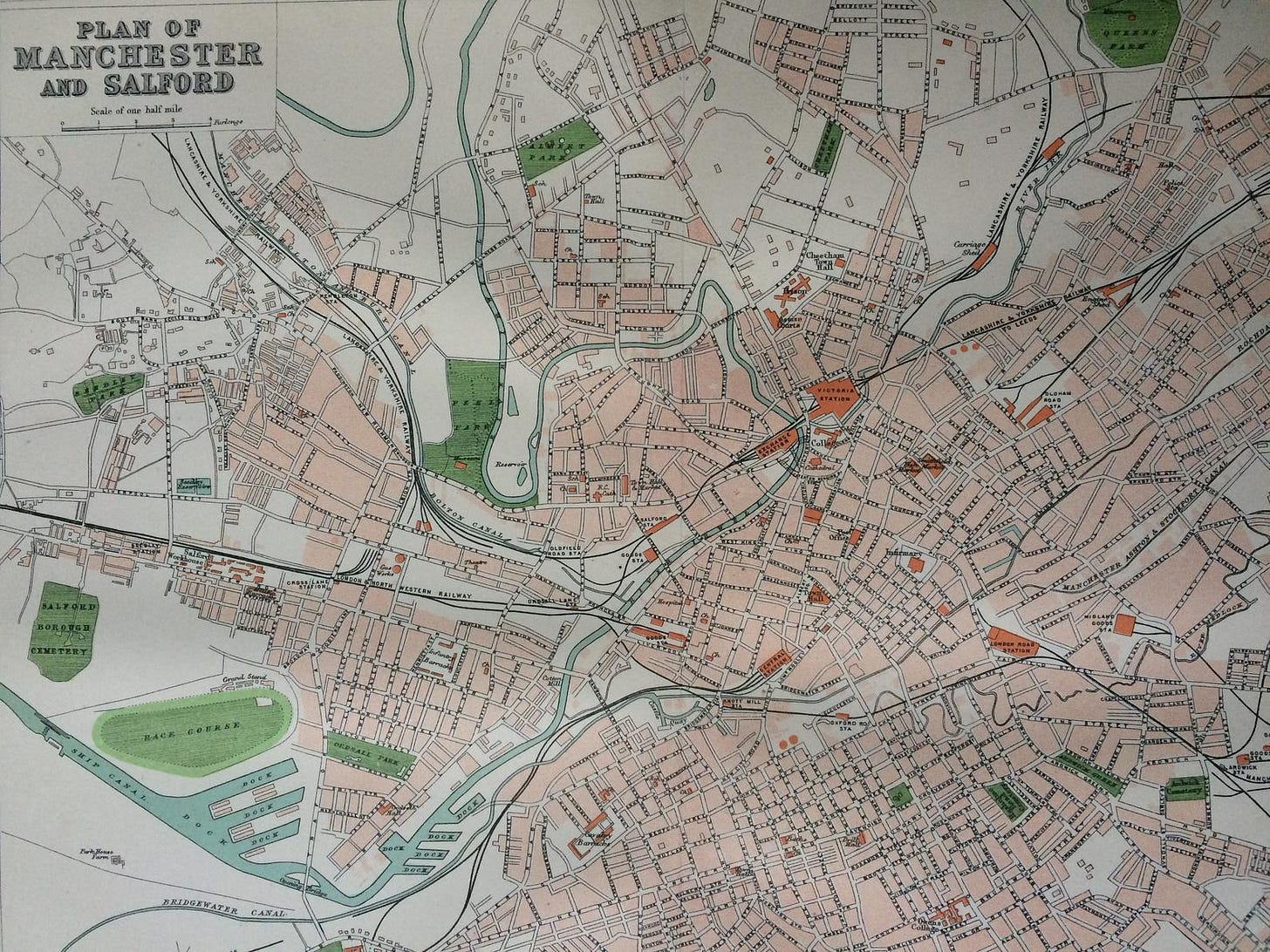 This 1895 city map of Manchester and Salford, showing all the old docks, mills and stations, is on sale from Ninskaprints, a brilliant online store run by a Mill member who sells original vintage maps and prints, including lots of Lancashire, Cheshire and Manchester.
---
To do this week
Art | Exhibitions re-open at the Lowry this coming Sunday, with a new show about LS himself and Days Like These - an exhibition "which shares the stories of Salford in 2020, using paintings, photographs, films and poetry contributed by some of the 245,000 residents of the city." The exhibits will only be open from 11 am to 4 pm on Saturdays and Sundays, and prior booking is required, which you can do here.
Film | On Saturday you can catch the 1992 supernatural slasher film Candyman at HOME. The film follows a Chicago graduate student whose thesis on urban legends leads her to the legend of the Candyman, "the ghost of an artist and son of a slave who was murdered in the late 19th century for his relationship with a white painter's daughter."
Music | It might be hard to find live music in Greater Manchester at the moment but for some reason Leeds Town Hall is managing to run a full schedule of concerts and events, with seats set apart from each other and stringent hand sanitising protocols at the door. This week they have several chamber music concerts - which you can check out here.
Books | Our favourite new book is The Moth and the Mountain: A True Story of Love, War and Everest. It's by the journalist Ed Caesar, who lives in Manchester and does most of his writing for The New Yorker. It's about Maurice Wilson, a veteran of the First World War who flew to Everest in the 1930s and tried to conquer the mountain - alone. Even if Ed wasn't a loyal Miller and one of the first members of this parish we would still be recommending this moving and gripping book, which you can pre-order here.
---
Latest Covid-19 data
Infection rates: Oldham has overtaken Rochdale in Greater Manchester's Covid league table, as its infection rate (which is the number of new confirmed cases per 100,000 residents) now approaches the 600 mark. Rates have risen in all the boroughs in the past week, with Manchester's now just below 500 and Stockport with the lowest in GM, just over 350. It is no longer students in Manchester that are driving the rate increases, which will prompt concerns about spread among older age groups.
Hospitalisations: Admissions to critical care have increased from 3 per day across Greater Manchester at the beginning of September to about 9 per day now, which has been the case for about ten days, we learned last week. In the middle of last week, there were 218 patients in critical care in GM, 95 of which had Covid. At the peak in April the system had just over 300 patients in critical care, and just over 260 of them had Covid. There are currently just over 400 critical care beds available, GM's medical lead Dr Jane Eddleston told journalists last week, which means "we are prepared". She announced that the hospital system is now opening "surge" critical care beds to increase capacity further.
Covid deaths: There was a notable increase in the number of Covid deaths in Greater Manchester's hospitals in the week ending on Thursday. We are now seeing 17 patients dying per day having tested positive for the disease, up from just under 10 per day the week before, and up from about 3 per day a month ago. How does that compare to the peak? The worst week in mid-April saw an average of 56 deaths per day, so just over three times higher than we are seeing now. (We calculate these numbers every week by adding together GM hospitals in this spreadsheet, which counts patients who have died in hospitals and tested positive for Covid).
And finally: If you are looking for more positive news, the latest data release from the Office of National Statistics shows that in the week ending October 9th, there were actually fewer overall deaths (from all causes) in the North West than in the same week last year. Here's how the graph looks comparing this year's deaths (the red line) to last year, showing a lot of what are known as "excess deaths" this year in the Spring, but none recently. For context, in that week ending October 9th we were seeing around 8 Covid deaths per day in Greater Manchester's hospitals.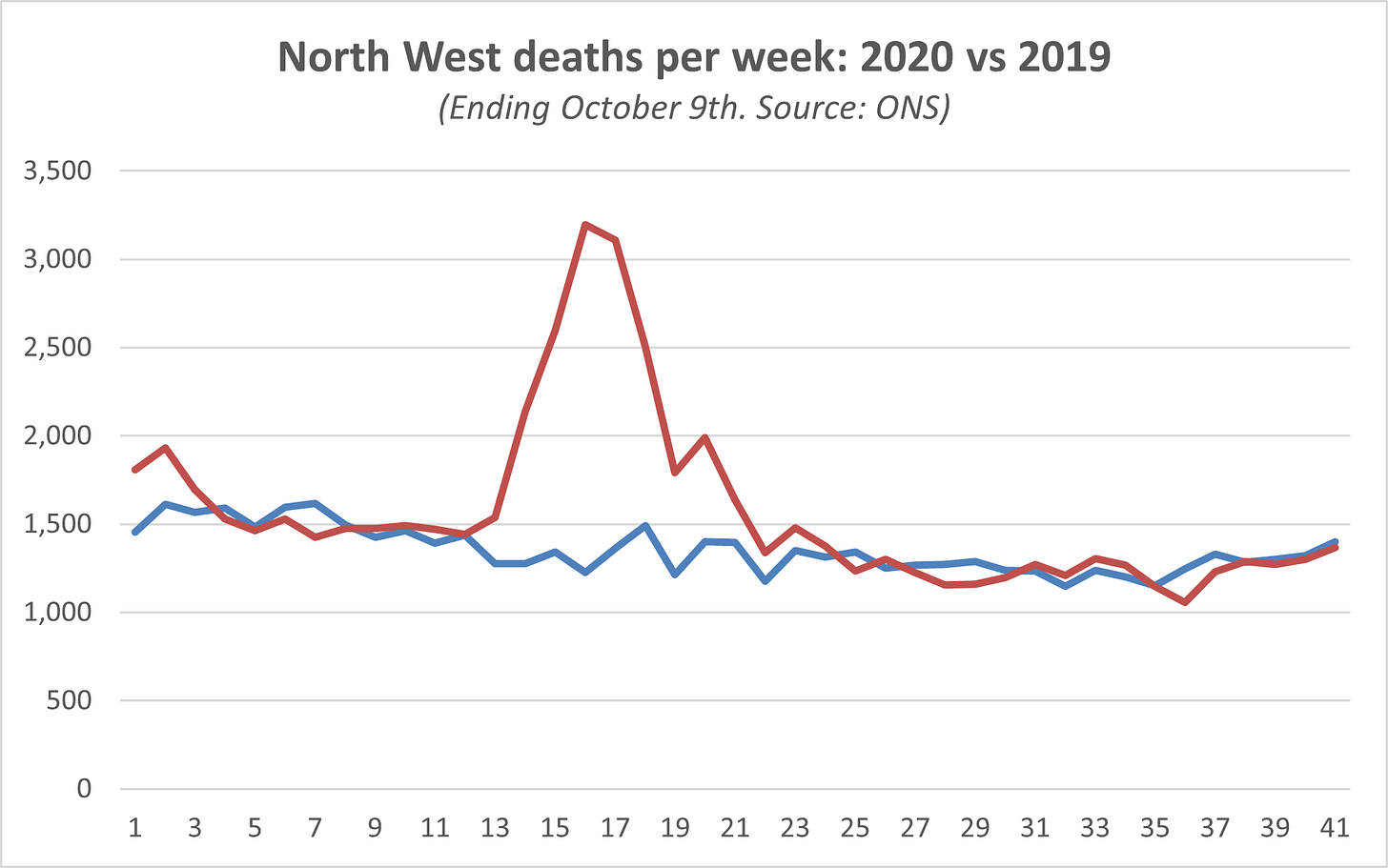 Our 10% launch-month discount ends this week - join now!