Discover more from The Mill
Award-winning local journalism from Greater Manchester's new quality newspaper - join our free mailing list or support us as a paying member
Over 39,000 subscribers
Some good news from Bolton
Plus the rest of our Monday briefing
Dear Millers — we hope you're enjoying the lovely Bank Holiday sunshine.
Our weekend read was a fascinating piece about the history of Denison House by Thomas McGrath, who delved into the archives to learn about the lives of the mansion's former residents. If you missed it, you can read it here.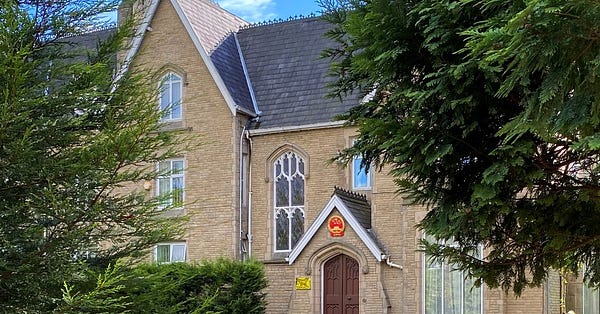 manchestermill.co.uk
The rich history of a secluded mansion in Manchester
From colonial merchants in the Congo to an illegal suffragette sleepover, one grand house takes us on a journey into the past
---
This week's weather
---
---
The big story: Good news from Bolton
Top line: The Covid-19 case rate is now falling in Bolton for the first time in weeks. The borough has a rate just over 385, which is down 10% on the previous week. The peak day of new cases looks like it was May 18th, just under two weeks ago, when 284 new ones were detected.
The GM picture: Greater Manchester's case rate is now 108.5, up 29.5% in a week, compared to 28.9 across England, up 28.5%. Cases are rising in eight of the ten boroughs, with Bolton and Trafford the only ones on the way down. The highest after Bolton are Manchester, Bury and Salford, all of which have a rate in the 80s.
Our take: The media's in-built "negativity bias" means we tend to hear much more about bad and alarming news, so it's important to note positive developments.
It's been more than a month now since Bolton started spiking, so for the rest of GM to have case rates under 100 is a promising sign.

Even more promising is how few over-60s in Bolton are testing positive: the rate among that age group (currently just under 75) just hasn't shot upwards with the rate for the younger cohorts this time, suggesting the vaccine is proving effective (see our analysis in last week's briefing).
The news from hospitals? That's hopeful too. There were eight Covid patients on ventilators in Bolton NHS Foundation Trust in the middle of last week, still well below the peaks in November (19) and April last year (22).
Across GM, there were 15 Covid patients in critical care last week, up from 14 the previous week but still way down on the February peak of 170.

Outside of critical care, there were 112 patients with Covid in GM hospital beds.
The last word: Having said all that, the GM rate is still rising, the Indian variant is pushing up rates across the country and the government now says it may have to delay the end of Covid restrictions on June 1st, with scientists warning of a national third wave. So it might not be time to pile into nightclubs and invite your entire extended family over for a sweaty house party just yet.
---
Other local news in brief
---
Our 1st birthday
The first-ever Mill newsletter went out on June 5th last year, so our 1st birthday is on Saturday! A small and entirely legal group of Mill writers will be meeting up to celebrate and eat a Mill-shaped cake baked by star trainee Mollie.
It's really quite humbling and amazing how much support and goodwill has built up around this project in its first year. The Mill has grown faster than anyone could have expected and our newsletters now go out to almost 13,000 readers across Greater Manchester (plus a handful of exiled Mancs in London, Birmingham, New York, Los Angeles and Sydney).
We have published more than 20 local reporters and writers over the course of the year, and we now have a little office just off St Ann's Square. Most gratifying of all has been the response we've had to our stories, suggesting there is a real future for a new kind of journalism in this neck of the woods.
We're extremely grateful to every Miller who has sent us ideas or told friends about The Mill. Thanks especially to our members, whose subscriptions have paid for all of our journalism and who have formed a lovely community of like-minded people who believe in what we are doing. Later this year they will be able to put names to faces at our first Mill Members' Meetup, preparations for which are underway.
If you haven't joined up yet but would like to, just hit the button below. And if you have a favourite Mill story from the past year, please do share it on social media to celebrate our birthday…
---
Home of the week
Staying on the theme of grand houses from this weekend's piece, this 6-bed detached home in Eccles is on the market for £1.1 million. It was built in 1872 and was once the weekend retreat of a Victorian mill owner.
---
Our favourite reads
The John Rylands Institute: We enjoyed this piece about the 'Queen of the Arts' — Margaret Pilkington, who was a skilled wood-engraver. She spent much of her life championing the arts. In one address to the North West Federation of Museums and Art Galleries, she spoke of her "deep regret" that art was perceived as the prerogative of the "idle rich".
Tablet Magazine: Jonah Raskin, a professor emeritus at Sonoma State University, recounts his time in Didsbury ('Yidsbury') during the 1960s. Originally from New York, he was studying at the University of Manchester and was given a "student deferment", meaning he wasn't drafted into the Vietnam War.
The Atlantic: This article about 'ultra-fast fashion' profiles the marketing tactics of online retail giants, including Manchester's Boohoo and PrettyLittleThing. "In 2018, H&M was sitting on $4.3 billion worth of unsold items. Boohoo, by contrast, could order as few as 300 or 500 units of a given style — just enough to see whether it would catch on."
Time Magazine: The first baby conceived through IVF treatment was born in Oldham Hospital, 1978. This 2018 Time article tells the story of Louise Brown and pioneering work done by Oldham-based obstetrician Dr Patrick Steptoe, his research partner, Cambridge physiologist Dr Robert Edwards and Jean Purdy, to achieve "the breakthrough of the century."
---
Things to do
Photography | There's a wonderful photography display outside Manchester Football Museum. They're candid shots of fans — in their living rooms, kitchens, gardens, pubs — reacting to good and the bad moments of the game. You can't help but smile when you look at them. Check out "The Game: 30 Years Through the Lens of Stuart Roy Clarke."
Exhibitions | Salford-based studio community Paradise Works is running a new show 'Slippages', featuring the work of Sarah Blaszczok and Ana Genovés. It's an interesting mixture of sculpture, collage, and photography. We're intrigued by the exhibition's invitation to experience the "familiar and the uncanny". Book tickets here.
Flower Power | Is there anything lovelier than seeing a vivid spray of blooms on a sunny day? The Manchester Flower Show is back this week. We're particularly fond of the floral displays in St Ann's Square (we are biased), but think you should drop by Circle Square on Oxford Road to see 'Whispering Wisteria' — it's a tree sculpture draped with 500 pieces of wisteria.
Festival | MACFEST is coming to Oldham on Saturday, offering a "feast" of arts and culture events. Expect a henna draw-along, Bengali singing and geometric papercraft with Gallery Oldham. Book tickets here.
Archaeology | Dr Michael Nevell will be giving a talk, "Digging up Manchester: Industrial Archaeology & Heritage in the Shock City" on Wednesday. He'll be talking about the bricks, cobbles and glass bottles recovered from these digs. Book tickets here.
Audio | "Monuments", a new series of audio plays will take you through Ancoats. It tells the story of a changing city and its inhabitants. You'll be taken on a route through the city, accompanied by story chapters. Find out more here.
---
Letters to the editor
I had no idea about the full history of Denison House, so it was a delight to read about all the people who lived there over the centuries. It is a shame it probably won't be accessible to the public on account of it being used as Consulate General of the People's Republic of China — but wouldn't it be lovely to go inside and take a look? Emilie, Trafford
You write that James Frederick Hutton was as "heavily involved" with Manchester Geographical Society. For those thinking this may have been a sort of pleasant pastime, the relationship between geography and commerce was intertwined. Manchester Geographical Society was originally founded in 1884 and was aimed at the businessman and focused on commercial geography. John, Salford
I was enchanted by the story of Chris Leah, saving wooden canal boats from the ravages of time. "There was a war going on between the hippies and the posh boaters," is the kind of line I expect in a Mill feature… Diane, Stockport
Tell a friend: If you think a friend would like The Mill, please tell them about us now by forwarding this newsletter or using the bottom below. We're very grateful for your help in spreading the word and helping us to grow.
---
Grist to The Mill: If you want to tell us about a story or pass us some information, please email joshi@manchestermill.co.uk or dani@manchestermill.co.uk. We are always happy to speak to people off the record in the first instance, and we will treat your information with confidence and sensitivity. Get in touch.