Discover more from The Mill
Award-winning local journalism from Greater Manchester's new quality newspaper - join our free mailing list or support us as a paying member
Over 39,000 subscribers
I miss the old place
How the city is catching up with Miles Platting
Good morning Millers. Today's story is about Miles Platting, a neighbourhood you can reach by a short walk east from The Northern Quarter, but which represents a very different world. I wrote about it after getting talking to Elaine, a 56-year-old woman who has lived in the area all her life, and left earlier this year.
That conversation prompted me to do a bit of research into Miles Platting. This will be a format we use regularly on The Mill - stories based on unscheduled interviews with regular people we meet. It means we hear from people who don't have positions of power and haven't necessarily spoken up about something on social media or been chosen as a case study by an organisation to make a point.
We only spoke for 25 minutes before her granddaughter pulled her away, but I think Elaine's tale highlights some interesting themes about housing and the way development is funded. When cities go through periods of rapid change, the process is inescapably messy and brutal and can inflict nasty wounds on the soft tissue of communities - especially poorer ones. In 2020 Manchester, Miles Platting is the kind of place you would expect to see the haemorrhaging showing up.
---
Elaine was born in November 1963. She lived in a council house nearby where we are standing in the central green space of Miles Platting, and then in a tower block. She works as a cleaner all around the city. Her dad was born here, and for most of her adult life she lived in her own council house a few hundred yards away, which she bought in the 1980s. Most of her neighbours were still renting from the council when she left, and most of this neighbourhood has been that way since well before the war. Then in April Elaine sold the house and left the area, after 56 years.
We met recently on a grey, overcast day while she was back in her old neck of the woods looking after her granddaughter, who was amusing herself in the playground that sits just next to Rochdale Canal. Every picture of Miles Platting is photo-bombed by the vast and forbidding Victoria Mill, with its steep, round chimney and a 360-degree viewing gallery whose windows make it look like a baroque palace. It was built to the design of the famous Bolton architect George Woodhouse in the 1870s, but it could have been commissioned by Ludwig II on the banks of the Starnberger See. The council estates below look squat and tiny in comparison - spreading out like moss around a giant toadstool.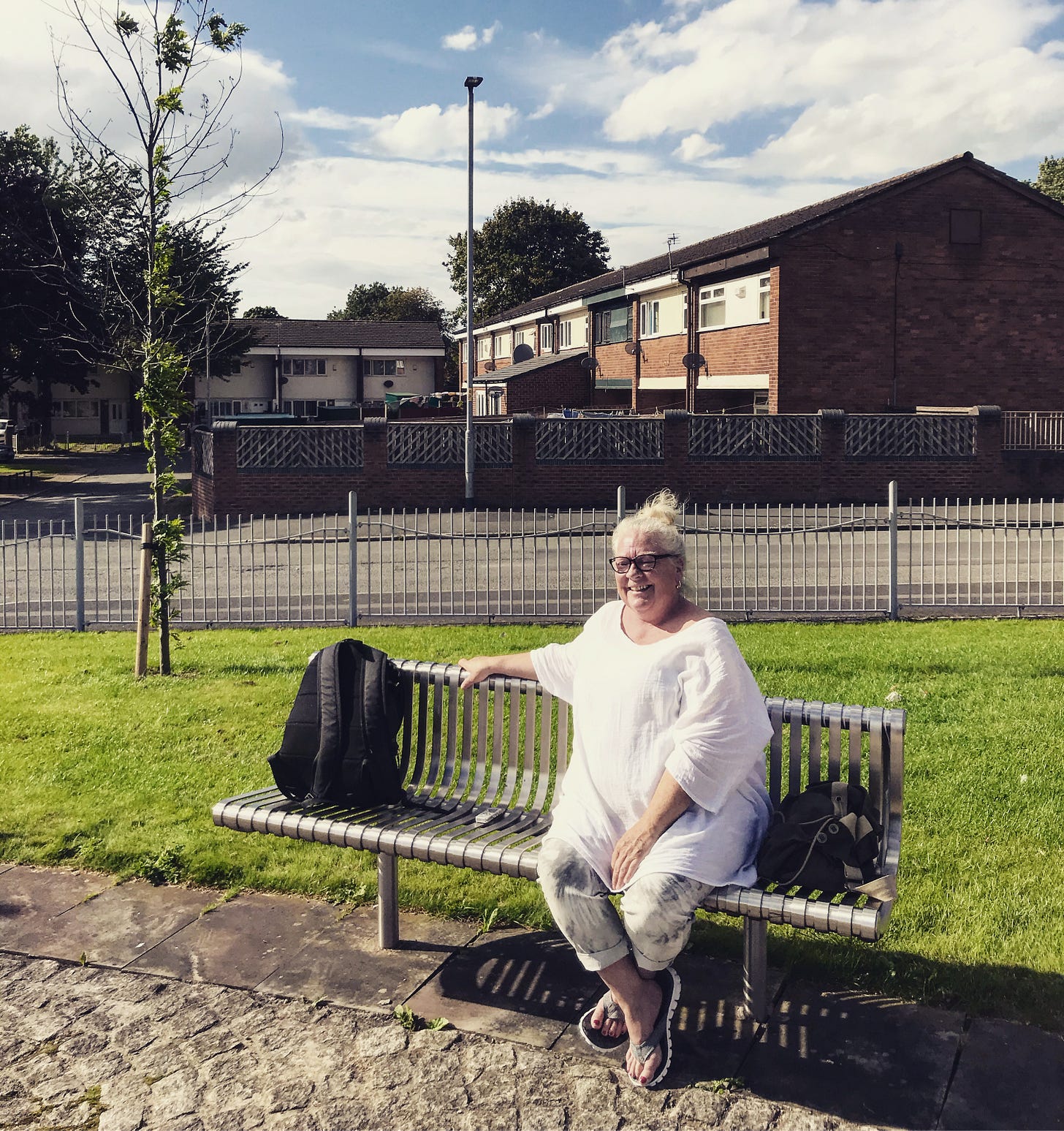 Elaine, with the neighbourhood's 1960s council housing behind her
"I miss the old place," she says, as I introduce myself and settle down on the bench next to her, close to the playground and the strip of green space between the canal, the mill and the rows of two-story houses. "The kids used to gather here, there used to be a big centre. In the summer holidays - what we're in now - this would have been full of people teaching the kids to play football or canoeing or going on coach trips. It's all gone now."
When she was growing up, Miles Platting was a poor but tightly bound working class area.  "They say it's a rough area, but when you live here, it's not," she says. "It's not as rough as they make out." It had originally emerged to house thousands of industrial workers, who spilled out of the dozens of pubs along Oldham Road, the thoroughfare that brings you here if you walk 25 minutes from the Northern Quarter, past some car parks and the Royal Mail's sorting office and the vast, windowless Wing Yip Superstore.
To get local stories like this every week, join The Mill's email list below
"The street was swarming with drunken men and women and with young mill girls shouting, hallooing and romping with each other," wrote the Scottish journalist Angus Bethune Reach after passing through Oldham Road on a Sunday night in the mid 19th century. "In no city have I ever witnessed a scene of more open, brutal and general intemperance," he went on. "The public houses and gin shops were roaring full. Rows and fights and scuffles were every moment taking place within doors and in the streets. The whole street rung with shouting and swearing, mingled with the jarring music of half a dozen bands."
When Elaine was a teenager, most of the factories were closed but many of the pubs built to service their workers were still there. She remembers raucous nights singing and dancing around the bars of Oldham Road, and when she tells me about them she smiles at the thought of it, looking off across the canal. She also has happy memories of the Northern Quarter, which she doesn't visit as much these days since it's "gone up market". She used to go all the time. What was it like? "Ah, brilliant," she says, smiling again. "Everybody knew everybody."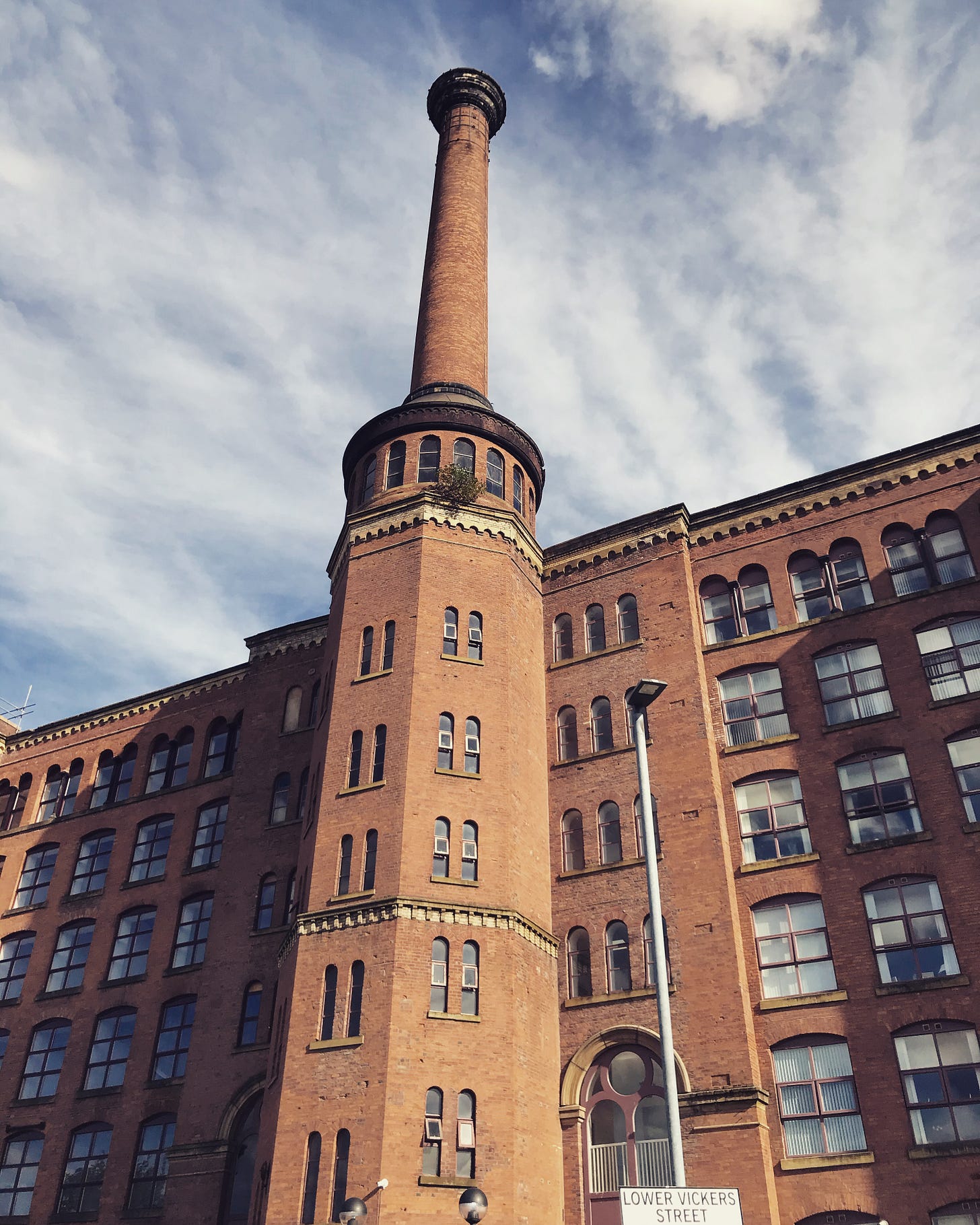 Victoria Mill, which is now flats and offices
A pub crawl along this stretch of Oldham Road wouldn't be as taxing on the liver anymore. It might not even get you drunk. The places where legendary boozers like The Old Pack Horse and The Ram stood are now warehouses or empty sites with high fences and advertising units hawking BT Sport's football coverage, biding their time until the Ancoats redevelopment beast starts to lick its tongue around the corners of these forgotten streets and gobbles them up.
That's what's changing Miles Platting now - not the closure of mills and pubs, but proximity to the white heat of Manchester's Latin Quarter regeneration project. Near where I'm sitting with Elaine are streets of neat, red-brick newbuild homes built by the property developer Lovell Homes. The BBC's four-part documentary series Manctopia: Billion Pound Property Boom briefly featured one of these houses, as a young professional from Scotland with a budget of £300,000 was shown around. "The regeneration started in Ancoats, then it started in Beswick, and we basically get the land from the council and we sell to first time buyers, so we change the demographic of the area," the agent tells him, with remarkable candour. "This was run down - high unemployment, high crime back in its day," she says. "So naturally the more we build, the more the area is regenerated."
281 homes in Miles Platting have been demolished since 2007 to make way for this regeneration, 240 of which were council homes. Residents think the actual number of demolitions was even higher, but those are the official figures collected by Dr Richard Goulding, a housing researcher who has studied this neighbourhood in recent years. "A lot of the private developments are on the best land, by the canal and the park," he says, noting that community amenities like the swimming pool that were lost during the years of austerity have not been replaced.
The transformation of the area is being orchestrated by Renaissance Miles Platting, a consortium which signed a contract with Manchester City Council in 2007 to manage the estate until 2037. It's a private finance initiative or PFI, the kind of deal that became controversial under New Labour when it was used to build schools and hospitals with a combination of public and private investment. The deal allows the council to refurbish the massive council estate, bringing 1,554 homes up to what is known as "Decent Homes" standard, with a lower up-front investment than if they did it themselves. A significant amount of central government funding has also gone into the scheme. Residents who have spoken to Goulding generally seem happy with the renovations to their homes and the service they get from Adactus, the company that manages the council estate as part of the consortium.
"The PFI works through Renaissance borrowing money upfront from the markets to carry out capital works on the estate, and in return gets paid an average of £16m per year from MCC to manage the estate," says Goulding. The Renaissance consortium includes investors, the management company Adactus, and Lovell Housing, who are building the homes for private sale. Goulding thinks 371 homes have been built for sale, 87 are under construction and 194 more are planned. Given that 22 social homes have been built so far, he calculates there has been a net loss of 218 social rented homes. "The sales of the land to Lovell on a 250 year lease will be part of how the council is covering the rest of that long term cost," he says.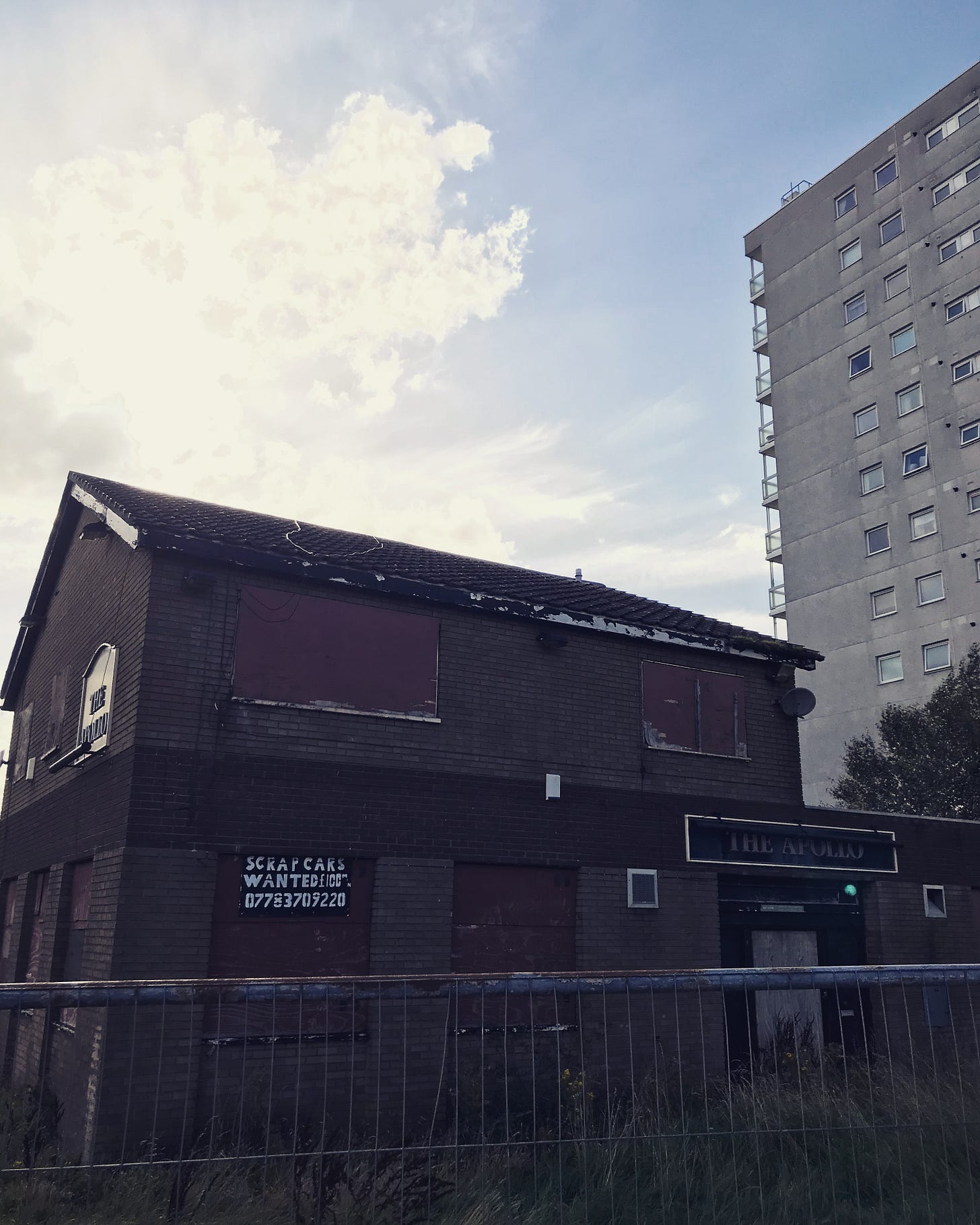 The Apollo, an abandoned pub in Miles Platting
There are five other council housing PFIs in Greater Manchester - in Manchester, Salford and Oldham. "PFI as a national policy was discredited due to problems of overspend, poor value for money and weak systems of accountability, as epitomised by the collapse of Carillion," says Goulding. Since the deal was done in Miles Platting, ownership has changed significantly. The current owners of Renaissance Miles Platting are HICL and Jura Holdings. HICL is an infrastructure fund and Jura is a joint venture between two private equity firms called Equitix and Dalmore Capital registered in Guernsey.
Most residents are unlikely to understand the complex financial engineering which means their council rents now go to off-shore private equity firms. Goulding did a PhD in PFI initiatives to get to the bottom of it. But the memory of the demolitions is still raw, and the changes in the composition of the community are inescapable. What makes sense for the council and looks like a smarter, neater neighbourhood to an outsider can feel like a cost to people who have been here a long time.
"It was a close knit community, till all these new builds come up," says Elaine. "My daughter just phoned and said 'Have you seen anyone?' and I said no." Technically, Elaine is one of the winners of the gentrification of Miles Platting. She paid £14,000 for her house under Thatcher, and sold it for £180,000, moving further out and paying off a bit of debt. A gay couple bought it off her, after leaving an apartment in town because they wanted some green space. After Elaine's two kids left home, the house was too big for her, and her friends had been leaving the area during the demolitions.
"I know a girl who lived on the top of my street," she says, pointing behind us into the estate. "They told her they are knocking her house down to build a road." The woman was re-housed in Collyhurst, the neighbourhood on the other side of Oldham Road, whose uncertain fate was covered in Manctopia. Elaine says the investment in this bit of town has "brought the area up - but in order to do that a lot of people had to lose their houses." Is that a good deal? It depends on who you are, and which living room you are sitting in.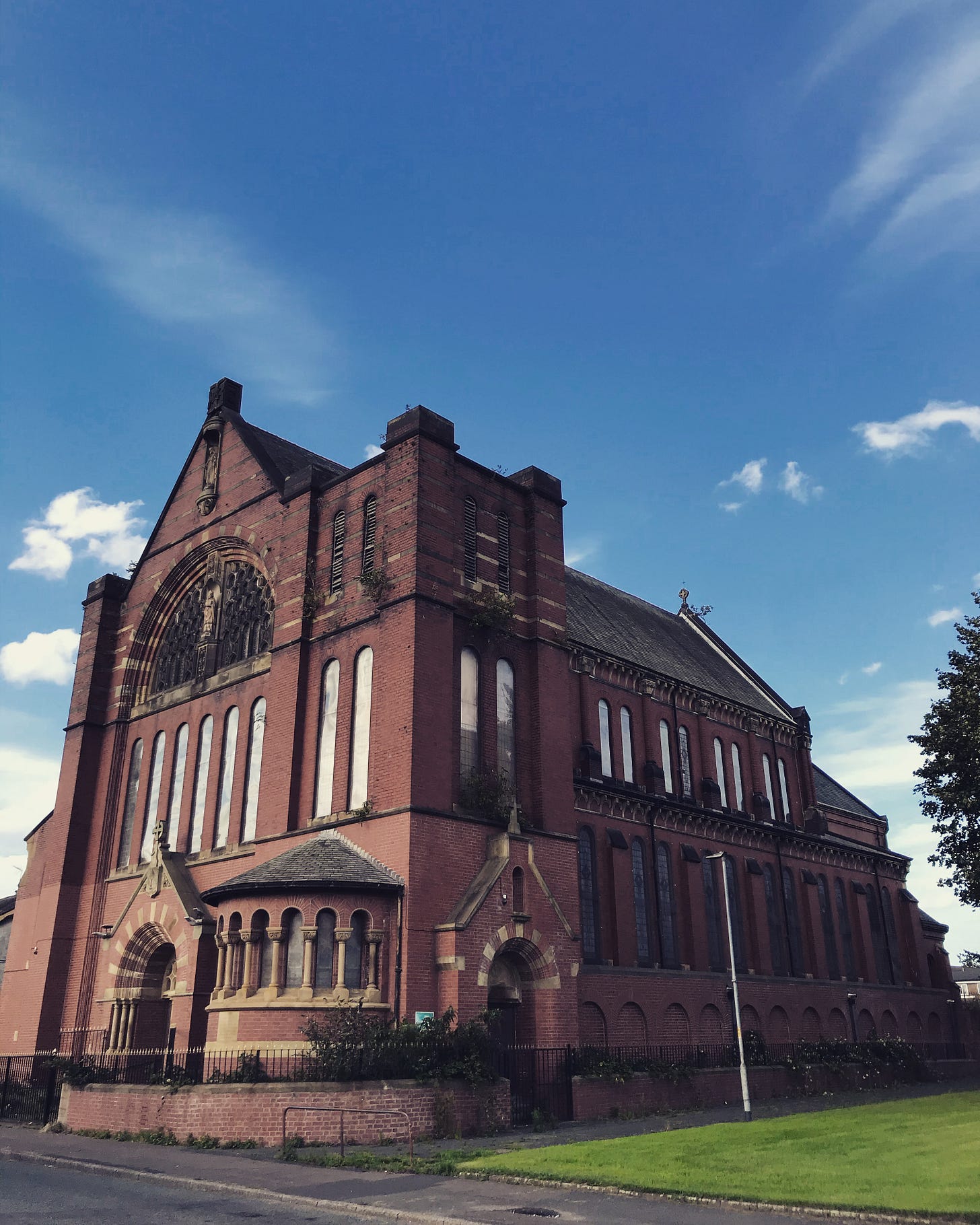 The Corpus Christi Priory, which held its last mass in 2007
After I left Elaine, I walked around Miles Platting, past the newbuilds and the decaying and extraordinary Corpus Christi Priory on Varley Street, built by The Norbertine Canons Regular from the Belgian Abbey of Tongerlo after they arrived in Manchester in 1889. Opposite the priory is a row of Lovell homes, and on the street corner I bumped into one of their owners - a thirtysomething man from Kent who moved in a couple of years ago. He works in online retail and says he chose this area because he thinks the gentrification of the city centre will eventually fill in the area between his house and Ancoats - the bit Elaine spent her life in.
As we chat, a bunch of teenagers drive past in a sports car, screeching the tyres on the road and holding up a bit of traffic. "I don't mind the old school," he says, referring to the working class neighbourhood he's joined, "but it's the kids I can't stand. Because the kids are idiots." His neighbours in the other newbuilds have a WhatsApp group chat, and the anti-social behaviour of the local teens is one of the main topics. I tell him I've been speaking to Elaine about Miles Platting. "I don't know what they've told you but I feel welcomed," he says. "And I hope they feel we are bringing up the area."
To get local stories like this every week, join The Mill's email list below