Discover more from The Mill
Award-winning local journalism from Greater Manchester's new quality newspaper - join our free mailing list or support us as a paying member
Over 39,000 subscribers
It looks a lot like Greater Manchester's Covid-19 outbreak has stalled
Despite lots more testing, infection rates are barely growing
Good morning and welcome to The Mill's latest briefing on the local lockdown. I promise I'll get back to stories with human beings in them rather than just percentages and charts soon, but I wanted to start the week with a quick update on the latest Covid-19 data, because I think we've reached an important phase in the local outbreak.
But first, a quick thanks to all of you who have been helping to get the word out about The Mill. Lots of readers have forwarded these emails recently and told friends to join the list. I really appreciate all of your support. If you think someone you know might find today's briefing useful, please use the button below to share it.
---
I'll try to keep this brief, because I sense people are feeling a bit overwhelmed and confused by the sheer volume of data and stories about our local outbreak in the past week.
Every day last week I typed the new Covid case data from Public Health England into my spreadsheet and looked to see what was moving. I was looking for changes - signs that we should be less worried or more worried by the outbreaks in Greater Manchester. A key principle of The Mill is that I know people are busy and inundated with information, so only email you when there's something important to say. And for most of the week, the numbers just weren't doing much. The picture wasn't changing, and there wasn't much to add to our analysis of early last week.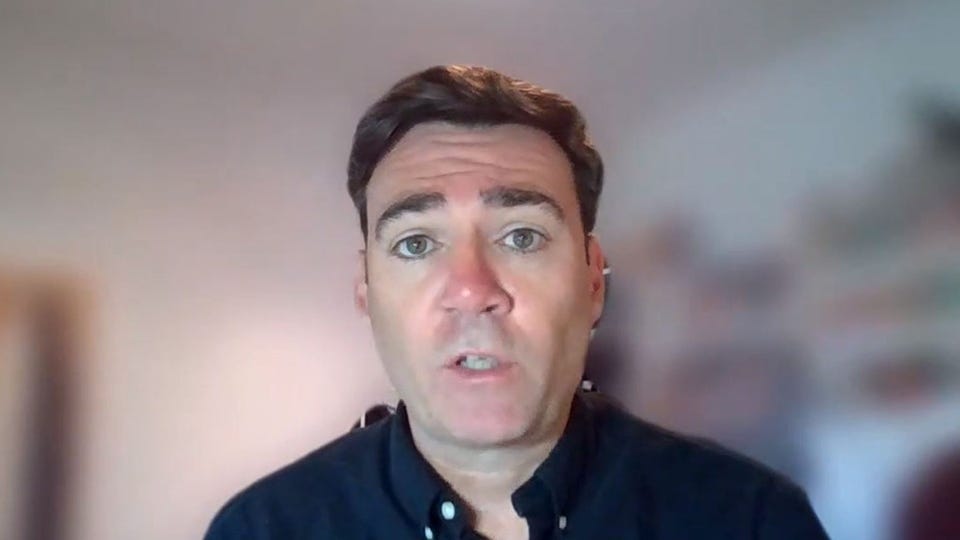 That changed yesterday. When I punched in the numbers in the morning and then again last night (they update in real-time as tests are processed), a story that had been emerging for a few days came into full view: that Greater Manchester's outbreak has stalled. Rapid infection rate growth in the last week of July slowed down very significantly in the week to Wednesday. That doesn't mean rates of positive tests are decreasing - just that they aren't growing in any meaningful way.
That's despite big increases in testing - up more than a third in the week to August 1st alone. If lots more testing is resulting in an average Greater Manchester infection rate that is essentially flat - up only two new cases per 100,000 residents - then we have reached a significant moment in this local outbreak.
The data we're looking at is for the week which ended on Wednesday August 5th, which means that most of it took place after the new restrictions were imposed (there is data for the days since Wednesday but it is too provisional to use). Here's what we can see:
Greater Manchester's infection rate is 31, very marginally up from 29 a week before. If Oldham wasn't included, the rate would have fallen.

Infection rates have fallen versus the week before in Trafford, Manchester and Stockport. Trafford's fall was particularly notable, from a rate of 39 to 22, whereas Manchester fell to 33 and Stockport fell to 23.

Boroughs like Rochdale, Salford, Tameside and Wigan have only seen very modest growth - all up less than a quarter since the previous week while all doing more testing. It leaves them on rates of 36, 28, 31 and 10 respectively.

Bolton and Bury, which had very low infection rates the week before, have joined the party by growing to rates of 26 and 30 respectively, bringing them in line with most of the other boroughs.

Oldham still seems to have a serious outbreak, recording a rate twice as high as any of the other boroughs (76 in the week in question), up just under a third on the week before. It means Oldham has now reached half of Leicester's peak rate in late June - 150 - which is the yardstick for an extremely alarming outbreak.
Here are two charts that help to show what is happening. The first shows the infection rate in Greater Manchester since the start of the pandemic. The second shows the growth of the infection rate in the past month, showing that it was growing more than five times faster a couple of weeks ago than it is now.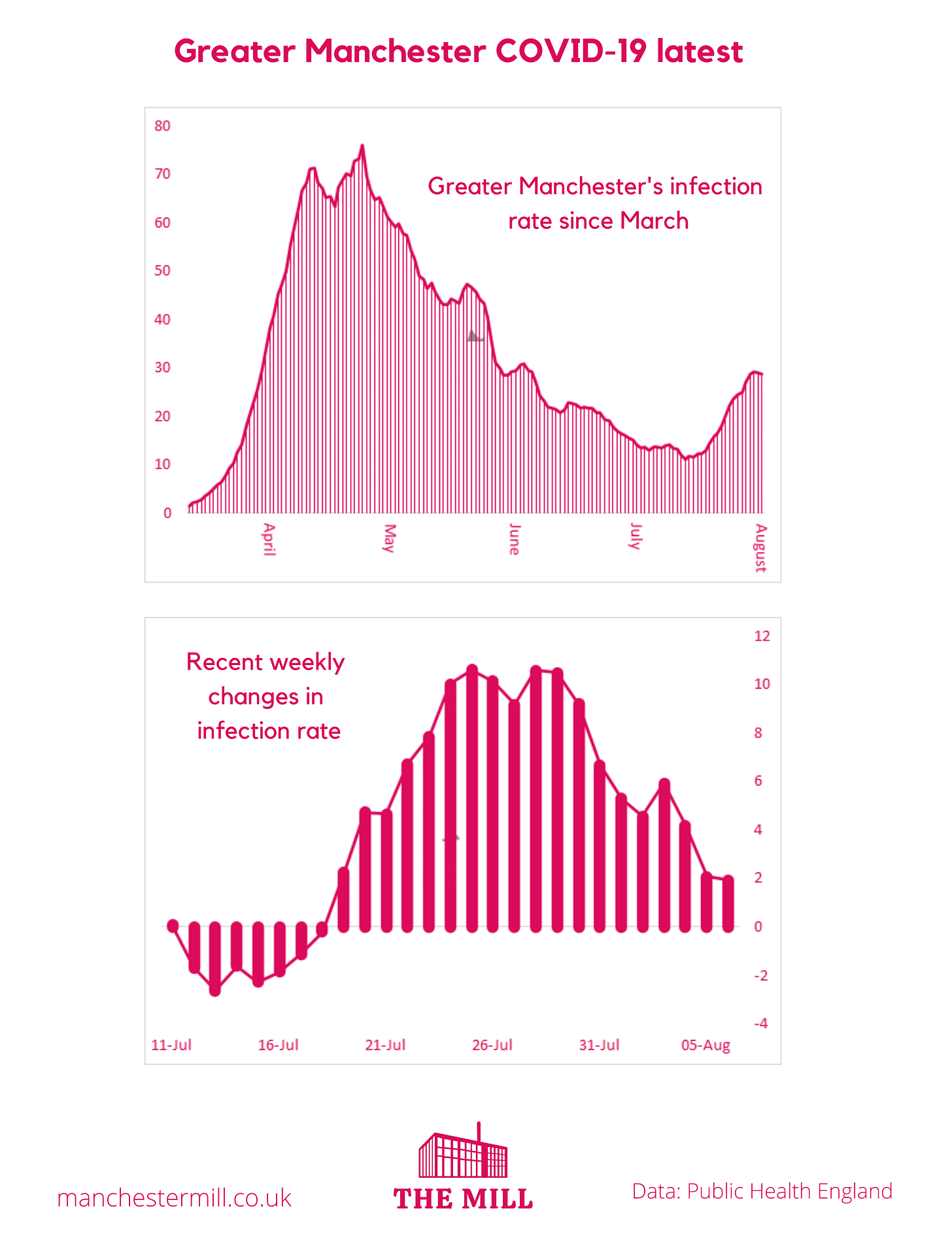 Testing, testing
Early last week I asked all the councils to tell The Mill how many tests they have done per week since early July. Despite several follow-up requests, only two councils were able to do so - Trafford and Rochdale. Trafford's numbers revealed it was doing almost three times more tests in the final week of July compared to the first week - which I analysed here. Rochdale's numbers show they were doing more than 3 times as many tests at the end of the month as the beginning.
It makes no sense for councils not to send us this data so we can understand what has happened in the past month. It's obviously a critical piece of context when you are looking at infection rates, and trying to understand why they are growing. Not having testing numbers is a bit like looking at a Premier League table without knowing how many games each team has played. Trafford's public health director Eleanor Roaf told me this week that every council is sent the data by Public Health England. It's possible they are embarrassed about how little testing they were doing in early July, or that they don't want to undermine their public messaging about the infection spreading. But there's no doubt every council should be publishing its testing numbers and the percentage of its tests that came back positive along with its infection rate on a very regular basis.
What we are left with is lots of scraps of information - recorded and released at different times - all of which points to a significant ramping-up of testing in the past five weeks. As I said above, the data sent over by Trafford and Oldham shows a massive jump. And according to a report prepared for council leaders and published by the MEN, Oldham did 66 per cent more testing the week ending August 1st than it did the week before, which puts the 30 per cent increase in infection rate in the week ending Wednesday into context. To be clear, it suggests a large amount of the increase might be the result of doing more testing. Overall, testing in Greater Manchester rose by more than a third in that final week of July, dwarfing the small rise in the overall infection rate.
The Big Decision
So, we have a picture of many more tests being done and about the same number of positive cases being found. In fact, if Oldham is treated separately, fewer cases being found. That doesn't mean we are out of the woods, and clearly we are still waiting for the moment when rates are actually falling week on week, but it means we are in a new phase.
What has driven this sharp slowdown in the growth of the outbreak? That's probably one for a later post. It's hard to see how the new restrictions could have played a major part, even though they were in place for most of the week we are analysing because the incubation period for the virus is thought to be somewhere between 2 and 14 days after exposure.
But clearly there is a big decision coming up this week. It is currently illegal to visit friends in their homes or have guests over - by any measure a very significant curb on personal freedoms. Those restrictions were imposed not because infection rates were alarmingly high yet but because of how fast the rates were growing. It was a pre-emptive strike. Now the growth has ground almost to a halt. If that picture holds up in in the coming days, the argument that Greater Manchester should remain in this semi-lockdown through August will become untenable.
I'll update later in the week when we can see whether this trend has continued or if things have changed again.
---
If you think someone you know might find this briefing useful, please forward the email or use the share button below.
A reminder that you can follow The Mill on social media - we're @manchestermill on Twitter and @themanchestermill on Instagram and The Mill on Facebook.
If you were forwarded this newsletter or found it online, please join The Mill's email list below to get fact-based reporting and thoughtful writing about Manchester in your email inbox every week.