Welcome to the first ever Mill Briefing. Our weekly briefings are designed to help you make sense of what is happening in Greater Manchester, and to save you sifting through the deluge of clickbaity, ad-filled information online.
If you like this email, please forward it to a few friends and tell them why you joined The Mill. If you have feedback, please hit reply - I'm very keen to hear from readers about how to make The Mill better.
If haven't already, please join our email list below to get thoughtful, in-depth journalism from the Manchester area - direct to your inbox
---
The power of Wythenshawe
Marcus Rashford pulled off the biggest victory of his career yesterday, but his lockdown campaigning for deprived children started slowly. He linked up with Fare Share, a food distribution charity, in March. "At first the donations were going kind of slow," he told a United podcast. "I put a bit of money in myself and it was at £50,000, £60,000." Eventually massive food donations from the big supermarkets brought the total value to over £20 million.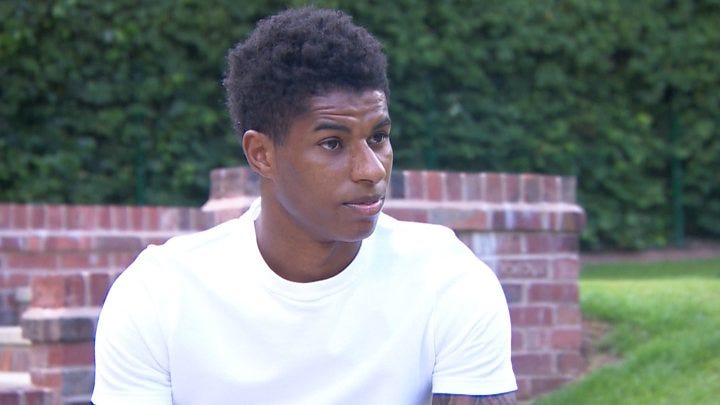 How it got political: "Anybody know who I can talk to about the Government food voucher scheme?" Rashford tweeted a week ago. "I should have made that more clear. Who in the Government is responsible for the scheme?"
On Monday he sent a letter asking MPs to vote to extend the scheme through the summer. "As a family, we relied on breakfast clubs, free school meals, and the kind actions of neighbours and coaches," he wrote.

Yesterday, the government u-turned spectacularly. It means families earning less than £7,400 a year will continue to get £15 weekly vouchers to feed their kids.
The Mill take: Rashford's masterstroke was how he deployed his childhood in Wythenshawe. His vivid descriptions of a poor, precarious upbringing on his estate cut through to politicians in Westminster, and created an image the government found hard to push back against. The campaign went against the orthodoxy most professional athletes subscribe to: that staying out of politics is the best way to protect your brand, embodied by Michael Jordan's famous quip: "Republicans buy sneakers, too". Well, Tories buy sneakers too, but Rashford took the risk on an issue he believed in, and pulled off the most effective bit of political campaigning by any British athlete or celebrity, ever.
Read more: Residents of Wythenshawe - including a woman who rents Rashford's childhood home - spoke to the BBC about his campaign.
---
Covid's concentrations
A new map shows which areas have suffered the most deaths from COVID-19, based on data from the Office of National Statistics covering March to May. Deprived neighbourhoods have suffered twice as many deaths as wealthy ones, the numbers show, even when you adjust for the age of residents.
Worst hit in Greater Manchester: Chadderton Central in Oldham (30 deaths), Leigh East & Higher Folds (also 30) and Higher Broughton in Salford (28 deaths) had the highest fatalities. A councillor in Leigh told the MEN there had been "a significant outbreak" in a large care home there, driving up the numbers.
The Mill take: What jumps out of the data is how unevenly the virus has taken lives in Greater Manchester. Naturally, most of the media attention has focused on the areas with high fatalities, which makes sense in terms of covering the terrible human suffering. But it's worth zooming out a bit:
80 per cent of Greater Manchester's areas (277 of them) have experienced fewer than one death per week from COVID-19.

Those worst hit three areas mentioned above have had 88 deaths, more than 40 other areas combined.

The median area has suffered five deaths, meaning someone died less than once a fortnight between March and May.
You should know: Deaths are counted if COVID-19 was considered the underlying cause or was mentioned on the death certificate as a contributory factor. And the data is broken into small, comparable geographical units with similarly sized populations, like Withington East in Manchester, with about 8,500 residents. Use the map here.
The list below shows local areas which have suffered just one death over the three month period to the end of May.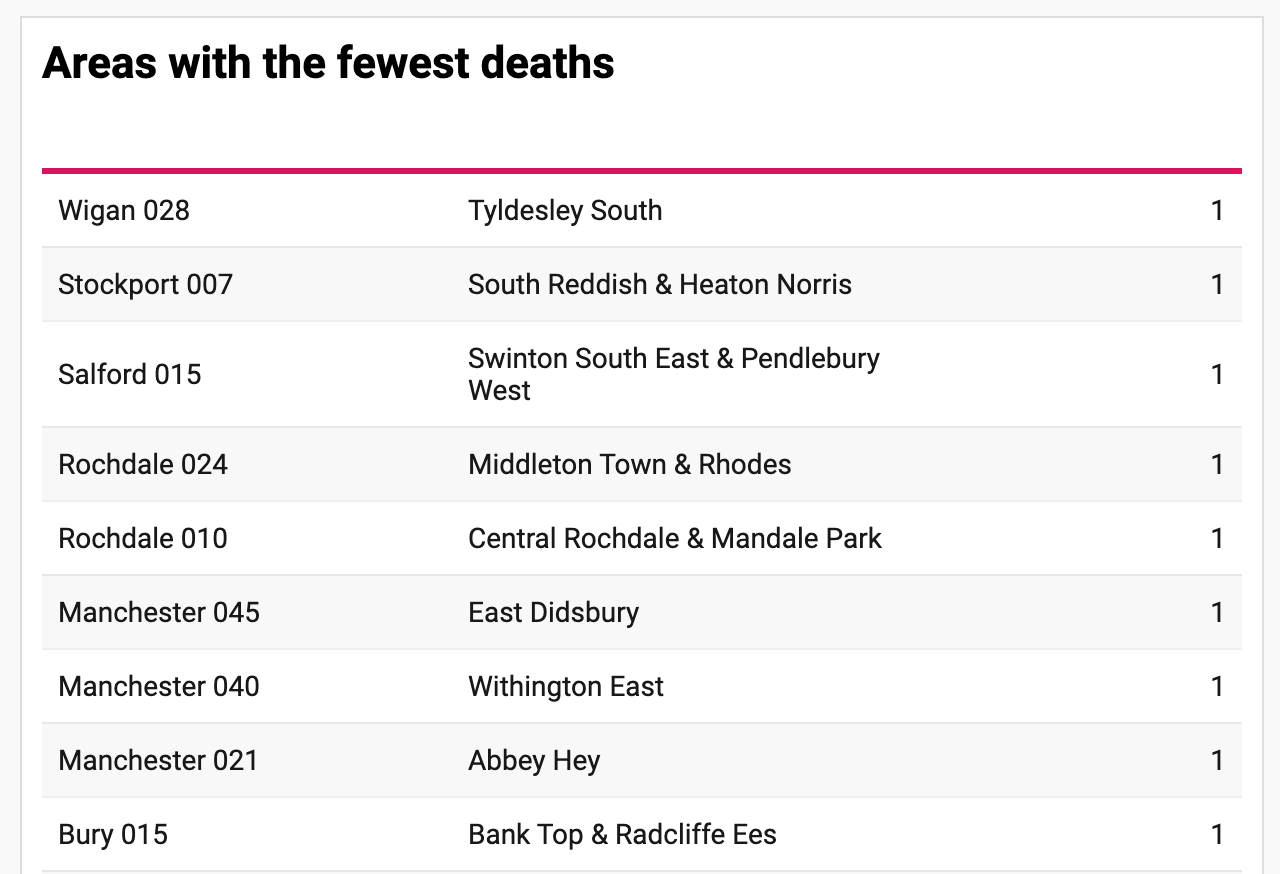 ---
Quick hits
Shopping came back on Monday, with massive queues outside Primark and Zara in the city centre. The Arndale told the MEN it was using thermal imaging cameras to strictly monitor crowds, and would enforce a maximum capacity around a third of pre-lockdown numbers. Customers at the Apple store were required to take temperature checks before entering the premises.
Businesses are refusing to pay their rent, taking advantage of a government suspension of enforcement measures. There's an almighty battle going on behind the scenes between companies - particularly retailers - and their landlords, ahead of the deadline for paying quarterly commercial rents next week. One of Poundstretcher's Manchester landlords is furious with the chain, reports the FT. And The Mill has heard that a well known coffee shop brand is withholding rent, despite having kept many of its outlets open.
Pub boozing is back, at least for the Crabtree family, who have had this magnificent watering hole built in their garden by a husband and wife team in Wigan. The Drunken Crab has Old Speckled Hen on tap and a dartboard in the corner. Real pubs could open as early as Monday.
---
Eat: Wolf at the Door will send you everything you need to make 10 premium tacos (£25).
Read: The Guardian's Marina Hyde on Marcus Rashford 'showing our failing politicians how to do their jobs'.
Listen: Jeanette Winterson's brilliant audio series 'Manchester: Alchemical City' went out on Radio 4 in 2014, but it's now available on BBC Sounds.
---
Coming up on The Mill: Our next in-depth story comes out on Friday, revealing which schools and colleges in the North West have received the most offers from Oxford and Cambridge in the past few years, based on data obtained by The Mill under the Freedom of Information Act.
In case you missed it: Our long read about James Watkins, the fugitive slave you settled in Manchester and Bolton, got a great reaction this weekend. It was based on a Mill reader tip, as many of our stories will be. So please do get in touch if you have something you think we should look into. Just reply to this email.
---
If haven't already, please join our email list below to get thoughtful, in-depth journalism from the Manchester area - direct to your inbox