Discover more from The Mill
Award-winning local journalism from Greater Manchester's new quality newspaper - join our free mailing list or support us as a paying member
Over 39,000 subscribers
North West deaths drop below the five year average
A big moment in the lockdown, and the other news you need to know about this week
Welcome to the third Mill Briefing. These weekly emails are designed to help you make sense of what is happening in the Manchester area by pointing out stories you might have missed and saving you sifting through dozens of websites.
But first: On Saturday we published an in-depth piece about three teenagers who went missing in Manchester in May 2017. It was based on an investigation I started almost a year ago for The Times and then picked up again for The Mill. If you liked the piece, please send it to a few friends and tell them about this site. It's a story we are going to come back to.
If you haven't joined our email list, please do so below to get high quality journalism, useful briefings and good writing about Manchester in your inbox:
---
Deaths dip below the average
The story that probably should have been leading bulletins and news websites yesterday came from the Office of National Statistics. They reported on Monday night that total death figures across the country were lower in the week ending June 19th (the Friday before last) than the five year average. Meaning there were no "excess deaths" - the first time that has been the case for more than three months.
Across England and Wales, there were 65 fewer deaths than you would expect based on the five year average, or 0.7 per cent fewer. In the North West this was particularly pronounced - 48 deaths below the average, or 3.7 per cent lower. To be clear: the total number of people who died in this region was lower in the week in question than it has been in the same week on average over the past five years.
We will have to look at next week's release to see if the trend continues. It's also notable that of the English regions, the North West still had the highest number of deaths involving COVID-19 (134 deaths). But reaching the point of having lower deaths than the average is a hugely significant moment. And it's exactly the kind of story that news outlets tend to underplay, particularly ones that are funded by advertising and have a natural instinct to prioritise alarming stories that will share virally on social media.
The ONS has some good charts and all the data here.
---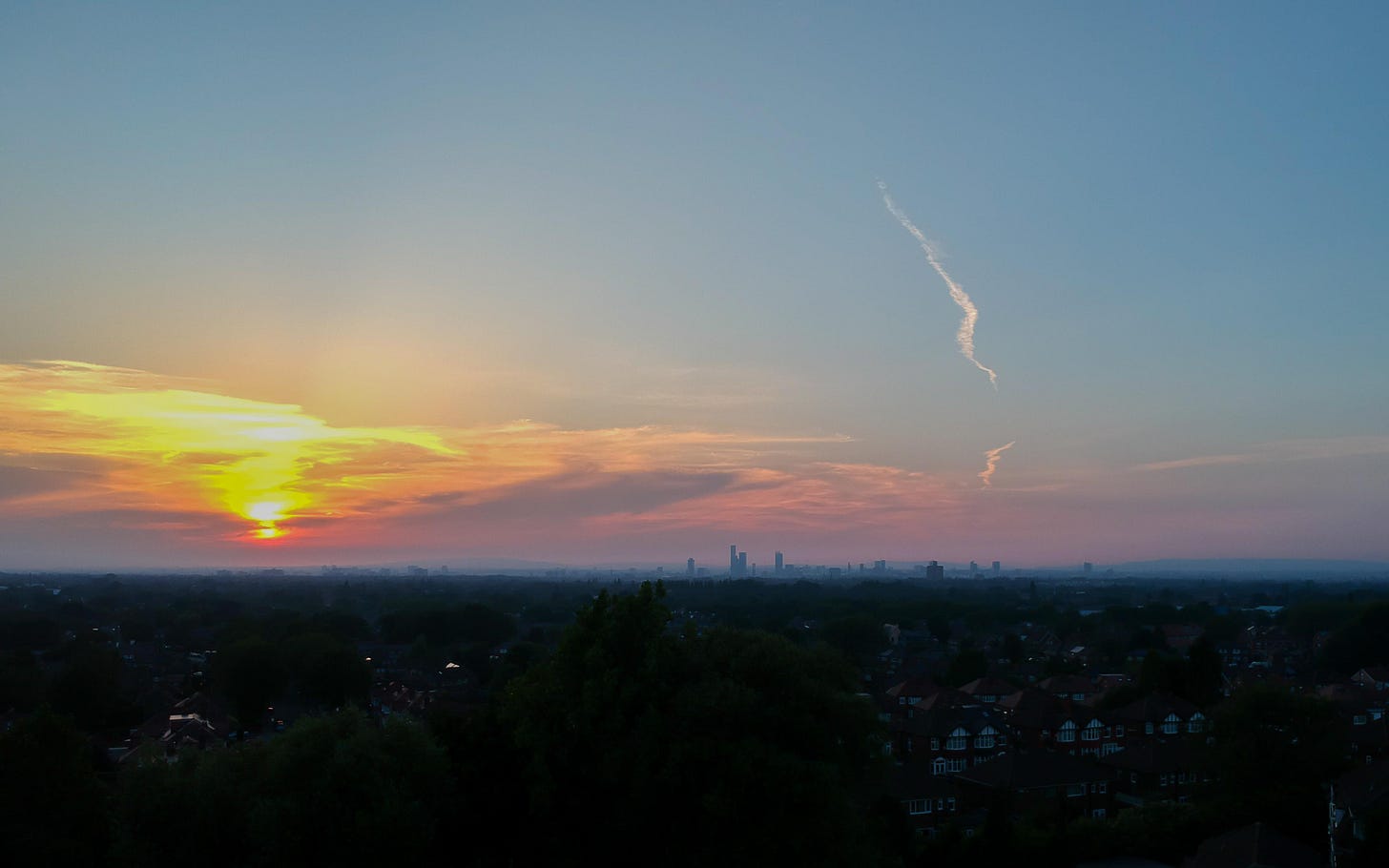 A red Manchester sunset photographed by Reddit user u/Leelum from near Stockport
---
Prepare for 
take
-
off
Earlier this morning Manchester Airport reopened further when Terminal 3 began operating again. Flights from the airport to Dubai, Southampton and Zurich were running already, but today Ryanair and Easyjet are joining the party, although neither are running a full schedule of flights yet. So far this morning flights have taken off to Palma Mallorca, Malaga, Barcelona, Alicante, Rzeszow, Seville and Cologne.
Passengers are being asked to check-in online, download their boarding pass before they get to the airport and check their temperature at home. The airport will be fully open when Terminal 2 comes back into use on July 15th.
---
The libraries coming back
---
Drug dealers paying for illegal raves
There was an interesting story on the MEN's website this week, headlined: "Gangsters are 'bankrolling DJs' to pave the way for lockdown raves so they can make a killing selling class A drugs". Councillor Pat Karney, the council's city centre spokesman, told the paper: "The drugs trade, because the nightclubs are closed and will be for a long time, they are planning a summer of these block parties across the city so that they can ply their trade selling drugs to young people. It's organised crime because of the money that it takes to put on these event in terms of speakers, DJs and generators."
There have been 39 illegal raves and gatherings in the past fortnight, according to police. The story said senior police figures believe drug dealers "have been taking advantage" of the raves, which is obviously a very different thing to paying the DJs and covering the other costs in order to create a market. I asked a veteran of the Manchester clubbing scene what he made of the story. "There is NO way it's all gangsters organising them," he said. "If there are drugs on sale there, then there is obviously an involvement in some way, even if it's just them turning up to sell - but most promoters/owners of clubs have had to deal with that since the 80s." If you're a drug dealer who has organised a rave recently and you feel this newsletter isn't giving you enough credit, please get in touch.
---
Watch: A lovely old film about the Manchester Evening News, shot to mark its centenary in 1968.
Drink: Band on the Wall won't be hosting live music just yet, but they have a new outdoor Gin Terrace opening this weekend. Book online for £10.
Read: The MEN has an investigation highlighting the plight of homeless families living in cheap hotels and bed and breakfasts during the lockdown
---
Long-Bailey tripped up by Peake
The Labour party's latest internal drama has had a strong Manchester flavour. Salford and Eccles MP Rebecca Long-Bailey was sacked as Labour's shadow education secretary after she approvingly tweeted an interview with the actress Maxine Peake. In the interview Westhoughton-born Peake had implied - falsely - that US police officers were taught lethal neck-kneeling tactics by the Israeli secret services.
Labour leader Keir Starmer reportedly asked Long-Bailey to apologise, and relieved her of her brief when she refused. Replacing the Corbynite socialist Long-Bailey on Labour's front bench is Kate Green, MP for Stretford and Urmston, who spent the longest period of her career at Barclays Bank. Starmer might have been relieved to get his leadership rival out of the way, but it must have been awkward for Long-Bailey's flatmate and good friend Angela Rayner, deputy Labour leader and MP for Ashton-under-Lyne.
---
Recommended read: Will the virus make us crave a less crowded form of city life, where we bump into each other less? This column in the New York Times describes how the Spanish Flu and nineteenth century visions of urban squalor - notably Friedrich Engels' description of industrial Manchester - helped create the modernist vision of hygienic, airy, spaced-out cities a hundred years ago.
---
And finally
The Crown at Worthington will reopen its bar and start pulling pints at midday on Saturday, but it's been shut longer than most. The pub in Standish closed its doors in January 2016, and was on course to be demolished to make way for housing. A local campaign got going to save the pub, and years of appealing for new proprietors to come forward finally bore fruit earlier this year.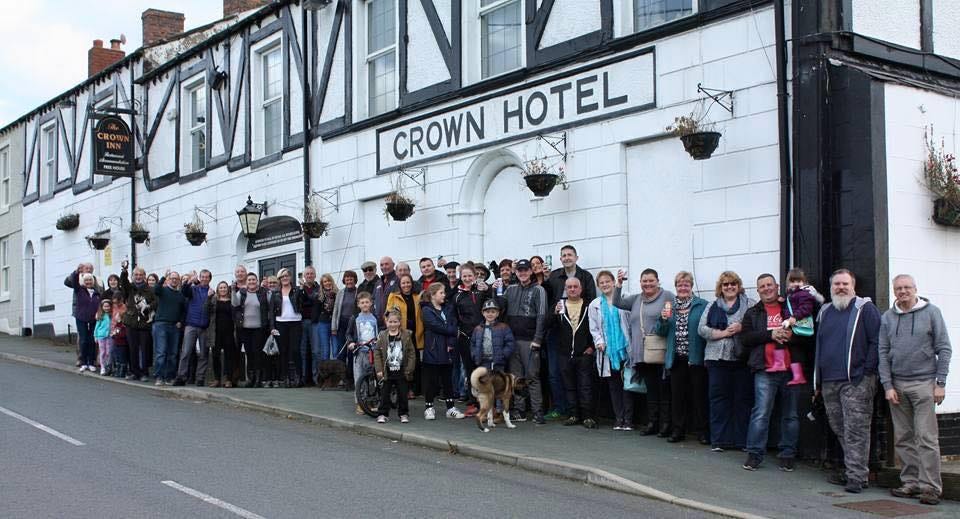 Campaigners outside the Crown in 2019
---
If this was forwarded to you, please join our email list below:
As always, please reply with any feedback, suggestions, corrections or ideas for what The Mill should cover next.