She came here to escape the Taliban. Now she's homeless on the Curry Mile
'All four of us were huddled up, we didn't know what was going on. We could just hear chants saying: "P*ki! P*ki! P*ki! Out! Out! Out!"'
Dear Millers — two years ago, as the Taliban took full control of Afghanistan, the UK government offered thousands of Afghans sanctuary in the UK, many of them women and children. The evacuation from Kabul was chaotic and fraught with danger and distress as families found themselves separated and the window for escaping the Taliban rapidly closed.
One of the people who came here — a 35-year-old woman called Khooshbar Ali — is now sleeping rough in Victoria Park and begging every day on the Curry Mile. Since she came to this country, she has experienced a racist attack on the hotel where she was staying in Salford ("We could just hear chants saying: 'P*ki! P*ki! P*ki! Out! Out! Out!'") and now finds herself facing the winter without a home.
In recent weeks, she has been telling her story to our brilliant intern Shikhar Talwar, who has been able to communicate with her via a mix of Urdu and Hindi. On one level, her story offers an unusual window into the refugee experience here in Greater Manchester: the racist hate she has experienced; the way she is trying to learn English from food boxes and passing conversations on the Curry Mile.
On another level, it raises serious questions about the system for finding accommodation for Afghan refugees, now that they are no longer living in hotels. As you will see in the story, Manchester City Council denies that it has failed refugees like Khooshbar. "Council staff have worked incredibly hard to support Afghan households placed in bridging hotels in the city by the Government to find suitable accommodation," a spokesperson tells us.
As ever with our end-of-week editions, this story is paywalled halfway down to encourage you to take out a paid subscription if you haven't already. If you value this kind of journalism and want to support our mission to inspire a genuine renaissance in local media in Greater Manchester, then please hit the button below to join. It's just £7 a month, or £1.34 a week if you pay for a year upfront.
Are you "from here"? And how long does it take to become a Mancunian? Those were the questions raised by our excellent members-only Wednesday edition, which generated dozens of great comments. Members talked about their stories of coming to this city and how long it takes to feel like a local. "I've been a Mancunian, or Greater Mancunian, for 11 years," writes one member. "However... although I'm very happy living where I do, and feel part of it, I don't think I will ever feel that I'm legitimately from 'round here'". Oh, and we did a poll to find out how many Millers identify as "from here", which has already had 500 votes. Dive into the comments if you're a member.
---
Want to get The Mill in your inbox faster than your neighbours?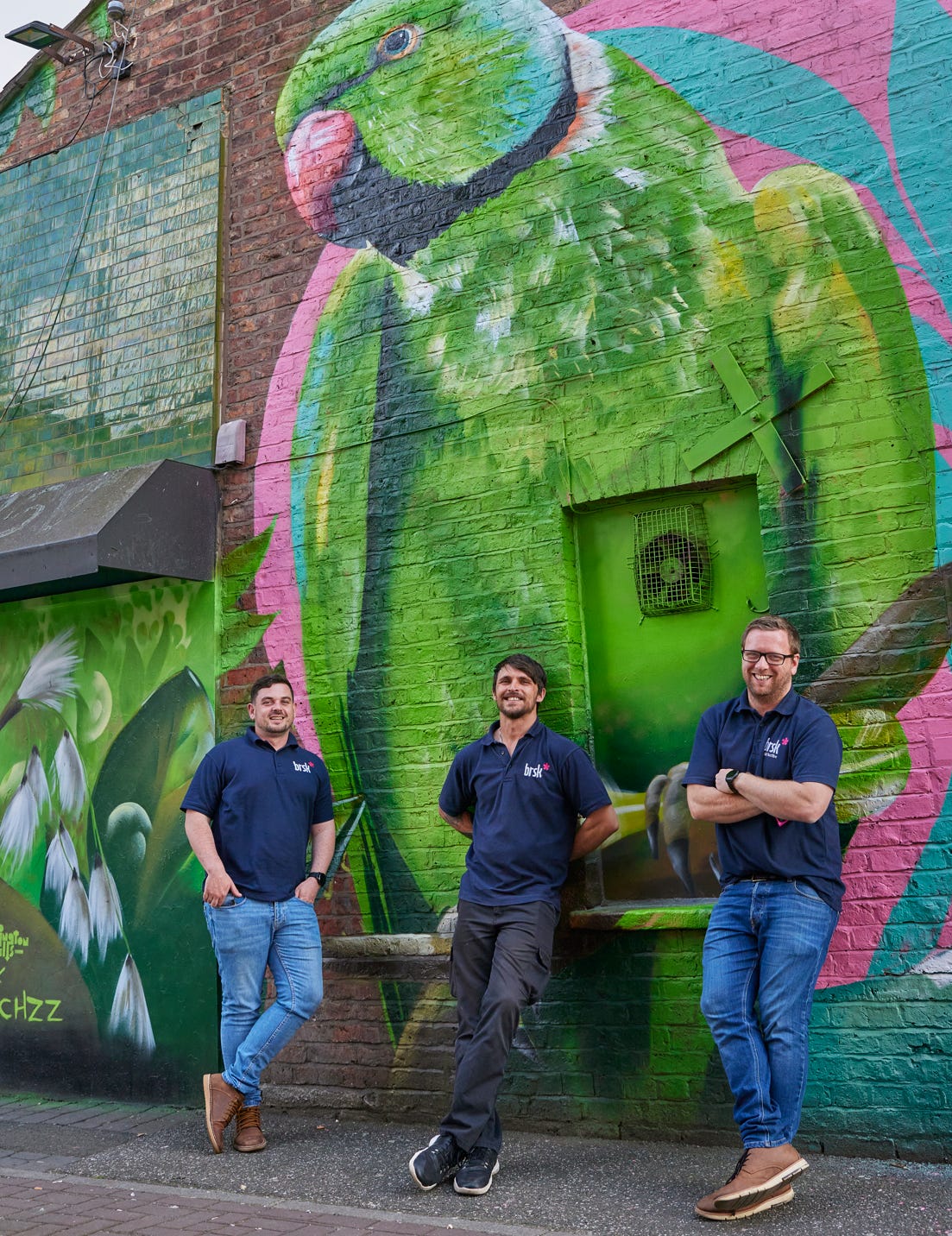 From today's sponsor: This briefing is sponsored by Brsk, a new independent broadband provider whose engineers are installing lightning-fast internet connections across the south of Greater Manchester. If you live in Stockport, Didsbury, Chorlton, Withington, Sale, Stretford or the Heatons (check out the ever-expanding map of coverage) you can now get your broadband via 100% fibre optic cables, with more areas like Wilmslow, Hale and Altrincham coming online soon. Brsk runs its own full-fibre network, which means crystal-clear video calls, lightning-fast streams and multi-device browsing — so several members of your family can be reading The Mill at the same time. Because of a Black Friday deal that's running until the end of October, prices start from just £18 a month. Find out more by clicking here.
Want to support The Mill's journalism by sponsoring an edition — and (as a side benefit) get your message out to 39,000 incredibly engaged Millers? Get in touch.
---
Your Mill briefing
Aviva Studios officially opened this week with lots of publicity and the debut of Bury-born Danny Boyle's blockbuster production Free Your Mind, a massive show based on The Matrix. The show sees dancers in cocoons thrash their limbs in "tortured spasms as if trying to break free from their elasticated sacks," reports the Guardian, and our own Sophie Atkinson attended last night's performance in order to deliver you our review this weekend (read her superlative essay on Aviva Studios from earlier this year).
As we all know, Manchester's enormous new cultural venue — which used to be known as Factory and then Factory International — opens £100m over budget and four years late. In his press interviews, Boyle seems a touch defensive about the colossal price tag (£242m is the latest estimate) of Aviva Studios, which was mostly funded by national and local taxpayers. "To open a big communal space like this is a joyous thing really," he told one journalist. "Beyond, obviously, yes, the expense. And yeah, you could give it to hospitals instead. But there are benefits for everybody's wellbeing in the future from these spaces."
Andrew Malkinson, who spent 17 years in prison for a rape he didn't commit and was released in July after new forensic evidence found he was wrongly imprisoned — is now homeless and living in a tent, reports the BBC. He is still awaiting compensation as a victim of "an atrocious miscarriage of justice", to quote the government. Malkinson was found guilty of a sexual assault in Salford in 2003. In one of its darkest chapters, Greater Manchester Police kept evidence from jurors in Malkinson's case, which the court of appeal said rendered the conviction "unsafe". 
Transpennine Express, which runs trains between Leeds and Manchester (when they're not cancelled, that is) says it is reducing off-peak services as a way to improve reliability. In total, this will mean 20 fewer trains running each day. Managing director Chris Jackson says: "If we are able to, we will reintroduce services through 2024 or if not, we will reintroduce the full timetable in December 2024."
And finally: Our latest podcast episode is out. In it, Mollie and Shikhar discuss his investigation into Afghan refugees becoming homeless on the streets of Manchester. They talk about how Shikhar came across the story, and how these kinds of pieces are reported. Click here to listen on your favourite podcast platform.
---
Exclusive: Meet Khooshbo, the homeless Afghan woman begging for food on the Curry Mile
By Shikhar Talwar
Khooshbo Ali sits on the ground with her back against the bin, a pizza box in her lap. Occasionally a worker from the restaurant she's sat in front of comes over and gives her something to eat. They talk for a bit, in a language that's a mash up of Pashto and Urdu, before the man goes back inside. There's a steady flow of people passing her on the Curry Mile.
Khooshbo, 35, first came to the UK from Afghanistan as a refugee three years ago when the Taliban seized control of her country. She's spent most of the time since in hotel rooms — including one which was broken into by a member of the far right. And since late August, she's been homeless and sleeping rough on the streets of the city she thought would offer her sanctuary.
She tells me — with a smile — that she doesn't have anything. "No food, no clothes, no house. But I have my personality, and I can't let that die. Not yet." 
'I only prayed that Allah keeps him well'
Khooshbo comes from Bhusawal, Afghanistan, a small village wedged between the Jalalabad-Torkham highway on one side and the Kabul River on the other. The highway and the river both connect Afghanistan to Pakistan, so as trucks stopped in her village, Khooshbo began talking to drivers and picked up their language, Urdu.
This explains how I'm able to chat to her — she doesn't speak English, but my broken Urdu mixed with Hindi means we're able to understand each other. (Because of this, however, please treat the quotes from Khooshbo in this story with a touch of caution — I'm aware that some nuances may have been lost in translation).
According to Khooshbo, her life in Afghanistan was good and she was happy. She never felt scared by the tension in the war-torn country nor by the presence of the Taliban and the US military. She went to school, made friends, and as soon as she left school, she met her husband and got married.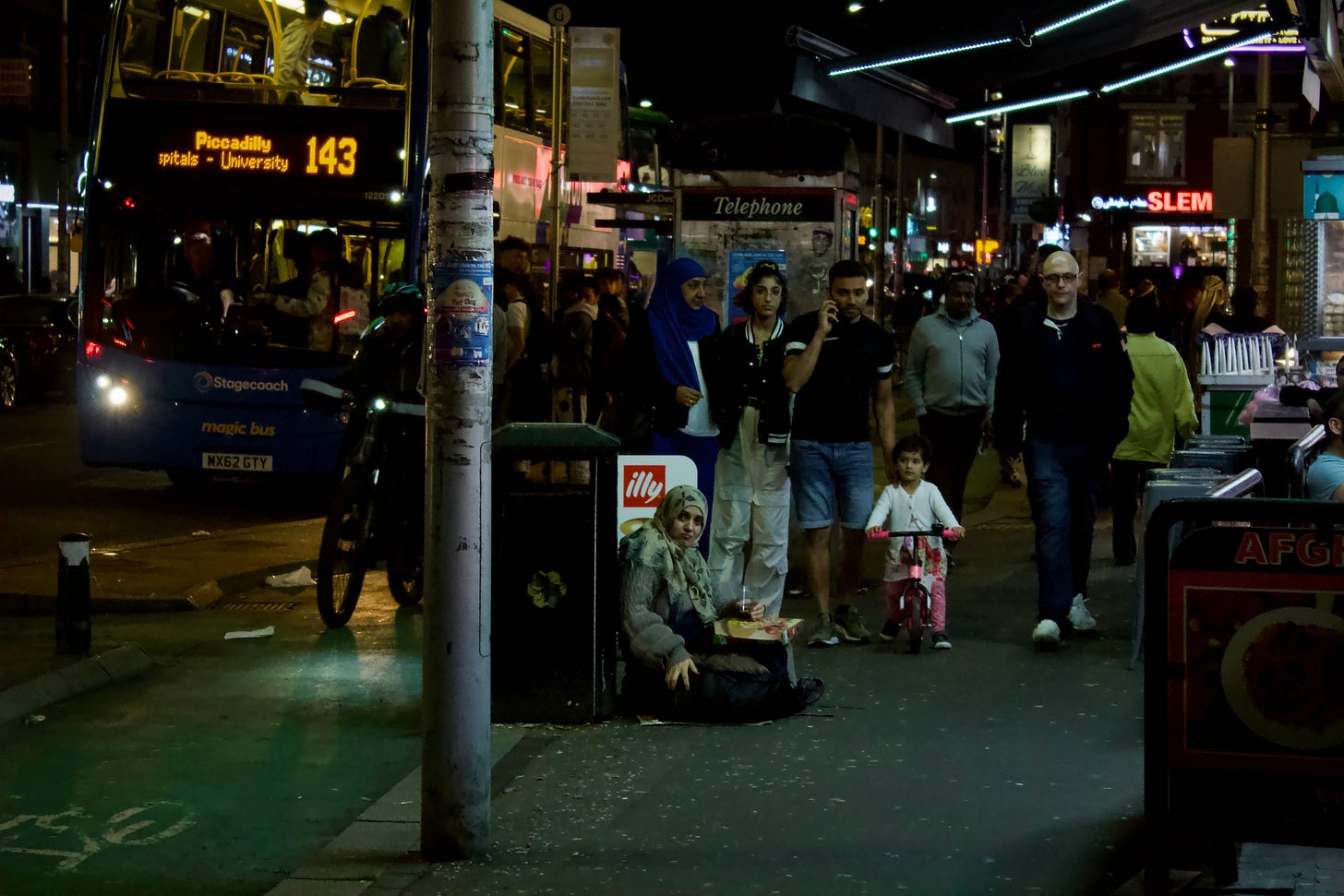 She and her husband, Rashid, both ran a truck rest stop together in the village. "I would often talk to drivers from different parts of Pakistan and Afghanistan," she tells me. "They would come in, I would bring them tea, Rashid would look after their trucks, and then in a little bit they would keep going."
But one day a couple of years ago, she was told that the Americans would be pulling out of the country. "What does that mean for us?" she asked her husband. He didn't know, and for a few months, life continued as normal. 
She remembers that one of her regular customers at the rest stop visited her and seemed worried. He had grown attached to Khooshbo's tea and used to share his concerns and life updates with her. This time, however, he didn't come to share his news but to persuade both Khooshbo and Rashid to get into his truck and come with him to Kabul. He intimated that they might not be safe if the Taliban controlled the country again.
At first, they rejected the idea — they couldn't uproot their lives like that. But when he kept asking, they finally agreed.
When they told Khooshbo's father they were going to Kabul, he took Rashid to the side and whispered something to him. She told me it was like they were talking in secret. "Something about me leaving was annoying my father, but then he came back and hugged me and said, 'Inshallah we will meet again.'" 
She tears up when she talks about it — this was the last time she saw her father and her husband. She doesn't know the exact date, because "it's all such a blur" but estimates it was in August 2021, which is when the chaotic evacuation of Kabul took place. Once they reached Kabul, the driver took them to the airport. Looking out, she could see thousands of people running towards the terminal, crying, shoving against each other, falling. 
In the truck, Rashid looked at her. "He was crying, this was the only time that had happened," she says. "He said we may not see each other anymore, that it was important for me to catch the first plane and leave Afghanistan before the Taliban came."
Keep reading with a 7-day free trial
Subscribe to The Mill to keep reading this post and get 7 days of free access to the full post archives.