Take it back! How community action can save your local pool
Ashton is losing its pool. Withington Baths survived and is thriving. What does it take to keep these treasured local amenities afloat?
Dear Millers — Ashton swimming pool has closed after Active Tameside, charity that operates the pool, admitted its finances had been "ravaged" by rising energy costs and the council was unable to step in to help. But what does that mean for Tameside? And what does it take to save a pool and get it thriving again?
In today's piece, Mollie digs into why so many pools have closed their doors in the North West and tells the uplifting story of Withington Baths, where local residents came together to save their pool from the brink of closure.
But first, your end-of-week news briefing, including an update on how the war in Gaza is impacting local politics and an unhappy Conservative leader in Bolton.
🚨 Want to join "one of the most interesting and impressive media startups of the last decade"? It's your last chance to apply to be our new Marketing and Events Assistant — a crucial role that will allow us to grow faster and get the word out more about what we are doing via social media. This role is ideal for a highly organised person who wants to drive our growth and can see themselves growing into a senior marketing or commercial position in the future. Applications close on midnight on Monday.
Editor's note: Today's piece is paywalled halfway down. As much as we'd like to make all our articles free to read, being subscription-funded allows us spend days researching important stories, speaking to experts and publish them without bombarding you with adverts. Becoming a subscriber costs just £7 a month and you'll get full access to this story, plus our wonderful archive of stories about other great community projects. Hit the button below now.
---
A festive spectacle of lights
🎄 From today's sponsor: Struggling with the dark evenings? Get yourself to Glow at the stunning RHS Garden Bridgewater in Salford — an amazing show of lights that has just opened at one of the North's best gardens. It includes a magical winter light trail and interactive sculptures that allow you to create your own light art. After that, warm up with festive food and drink or pick up a few Christmas presents for green-fingered friends in the gift shop. No car? No problem — bus 35 from the city centre drops you right outside. Glow started this week and runs until the end of December. Get your tickets here.
---
Your Mill briefing
✍️ When we published our long read about how the war in Gaza is impacting politics and life in Greater Manchester last weekend, Afzal Khan was Labour's shadow minister for exports. No longer. The Gorton MP tendered his resignation to Sir Keir Starmer on Wednesday so that he could vote for an SNP motion calling on the government to support an immediate ceasefire in Gaza, which the Labour leader has refused to back. "Israel has already crossed every red line imaginable and broken international humanitarian laws," Khan told the Commons. Yasmin Qureshi, who represents Bolton South East, also quit her position as shadow women and equalities minister over the same vote, tweeting: "We must call for an end to the carnage to protect innocent lives and end human suffering."
🗳️ Victory for a hyperlocal party in Bolton, where Farnworth and Kearsley First won a by-election in Kearsley by a massive 716 votes. Elsewhere, Lib Dem councillor Deirdre McGeown picked up a seat in Westhoughton North and Hunger Hill. Conservative councillor Andrea Taylor-Bourke recently pledged her support for two hyperlocal independent candidates, writing on Facebook: "We are on different political parties but are all in it for the people of Bolton. These 2 ladies have hearts of gold and are truly inspirational to me. I love them both to pieces!" That post has since been deleted. When we asked if he was comfortable with Conservative councillors being associated with independent parties, the leader of Bolton's Conservative group Martyn Cox simply wrote back: "No." 
🏘️ Manchester City Council has been ordered to pay a family £5,000 in compensation after an ombudsman ruled the council "demonstrated a disregard for the resident's wellbeing and safety". The 27-page report from the housing ombudsman also found that the council was aware of the issues in the flat, yet progressed the home as ready to let anyway. The council's chief executive has also been ordered to apologise to the family in person. 
👑 Prince William visited Moss Side alongside Andy Burnham yesterday to meet community leaders charged with tackling youth violence. Audrey Preston, whose 21-year-old son was killed three years ago, said: "Lots of kids get murdered in this area and nobody cares really about the families, we're just left to our own devices, so it's good he came, good for the community."
🏥 And finally, some good news. Dillan Ramsey, a 5-year-old boy from Manchester, has made a full recovery from leukaemia after undergoing specialist Chimeric Antigen Receptor (CAR) T-cell therapy in Washington. The treatment was his only hope after he relapsed four times and oncologists in the UK said they had run out of options. The family's GoFundMe page was shared widely in Greater Manchester and raised over £585,000 to help pay for the treatment.
A correction (17 November 2023): When we sent out this edition, we brought you the update above about Manchester City Council being ordered to pay £5,000 in compensation to a family whose home had issues with mould. But while trying to combine that story with an update about the Ishak case, we mistakenly muddled the two stories up. The Ishak case has nothing to do with Manchester City Council and we apologise for the error.
---
Take it back! How community action can save your local pool
By Mollie Simpson
When Active Tameside, the charity that operates Ashton swimming pool and a number of other leisure centres on behalf of Tameside Council, admitted it was facing financial difficulty in 2020, the future of the pool was thrown into doubt. 
By July this year, they confirmed the inevitable: the pool would permanently close on 1st September. "Active Tameside, which runs the services, has announced the doors will shut in Ashton and at Longdendale and Broadbottom. It says costs rising to more than £2 million a year have forced their hand after Tameside Council was unable to help," reported the Tameside Correspondent's Gary Carter. 
Nearly five thousand people signed a petition to save the pool. "My daughter does her swimming lessons here she has built up her confidence so much and she loves coming swimming on a Saturday we have met some lovely people and be heart broken if this place was to shut," a local resident named Becky Williams wrote when she signed it. "Ashton-under-Lyne is already becoming a ghost town they're either demolishing, letting buildings stand empty or closing anywhere worth visiting," Jenny Bouras wrote. "All that's left is take aways fast food & cafés."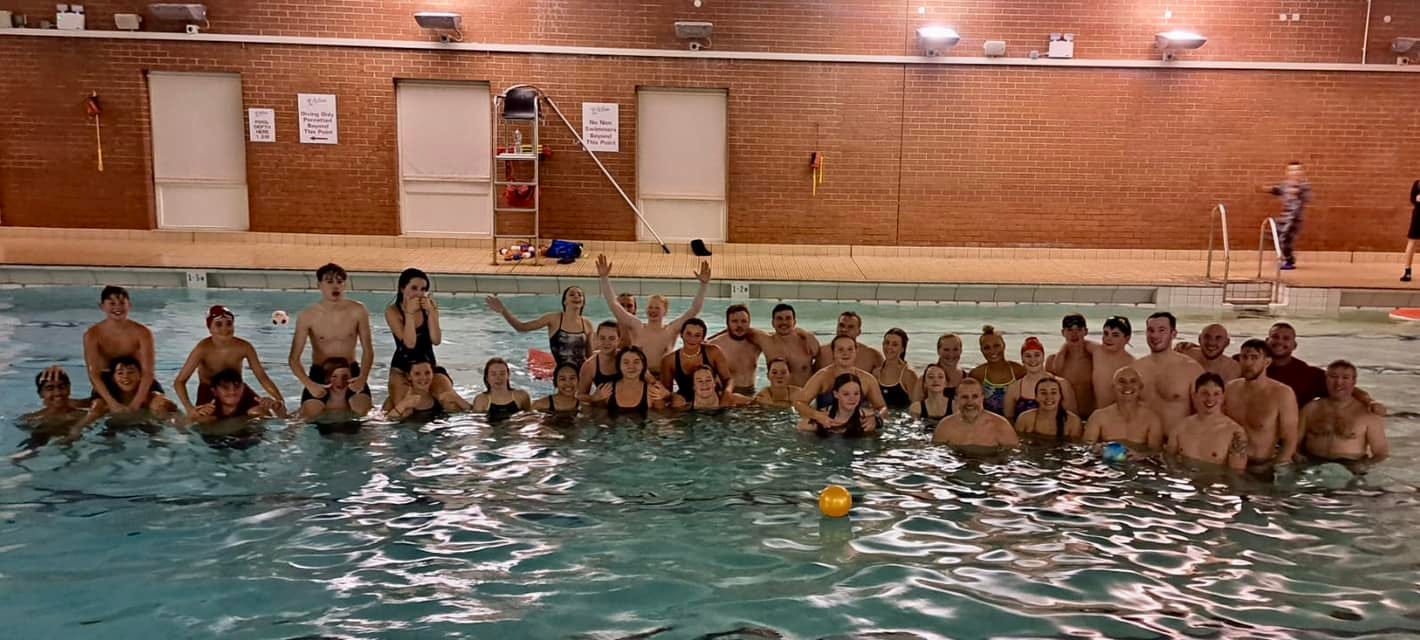 Tameside Council didn't respond to requests for an interview about their decision to close the pool, but said in a public statement that the building was "past the end of its life" and "the council's finances means that it is not in a position to pay more for the services and sadly like other sports trusts, Active has not been able to access any government support to deal with the excessive energy costs." A council report estimated it would cost just under £1 million to bulldoze the site.
Earlier this year, data analysis by the Guardian revealed that England has lost almost 400 swimming pools since 2010. The culprit? Surging energy costs, ageing swimming pools and falling local government expenditure on sports and leisure, as cash-strapped councils look to make savings. A recent survey of council budgets by the Local Government Association found that sport and recreation are among the least likely to be protected by councillors and the area where councils were most often looking to make savings. In 2021, Manchester World reported on a "swimming pool desert" in the North of England, with the North West only enjoying two-thirds of the swimming space (measured in square metres) as the South East. Half the pools in Oldham, one of the most health-deprived areas of the country, have closed in the past 12 years.
So it's no wonder some residents have started to take matters into their own hands. In late 2012, Manchester City Council's budget was slashed by the government. Council leaders were looking to save £80 million and looked to Withington Baths with some concern. Energy costs were rising, and the ageing Edwardian building was becoming worn down, requiring heavy maintenance to keep it standing. Council officers concluded that the building should close.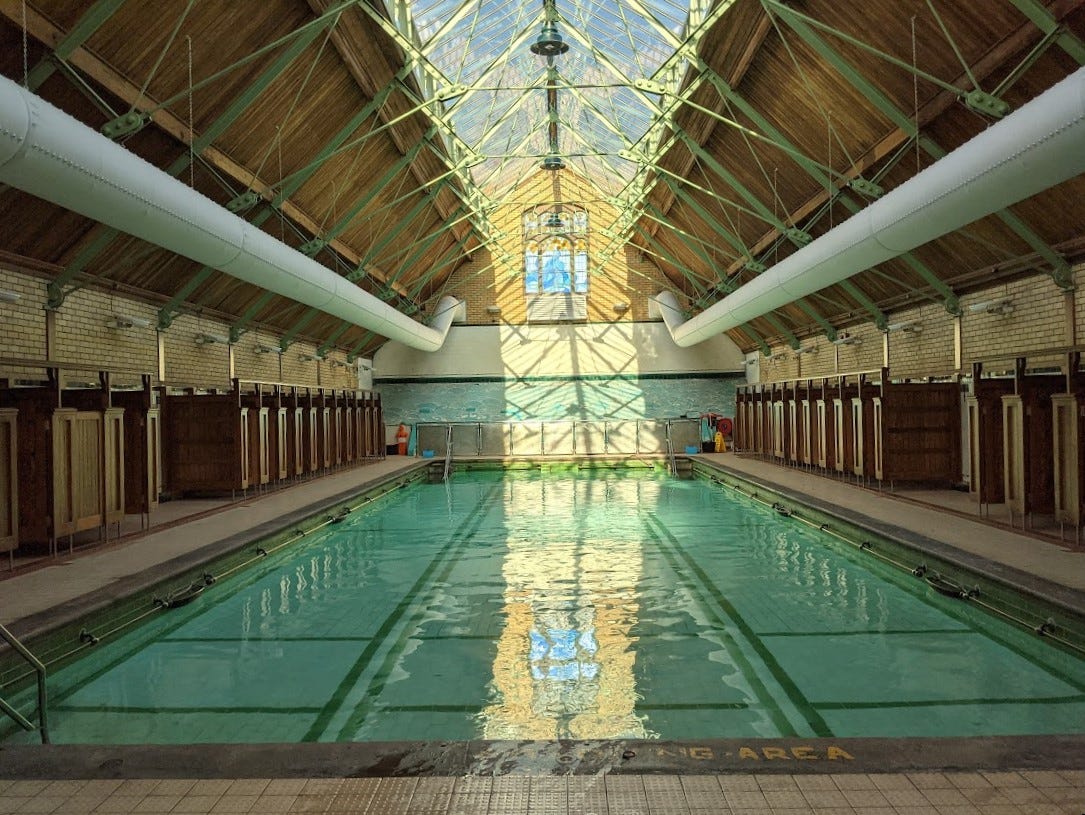 Dave Payne grew up in Withington but moved away for work. He remembers hearing rumours that the Baths were going to close and revisited to take a look. "I remember walking through the door and all these memories just, bang, hit me," he says. "I'd come literally with my mates every single day during the holidays, and we'd just stay in the pool as long as we could. We used to have games with the lifeguards to try and avoid them. They'd check your hands and throw you out if your hands were too crumpled."
He heard about plans for a protest to save the Baths but — having worked in the planning and regeneration department at Manchester City Council — didn't attend, keen to avoid entering into a combative situation with his ex-employer. He initially dismissed the idea that protest could overturn the council's decision. "I knew these decisions aren't made on a lower officer level, they're made at the top," he says of his thinking at the time. "It's really, really difficult to turn these big decisions around… I've been to all sorts of public consultations and protests, and they usually blow themselves out pretty quickly. And they're pretty much a waste of time."
But when five hundred people attended a protest asking the council to reconsider closing the Baths, the sheer number of people who turned up made Dave think again. The council were resolute — they simply couldn't afford it anymore — so a group of local residents thought about asking a different question: what if they took over the pool themselves, instead? 
Keep reading with a 7-day free trial
Subscribe to The Mill to keep reading this post and get 7 days of free access to the full post archives.