Discover more from The Mill
Award-winning local journalism from Greater Manchester's new quality newspaper - join our free mailing list or support us as a paying member
Over 39,000 subscribers
Good morning Millers - the day has come! You can now be a member of The Mill. Please go ahead and become one of our very first members by using the button below. When the history of The Mill is written in 100 years you will be listed in the small band of eccentrics who believed in this thing right at the very start.
Members will get The Mill's full coverage, receiving posts from us every couple of days, including two or three members-only posts per week. You will also join our community, including member meet-ups (when those are allowed again), online discussion threads and our members Facebook group. And most importantly, you will be one of the very first supporters of a new publisher of quality journalism in Greater Manchester, allowing us to make this operation sustainable, fund more reporting work, bring in more contributors and eventually - I'm hoping early next year - expand our staff.
I've been thinking about this moment ever since I started writing stories on The Mill in early June. It's nerve-wracking because it's the first big test of how well this new model can work: a local news company funded by its readers rather than by advertisers. I've spent most of my life in journalism working for newspapers and magazines funded by advertisers and owned by Russian oligarchs or Australian tycoons, and from this morning onwards I'm working for you.
It's also an emotional moment for me. I've never started anything of my own. Creating The Mill has been the first time I've experienced the incredible ups and downs of taking an idea out to people and saying: here I am, this is my vision, what do you think? It's a lonely experience starting something new, as I'm sure many of you know from your own lives. You have a lot of doubts. You have days where you wonder if you're doing the wrong thing or people won't see it the way you see it.
I've had some moments like that in the past few months. But I've also had hundreds of kind words and supportive messages from many of you, wishing me good luck and saying that you think something like The Mill is needed. And in the absence of a co-founder or investors, your messages have meant a lot to me and have made me feel like I have someone along for the journey.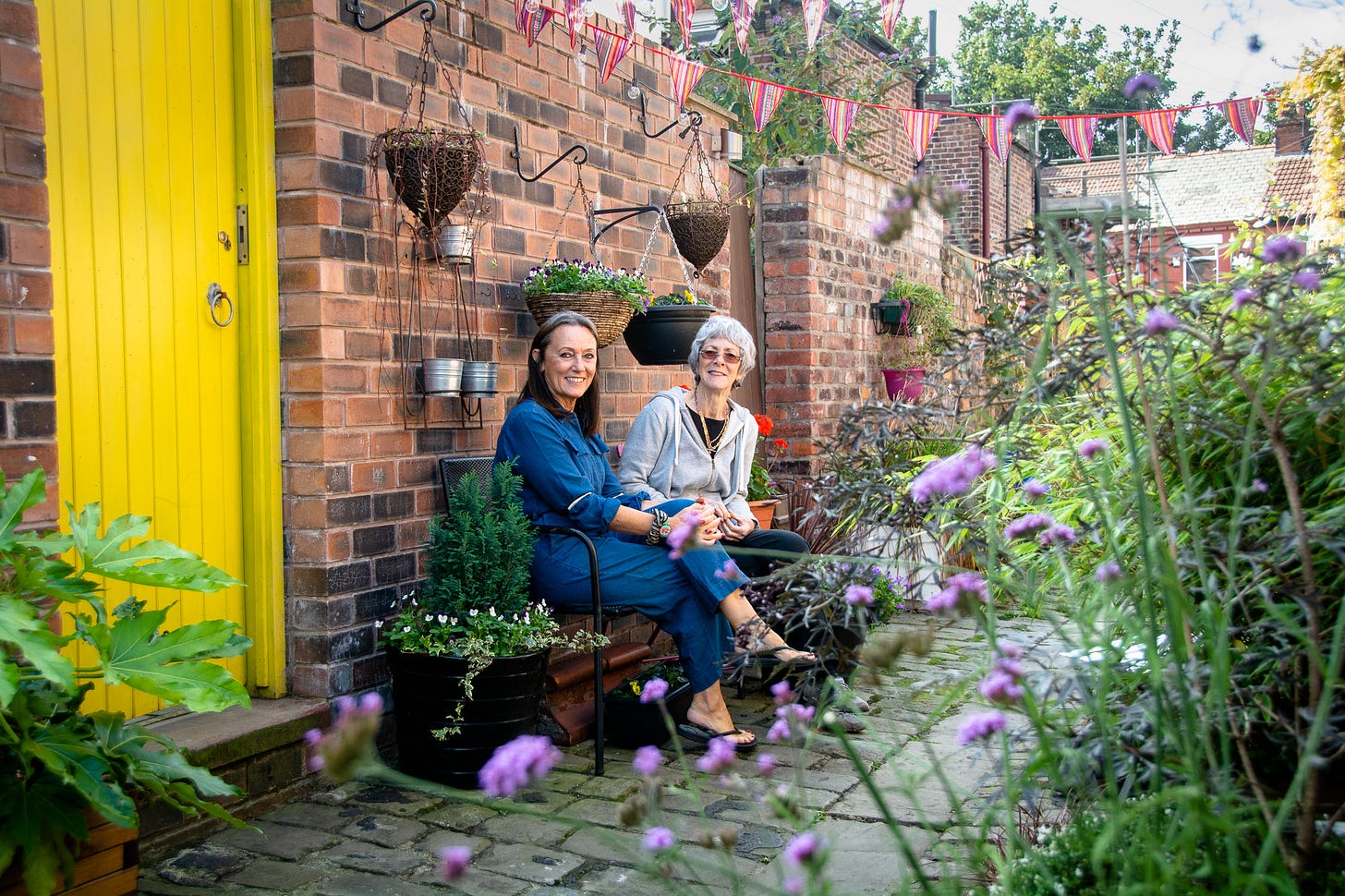 A community ginnel garden in Levenshulme, visited by our trainee reporter Dani this weekend for a lovely, uplifting story publishing soon on The Mill (Photo: Dani Cole, @danithecole).
My dad was a businessman, albeit a reluctant one who took over the translation firm his parents had founded as Czech-Jewish refugees after the war when it had run into debt and needed saving. He used to say that running a company will give you the best moments of your life and some of the hardest. I can already relate to that. He also used to say when I asked him for careers advice: do what makes you happy, and work hard at it. So that's what I'm going to do.
As you know, The Mill is based on my vision for how to rebuild local journalism. That vision involves creating a local news organisation that focuses on depth, high-quality reporting and good writing, and that asks its journalists to prioritise building trust rather than building traffic. It means publishing far fewer stories than an old-fashioned newspaper but making sure each one is thoughtful and well researched, and gives people the context they need to understand their world. It means being closely in touch with readers rather than seeing them as a cheap commodity to be piled-up en masse for advertisers. And it means being funded by the people it reports to and for.
The amazing response to The Mill this summer shows that a lot of you think more of this kind of journalism is needed in Manchester. People want clear, non-sensationalist information they can rely on. Cities that are changing as fast as this one need journalists who are given the time to examine what's really going on rather than reproducing press releases. There is plenty of research showing that good local journalism makes communities better by increasing political participation and exposing corruption. And on top of all that, there's just the incalculable value of good storytelling - the vital importance in every community that's ever existed of recording and narrating the tales that bind a place and its people together.
Of course, I can totally understand that many people won't feel like they can afford an extra monthly outlay, especially at the moment. I hope you enjoy the free stories we will continue to put out every week. We will always publish those free stories because making a public impact is part of our mission.
I also know that our early members will be paying for a somewhat homespun product, especially compared to the other things people pay subscriptions for. The little basket of home-baked journalism The Mill is offering right now is a million miles away from the well-stocked commercial content bakeries of Netflix or Spotify or NowTV, whose shelves are heaving with new shows and songs on which you can sup for hours and hours via a subscription that costs not much more than I'm asking for. But as Shakespeare's Henry V tells his troops before Agincourt, there are benefits to being in the small, scrappy group that achieves something against the odds. The fewer men, the greater share of honour.
Hopefully, the time will come when The Mill has a team of full-time reporters and writers and editors. Right now it's me, my cat, my trainee reporter Dani and a newly-assembled group of brilliant freelance contributors, and we are going to try our very best to bring you a new kind of local journalism. We will work hard and we will stick to our principles and the rest is in the lap of the Manchester gods.
Thanks for your support and thanks for coming along for the ride so far. If you'd like to join, the button is below.
Being a member of The Mill
Member benefits:
Get The Mill's full coverage, receiving posts from us every couple of days, including two or three members-only posts per week.

Join our community, including being invited to our member meetups, contributing to our online discussion threads and joining our Facebook group.

Support the creation of a new place for quality journalism in Greater Manchester, allowing us to fund more reporting and build a news team.
Things to bear in mind:
The Mill is brand new and is based on a new model, so inevitably as we grow we will make changes to what we publish and how we do things. We will always tell you about the changes we are making and explain the thinking behind them.

Members will receive posts from The Mill every week of the year, but there will be a handful of weeks when we will publish on a reduced schedule while I take time off.
Our regular Monday briefing will come your way in about an hour