Discover more from The Mill
Award-winning local journalism from Greater Manchester's new quality newspaper - join our free mailing list or support us as a paying member
Over 39,000 subscribers
The Monday Briefing: Students return and Manchester mints a new billionaire
Plus our recommended things to do this week
Good morning again - and huge thanks to those of you who have already become Mill members since our launch announcement earlier. It's so exciting to see the first members signing up. If you'd like to join them, click the button below.
We will be sending more newsletters than usual this week and they will all be free, to celebrate our membership launch. Members-only stories will start next week.
Now for our usual Monday briefing, a little later than usual, covering the Greater Manchester stories you need to know about and some great cultural things to do and see this week.
---
Mill news briefing
Unis back | It's the time of year when Manchester's population swells by more than 100,000 souls as students turn up for the new academic year. Term starts today at Manchester University, and it kicked off last week at Manchester Met. The Vice-Chancellors of all Greater Manchester's universities got together recently "to remind students of their important role in preventing the spread of COVID-19," - which feels like a rather thankless task. "Should it become necessary, all universities will use sanctions for students who do not adhere to rules on safe behaviours," the joint statement says. The Mill has a report from inside Fresher's Week coming soon…
Hut Group | The massive Manchester retailer The Hut Group had a successful start on the London Stock Exchange last week, where it was the biggest float for a few years, ending its first day up almost a third. The company controls a vast network of e-commerce sites selling makeup, nutrition bars and lots of other lifestyle goods and is based just next to Manchester airport. Its 48-year-old, Burnley-born founder and CEO Matthew Moulding - who posts topless pictures of himself on Instagram and owns Hale Country Club - is now a billionaire on paper. Some analysts cautioned against buying the stock because of how much control Moulding is retaining over his company.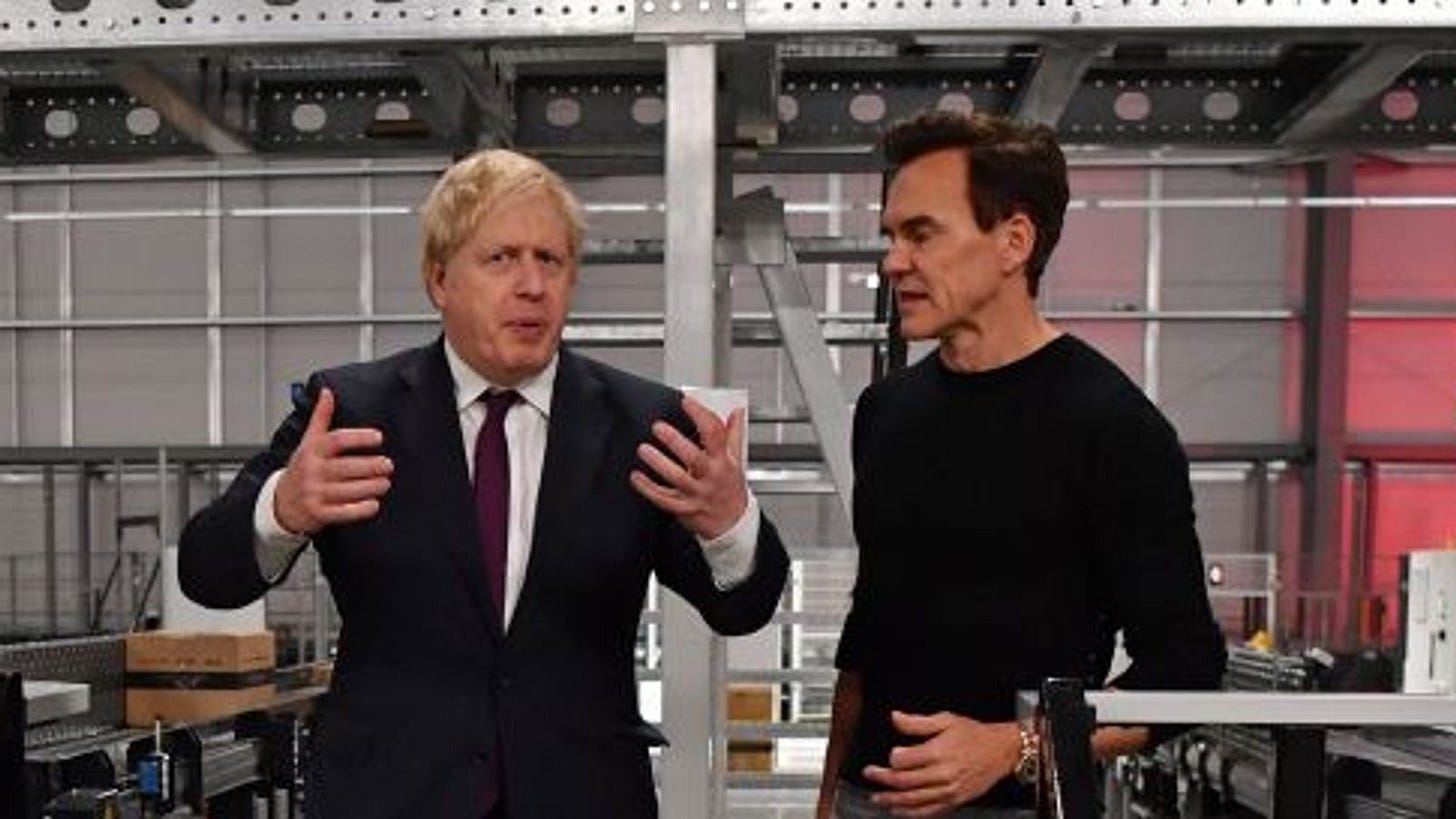 Boris Johnson and The Hut Group's founder and CEO Matthew Moulding
High streets | Wigan and Stalybridge have both won government money to restore historic buildings on their high street, it was announced this weekend. The money is being distributed by Historic England, which says the funds will "transform and restore disused and dilapidated buildings into new homes, shops, work places and community spaces, restoring local historic character and improving public realm." Both towns will get £1.2 million, and Stalybridge's improvements will centre on its beautiful Civic Hall, which could be turned into an Altrincham-style food hall.
Levelling up | A panel of leading economists have warned that the government's levelling up agenda will need to go beyond infrastructure investment. They do so in a new report commissioned by Andy Burnham, which notes that recent jobs growth in Greater Manchester "has been fastest in low-skilled sectors such as hospitality, leisure and retail," reports the FT. "Levelling up will require investment, along with a greater role for city regions, in improving employment and skills programmes, and in addressing health inequalities," says Professor Diane Coyle from Cambridge University, the chair of the panel. "It is not only a question of investment in infrastructure and research and development."
Covid | Tameside General Hospital in Ashton-under-Lyne had five Covid-related deaths in one day two weeks ago. "They're letting in family on the labour ward and in end-of-life situations, but apart from that, it's a no-go zone," a nurse told yesterday's Sunday Times. At the start of this month, 27 out of the hospital's 346 occupied beds were taken up by Covid patients, less than a third of the number they had at the peak in April, but more than other hospitals locally. As we reported last week, so far deaths and hospital admissions remain very low in the North West despite the spike in new cases detected since mid-July. We will send out an update if that picture changes.
The Mill's membership is open - join on day one below
---
Things to do this week
Theatre | Sadly we can't enjoy The Octagon's restored playhouse in person just yet, but this week they are teaming up with the Guildford Shakespeare Company to put on A Midsummer Night's Dream in a production that will be streamed on Zoom. The theatre's collaborators from Surrey are experts in putting on online performances, and the production - which features six actors - is directed by Lotte Wakeham, who is reprising an acclaimed open-air production she directed in 2017. Tickets cost £20 "per device" and are on sale here.
Comedy | There are still tickets for Beat the Frog at The Frog and Bucket tonight. This open mic night has launched the careers of lots of big comedians, and if you haven't been before, it works like this: "At the start of the competition 3 cards are handed out to lucky members of the audience. Up to 10 acts then take to the stage and each try to do 5 minutes of material. If within the 5 minutes all 3 cards go up then the act has lost and must leave the stage. If the 3 cards stay down, that act has successfully 'Beat The Frog'." Book your ticket here.
Books | The Chorlton book festival started on Saturday as an online-only event and tomorrow they are hosting a crime writers panel called "Northern Noir". Four writers will be discussing the question: "What is it about Manchester and the north that makes them the ideal settings for murder?" The writers are Paul Finch, Caroline England, Cath Stainecliffe and Chris Simms. Finch is a former copper at Greater Manchester Police who now writes the 'Heck' series of novels about the exploits of Detective Sergeant Mark Heckenberg. Cath Staincliffe created ITV's hit series Blue Murder.
Art | Bury Art Museum and Sculpture Centre is open again, albeit only between midday and 4pm on Thursdays, Fridays and Saturdays. For those who haven't been before, the museum houses the Wrigley Collection, over two hundred oil paintings, watercolours, prints and ceramics collected by local paper manufacturer Thomas Wrigley. The paintings include Turner's Calais Sands, Lady Elizabeth Butler's Listed For The Connaught Rangers and George Clausen's Spring Morning: Haverstock Hill.  
Science | Greater Manchester's Green Summit kicks off today, hosted by Andy Burnham. Today's theme is "Nature, biodiversity and climate adaptation" and you can register to be a virtual delegate here and either watch the talks live or later at your leisure. On Thursday TV star Professor Brian Cox, who is professor of particle physics at Manchester University, will be addressing the summit, as will Burnham and municipal leaders from Oslo, Porto and Barcelona.
If you want to let us know about something to cover in next week's briefing, please just reply to this email.
---
Become a member today to support The Mill's growth and get our full coverage, receiving posts from us every couple of days. See our email earlier this morning for more details or click the button below.