Discover more from The Mill
Award-winning local journalism from Greater Manchester's new quality newspaper - join our free mailing list or support us as a paying member
Over 39,000 subscribers
What does war in the Middle East do to a city like Manchester?
'People in positions of responsibility are doing the right thing. But the tensions are out there in the neighbourhoods'
In recent days, we have interviewed 15 people from across one of the most diverse metropolises on earth, including Muslims, Jews and local leaders charged with maintaining cohesion. "We are remaining peaceful," one person told us. "But we are worried. There are things to be worried about."
---
By Joshi Herrmann and Mollie Simpson 
One source says it was a "fracas". Another, who works at the British Muslim Heritage Centre in Whalley Range, where the incident took place, says worshippers turned on Labour shadow minister Afzal Khan after the Khutbah, or Friday sermon. "They went and attacked him," she says.
A spokesperson for Khan, meanwhile, downplayed the incident in a statement to The Mill. "We do not recognise the characterisation of events as a 'fracas'" they told us. "There were a couple of people who were not happy with the direction the Imam took in his sermon and they voiced their concerns with the Imam."
Whatever exactly happened at the Heritage Centre in south Manchester that night two weeks ago – and we'll return to that in a moment — Khan left the prayer session and went to meet Greater Manchester's mayor Andy Burnham and a host of local politicians elsewhere in the same building. They listened as dozens of Muslim leaders expressed their concerns about the ongoing crisis in the Middle East. "It was a case of 'We're here to listen,'" one participant recalls, as the mayor fielded questions about why Labour wasn't going further to condemn Israel's invasion of Gaza.
Earlier in October, Burnham had released a statement condemning the October 7th attack on Israel by Hamas and pointing out that "Israel has the right to defend itself, and protect its citizens, in line with international law." By the 27th, the day when Burnham and Khan met the community leaders, Labour politics across the country had been upended by deep disquiet from Muslim MPs and members about the humanitarian disaster unfolding in Gaza, and a different statement was issued on behalf of the mayor and all of Greater Manchester's local council leaders. This time, the balance of the statement had shifted. While condemning the "appalling terror attacks on innocent civilians in Israel," the local leaders now referred to Israel's right to take "targeted action" and — crucially — it now called for an immediate ceasefire.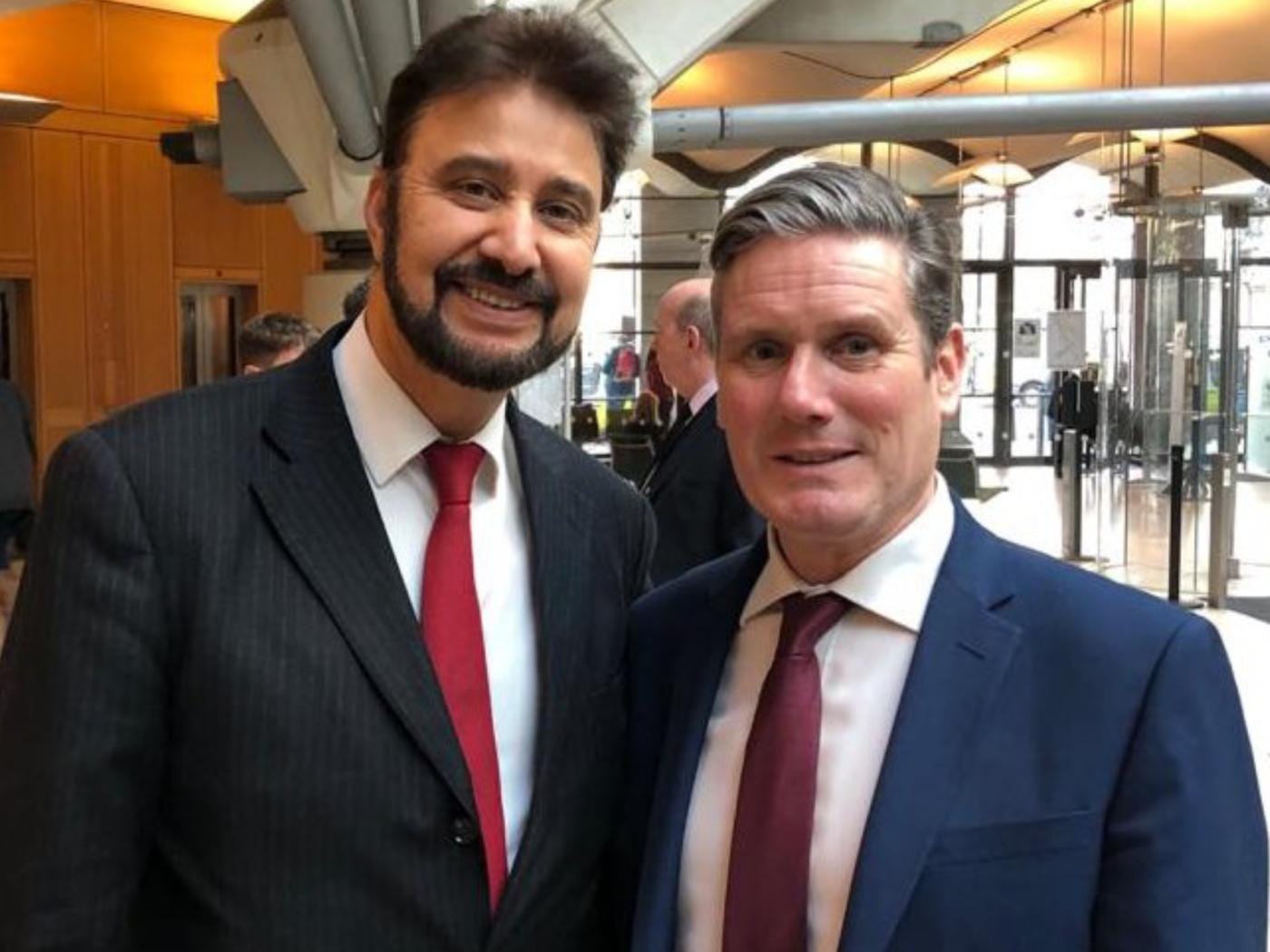 The message of the statement was carefully calibrated, and it did call for the Israeli hostages to be released unharmed. To many observers, it seemed like a fair attempt to represent the sharply divergent views and feelings of a city region whose diversity is one of its most notable features: 12% of residents identified as Muslim in the 2021 Census (compared to 4.7% across England) and 1% identified as Jewish (twice the national average). "In proportion to its size, Manchester claims to be the most culturally diverse city on the planet," noted the author James Fergusson in his book Al-Britannia, and it is only becoming more so. The number of Muslim residents increased by 61% in the decade to 2021, while those who said they were Jewish rose by 12%. In recent weeks, as conflict raged in the Middle East, we have been speaking to members of both communities to understand what kinds of ripple effects are being felt in Greater Manchester. 
"It wasn't tortuous but there was debate about wording," says one person who witnessed the discussion between Burnham and council leaders as they drafted the statement. "Debate about keeping wording in there about the hostages. Talking about a ceasefire on all sides — meaning that if Hamas is firing rockets, it's not a ceasefire." The statement was a reasonable compromise from politicians who find themselves in a tricky position, says a Muslim councillor who asked not to be named. "People in positions of responsibility are doing the right thing," they told The Mill, "but the tensions are out there in the neighbourhoods."
Now it was Burnham's turn to face the music. One source says the mayor was booed when he visited a synagogue in Whitefield, Bury on Thursday last week. "People called him out on the statement and challenged him on the ceasefire," another person says, describing it a "tough" meeting for the mayor. An official at Burnham's Greater Manchester Combined Authority denies that there was booing, and in a statement, Burnham's team says he has had constructive contact with both Jewish and Muslim groups in recent weeks.
As de facto Police and Crime Commissioner, Burnham is also responsible for — though not operationally in charge of — the police and his spokesperson told The Mill: "The Mayor and Deputy Mayor have also been in regular touch with the Chief Constable and GMP to seek assurances that our communities are kept safe. They are aware of the rise in antisemitic incidents, and, to a smaller degree, Islamophobic incidents, and they would encourage people to report all hate incidents."
A mix-up at the mosque
The anger faced a fortnight ago by Afzal Khan, who serves as Sir Keir Starmer's shadow minister for exports, seems to be a case of cock-up rather than conspiracy. The imam who was supposed to deliver the Khutbah had cancelled, and his replacement apparently didn't feel confident composing a sermon about the situation in Gaza at the last minute. "He didn't want to rush and say something that could be twisted and taken out of context," the Heritage Centre explained in a post on Facebook.
Either way, various worshippers watched in astonishment and growing anger as the backup imam gave an address about marriage and the ideal woman. After it was finished, they turned on Khan, suspecting that he had directed the imam not to mention the plight of the Palestinian people. The Heritage Centre says "there was no instruction given" to the imam, but congregants posting on Facebook found that explanation difficult to believe. "Please dont sit on the fence like the other muslim leaders and people of status," one person posted. "If you are neutral in situations of injustice, then you have chosen the side of the oppressor."
The incident captures the tense atmosphere in Manchester's Muslim community at the moment. "People's emotions are running very high," says Saima Alvi, the vice chair of the Heritage Centre, a vast Gothic-style building that looks like a college at Oxford or Cambridge and which prides itself on "building bridges between communities in the spirit of union". Islam has a very long history in south Manchester that long predates the arrival of Pakistani and Bangladeshi migrants in the post-war period. The city's significant trading relationship with the Ottoman Sultans in the nineteenth century "attracted 'Wandering Lascars' to settle in Manchester, including Yemenis and Somalis," notes the author Christina Longden, who describes large Levantine Arab communities from Syria and Lebanon living in south Manchester in the 1850s. "Although they were mostly Jewish and Christian Arabs, there were Muslims amongst them, too, and a great spirit of coexistence prevailed with the groups, who even set up an Arabic school together," she writes in her book about the Muslim convert Robert Stanley.
When we spoke to Alvi over the phone on Friday, she told us about the work she and her colleagues are doing with young people to promote that kind of spirit of coexistence at a time when it's particularly difficult to broker. She wants the young Muslims she works with to direct what she sees as understandable anger in a constructive way. "We can clearly see the feeling within the community, which is very, very strong," she told us. "Because obviously, what they're seeing on the TV, through social media, the atrocities that are occurring… the innocent lives being lost is a huge, hugely upsetting thing."
In the past month, Alvi has tried to be a moderating voice when she works with school-age children at the Centre. "We don't want anybody going around saying, you know, 'we hate Jews' or something like that, because it's not about being Jewish," she told us. "That's the sort of advice we're giving to students."
Ten minutes down the road at Didsbury Mosque, community engagement coordinator Tracey Pook expresses similar concerns. Like Alvi, she has been deeply moved and angered by the catastrophic loss of Palestinian lives in recent weeks as Israeli missiles rain down on Gaza, wiping out whole families and hitting hospitals and refugee camps. "I'm incredibly hurt," she told The Mill when we met this week. "You know, every morning I wake up crying." When we spoke to her, she was preparing to travel to London for yesterday's march calling for a ceasefire in Gaza (so many Muslims were trying to attend that local coach companies in South Manchester were gauging the prices, with one company quoting £3,000 for the roundtrip).
Didsbury Mosque is known for its Middle Eastern congregants, including Palestinians, Syrians, Libyans, Kurds, Turks and Iraqis. That means some of its worshippers have a more direct connection — sometimes literally family ties — to the current conflict than more South Asian-dominated mosques, as most in Greater Manchester are. Pook thinks the positions taken by the main political parties are "damaging" because of how out-of-sync they are with a broad swathe of Muslim opinion — including many who feel MPs and other leaders should be condemning Israel for committing "genocide". "We're trying our hardest over here to do community cohesion," she says with an air of exasperation.
'You just sense it. You just sense it'
Pook is by no means the only source within the Muslim community in Greater Manchester who we have spoken to in the past week who has expressed concerns about the dangers of anger and frustration tipping over into extremism or even violence. But it's striking that she is willing to do so on the record, especially considering the mosque she represents. "I think one of the fears… I'm just going to throw the elephant in the room," she says. "We don't want another Manchester Arena." Didsbury Mosque, where we are speaking, gained national notoriety after it was revealed that Manchester Arena bomber Salman Abedi had worshipped there in the years before his 2017 attack. "We don't want to see anything like that again," Pook adds.
It's unusual to hear someone in Pook's position speak like this, but she says it's important for people to understand the dangers of a widening gap between political and community leaders and the people they are supposed to represent, who are now seeking alternative information and sources of authority online. She refers to the way, in the past 10 or 15 years, "social media has been used to recruit people to terrorist organisations."
"We are remaining peaceful," she told us. "We'll go and comfort each other, console each other, try and speak to people. But we are worried. There are things to be worried about. We don't want to see another attack."
One Greater Manchester council leader told us about concerns from senior Muslim community figures about a "younger generation" looking to alternative media and hearing very different messages from what their imams and local politicians are seeing. "Things will go around WhatsApp — they are not sharing Sky News or BBC. They are sharing this alternative media, non-mainstream, some of which is extreme, one-sided or actually fake," says the leader, paraphrasing those concerns. "You're being sent videos of terrible things — and you're expected to have a conversation about compromise."
One councillor describes the atmosphere at the moment as "tense" but is relieved that "we haven't seen the level of hate crimes and incidents go up as much as London." There have been a series of relatively minor incidents that have caused upset — most notably a police officer taking down posters of the Israeli hostages, for which the force apologised — but none of the politicians we spoke to for this story was concerned about community relations cracking up in a significant way.
"Our top priority is maintaining the strong social cohesion in Bury and across Greater Manchester," Bury's Labour council leader Eamonn O'Brien told The Mill on the phone on Friday. "This is being really tested right now but I'm confident it can hold together because of the maturity of relationships and responsible community leadership we have." O'Brien leads a borough with large Jewish and Muslim contingents and he's not naïve about the feelings that exist among some of his residents. "Whilst there are many areas of agreement on the wider situation, which sadly gets missed in much of the discussion, we also have to accept there are strong disagreements too," he says. "Our challenge is making sure those disagreements don't become divisions."
Labour will almost certainly lose votes in heavily Muslim areas in places like Oldham, Bolton, Bury and Manchester neighbourhoods like Rusholme, Longsight, Levenshulme and Cheetham (councillors who are up for election next year are nervous, fearing a challenge from independent single-issue candidates). "I can tell you one thing, that traditional Labour vote from the Muslim community, that has gone," says Alvi at the Heritage Centre. "I spoke to a Labour councillor the other day and he said his whole family have said they will never vote Labour, and he was seriously going to ditch it [quit the party]."
If that happens, they will join Amna Abdullatif, a councillor for Ardwick who resigned from Labour last month, and who told us she senses Muslims are "obviously not that important," to Labour. "Islamophobia is very normalised in the Labour Party," she said, a view that is widely shared among Muslim voters. Local activists are currently finding it "very difficult" to knock on doors of Muslim families, given the anger at Starmer and the party's backing of Israel ("you are going to get the door shut on you," says one).
All that being said, electoral calculations might seem rather trivial in light of the concerns expressed by people like Pook, which are echoed by the Muslim councillor we spoke to. "My fear is about the young Muslims in the city," they said, referring in particular to young working-class residents who are less likely to think of turning away from Labour at the ballot box as a satisfying outlet for their frustration, including those from South Asian communities. "I think they are disenfranchised. They feel that nobody in power is listening to them. They will feel everyone is out to get them."
Again, this is notable. You do not tend to hear comments like this from usually understated local councillors who are heavily invested in community cohesion and tend to choose their words carefully. And yet this week we have heard it several times, including comparisons with the period a decade ago when the so-called "Islamic State" was successfully recruiting young Brits. "You just sense it. You just sense it," one local Muslim politician says. "Somebody in a desert somewhere is going to exploit that gap. They're going to say 'I'm going to listen to you, you are right'. That is a fear for a city like Manchester."
Councillors report being asked in the street "Why are you not speaking up?" and are fielding thorny questions about why it was ok to fly Ukrainian flags in the city but not Palestinian ones, suspecting it has to do with religion or race. At a meeting at Greater Manchester Police's force headquarters on Thursday night, chief constable Stephen Watson is said to have reassured Muslim leaders that flying a Palestinian flag is fine and would only be treated as incitement if it was clearly put in the face of someone who is visibly Jewish. According to someone who attended the meeting, the "straight talking" Watson was asked about home secretary Suella Braverman's provocative comments about marches this week and replied: "You're the politician, you do the politics. I'm a police officer and I'll do the policing."
'These are not normal times'
The October 7th attack on Israel by Hamas took place on a Saturday, the Jewish Sabbath. As news filtered through about the atrocities in villages and kibbutzim that border the Gaza Strip, Paul Harris, the longtime editor of The Jewish Telegraph, got a call from someone who worked for a Jewish organisation, asking him to publicise their fundraiser for funds and blood donations. He was surprised. "My immediate response was that the Jewish Telegraph never publishes anything on the Sabbath," he recalls. The caller knew that of course, but asked again, telling the editor: "These are not normal times."
Harris thought about it for a minute and then went to work posting the appeal on his online channels. In the days after, The Jewish Telegraph – which was founded by his parents in their dining room 70 years ago and now publishes editions in Manchester, Leeds, Liverpool and Glasgow — tore up its usual pages in order to dedicate coverage of the unfolding crisis in Israel. Harris dropped his food pages and travel pages in order to make more room for news stories. The arts and sports sections stayed but were filled with reactions to the events in the Middle East from leading sports people and cultural figures. For Harris and many of his readers, the attack instantly changed everything. The Jewish community had not experienced a trauma anything like this for decades — perhaps going back to the middle of the last century, when Jews from his parents' generation grappled with the very real possibility that Israel would be wiped out by successive invasions from the Arab states.
Howard Goldman, a Jewish man who lives in north Manchester and strongly supports Israel, says that ever since the Hamas attack on October 7th he has become "fixated" on WhatsApp group chats in which Mancunian Jews send updates on the situation in Israel. "I became obsessed with watching countless interviews with both Israeli government spokespersons and people around the English-speaking world showing their solidarity," he told The Mill. "I couldn't stop watching: from waking up in the morning to going to bed at night reading regular news bulletins about what was happening in Israel and in Gaza."
Goldman says he has been "appalled" by the "vile rhetoric" chanted at some of the demonstrations and marches and that it has shaken his faith in the place he lives. "In all my 70 years I luckily have never experienced one act of antisemitism against me," he wrote to us this week. But the overt antisemitism he's seen at the marches has sometimes made him feel like "I no longer feel safe in my own city."
Jane Smith, a Jewish woman who lives in Cheshire and hasn't had much connection with the Jewish community since she moved to Manchester 15 years ago, made the trip to south Manchester yesterday morning to attend a Shabbat morning service at a Reform shul. She says her motivation for the trip wasn't religious per se — she just had a "strong urge" to be with other Jews. Others at the service had come for similar reasons. "My sense was that it's a time when Jewish people want to come together," she emailed us after we asked to hear from Jewish and Muslim readers this week.
For Raphi Bloom, a well-known figure in Manchester's Jewish community and a co-chair of North West Friends of Israel, the Hamas attack prompted days of "walking around in a state of shock." His mother lives in Jerusalem and his sister lives in Tiberias, a historic Israeli city on the western shore of the Sea of Galilee, so events in Israel impacted him personally. He says when he hears the controversial chant "From the rivers to the sea" at pro-Palestinian marches, it can only mean one thing: "For me, that means the genocide of the only Jewish state in the world. It means my 83-year-old mother to be pushed into the sea."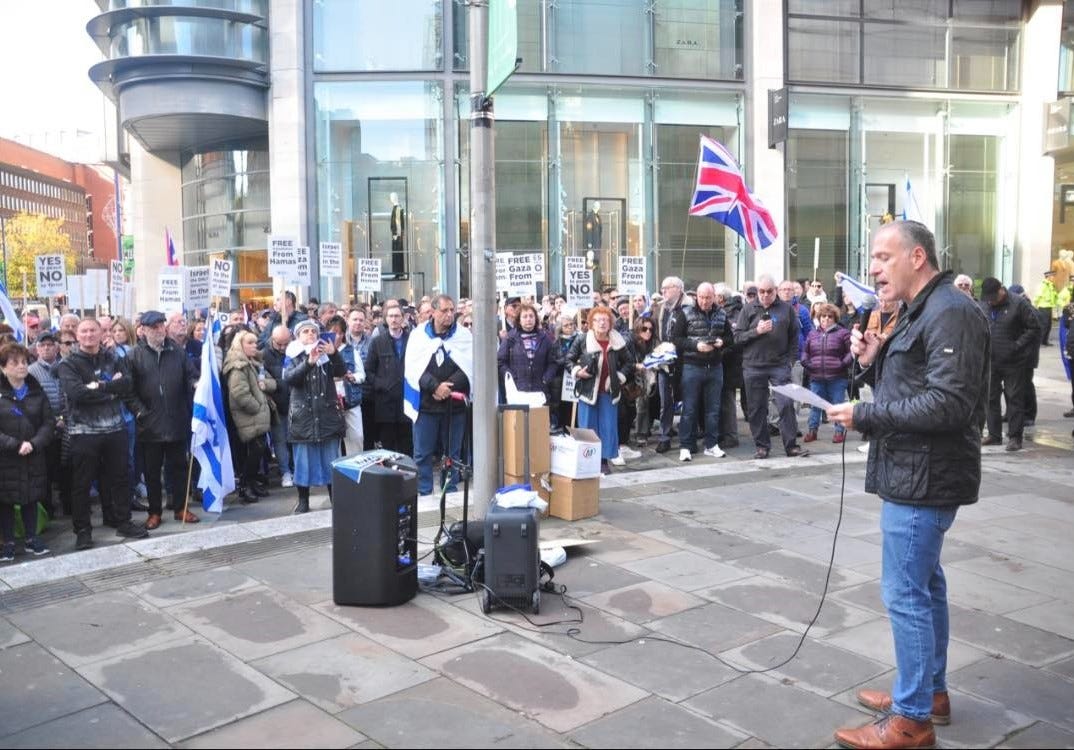 He feels let down by the police for not interpreting such chants as antisemitic hate crimes and thinks Andy Burnham's call (along with other local leaders) for a ceasefire was "misguided", despite thinking the mayor has been generally supportive of the Jewish community. During one of the recent marches, he watched the protesters coming up Market Street with a sense of horror. "I must tell you, as a Jewish person, standing there with 4,000 people shouting 'from the river to the sea' and 'intifada now' it was very, very scary."
One of the groups that has been helping to organise the marches is the Manchester branch of the Palestine Solidarity Campaign, whose chair, treasurer, secretary and campaigns officer have reportedly been suspended by the national branch after releasing a statement celebrating the Hamas attack on Israel. "In a heroic move, Palestinian freedom fighters from besieged Gaza broke Zionist colonial barriers and entered settlements built on stolen Palestinian land," the statement — subsequently deleted — read, calling Hamas "brave fighters". The Manchester PSC didn't respond to our requests for comment but the organisation was still listed as one of the organisers of a vigil at Whitworth Park this afternoon. When a photo emerged of Afzal Khan standing at a PSC campaign stall last month, the MP issued an apology.
We did speak to Vie Collister-Brown, a 34-year-old non-binary person who is a member of Manchester Palestine Action, another group that has helped to organise the marches in Manchester. "We're a group of different people that have kind of come together again and again, in different local demos," they told us. "We're from all different parts of Manchester. We have different jobs, different lifestyles, but this is something that was bringing us together." 
"The marches are the usual suspects: Various leftists, people from the Muslim community, a few Jews, the Socialist Workers' Party trying to sell their newspapers," says an Iraqi-British Mancunian who has attended a number of the demos and asked us to refer to him as Marwan. "They're frankly a bit boring — I just go to give numbers."
Bloom says he has seriously wondered about whether Britain is still the right home for him. "I'm not the kind of person who scares like that," he says. "We became very aware of where we were going, who was looking at us." In the past month, he says Jews he knows have been on alert for trouble. His wife now sticks her necklace — which has her name in Hebrew — down her neck when she goes to the gym so that people don't know she's Jewish. A week after the Hamas attacks, Bloom's four-year-old grandson and six year old granddaughter – who go to King David School — told him: "We were taught to lie under the desks today".
But after holding a series of public vigils for the 240 hostages being held by Hamas, he says he has started to feel more reassured. At one of them, he and other organisers chatted to shoppers in the city centre to raise awareness of the hostages, and got a positive response. "Many people came away from that and said: you know, it has reaffirmed my faith in my fellow British citizens," he says.
Not just a one-sided pain
"There is a lot of fear in the Jewish community," says Harris, the newspaper editor. But just as some Muslims are reacting to unverified information shared via group chats and on social media, he points out that some of the rumours spreading among Jews in Greater Manchester don't stack up. There have been a series of allegations that Jews have been thrown out of local restaurants — "and every one we've checked up on has been spurious." A group of Jews asked to leave a Chinese takeaway, for example, turned out to be a bunch of teenagers who were winding up the proprietors and the incident had nothing to do with discrimination.
Normally, during periods of heightened tension in Israel, the Jewish Telegraph office in Prestwich receives antisemitic phone calls and letters — in the past its door has been daubed with hateful insults too. But there's been none of that this time, which Harris takes as another reassuring sign. "There's no hostile atmosphere," he says. "There is no problem between the Jewish and Muslim communities here, as far as we have ascertained." People are fearful and are taking precautions, but as ever in these situations, there is a question of the gap between the perception of a threat and its reality. A councillor mentions that one of their local synagogues asked the council to remove a bin outside to prevent it being used to conceal a bomb. "We can debate how likely that is," they told us, "but sometimes it's easier just to move the bin."
Greater Manchester, via trial and error — not to mention the proactive work of many local leaders and community figures, including some of the 15 people quoted in this story — is learning how to handle moments like the one we are living through, when a series of events thousands of miles away can instantly shake the kaleidoscope, throwing everything into flux. And given its changing demographics, it will have to. Being able to balance and negotiate different community feelings and priorities is a key litmus test of this region as a functioning multi-ethnic society and one of the most diverse places on earth.
Saima Alvi, at the British Muslim Heritage Centre, is one of those who retains a confidence that community tensions can be overcome through empathy and dialogue, even at a time like this. When we met her, she had just heard from her friend Sandra, who works at a nearby synagogue ahead of a meeting they have on Tuesday. "She's just sent me such a lovely message, which is, you know, 'Saima, I know I haven't spoken to you since October 7th and believe me, I know that our communities are hurting. But I have a lot of respect for you because we've worked together for a few years. I hope that we can chat and, you know, much love to you.'"
Getting that message meant a lot to Alvi. "To me, that was very, very, very heartening," she says. She replied back saying something about how yes, there is pain, but we're both feeling pain. "Her message indicated to me that it's not just a one-sided pain."
Additional reporting by Ophira Gottlieb. To contact the reporters on this story, email editor@manchestermill.co.uk.