Discover more from The Mill
Award-winning local journalism from Greater Manchester's new quality newspaper - join our free mailing list or support us as a paying member
Over 39,000 subscribers
Dear Millers — it's a bit of an unusual newsletter today. We have a mini-briefing as usual, some new Covid-19 data that was released today and then a short editor's note from Joshi about our weekend publishing gap.
If you missed our briefing yesterday, it had some interesting and useful details about the efforts to welcome Afghan refugees to Greater Manchester. Click here to read it and do share it with others.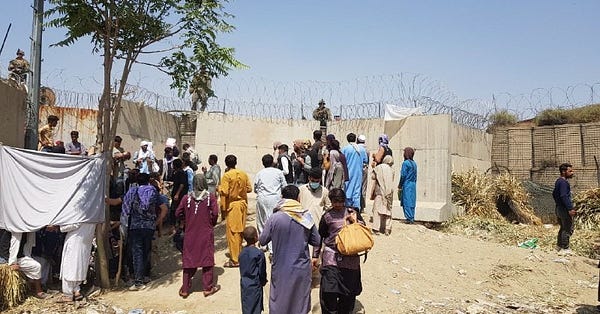 manchestermill.co.uk
Five hotels, hundreds of volunteers and a frenzied operation to welcome Afghan refugees
We speak to the charities involved, plus the rest of our Monday briefing
---
Mini-briefing
---
A note from the editor
By Joshi Herrmann
Dear members — I thought I would write a short editor's note to explain why we didn't publish a piece over the weekend and to ask for your patience while we get back on track. 
On Thursday last week, I had a quick phone call with my 77-year-old aunt Jona. It was the first time we had spoken since she went into hospital five weeks before, and she had just been diagnosed with pancreatic cancer, having had multiple strokes in the past. The hospital was about to release her to spend the rest of her life at home. 
I told her The Mill had just reached 1000 members (she was one of the very first of course), and that we were going to be on Radio 4 this week. She sounded frail, but happy to speak to me and excited to hear about our subscriptions landmark. When my mum visited her in the hospital recently, Jona told her she had just visited me in Manchester and seen our office. Mum knew it wasn't literally true and that the story represented something more like a dream, but it showed how much Jona cared about my new venture. On our call, we resolved to listen to the radio segment together in her living room, and we joked about her catching up with a missed month of The Archers. 
Sadly, we didn't get to listen to it together. Jona died as I arrived back in my home village on Saturday, just hours after getting back to her house. She was lying in her bedroom, surrounded by two of her closest relatives, with a view of her lovely garden and with her very old and dearly beloved cat Spirit nearby. 
When the piece about The Mill went out on The World at One, I was with my mum instead, still in shock from the loss of Jona, a huge character in our lives. Since my dad died two and a half years ago, Jona had become my mum's best friend — their houses are just a few hundred yards apart and they spent literally hours each day drinking coffee and talking about him — not to mention gossiping about people in the village and admiring each other's outfits. During the lockdowns, when all of Jona's many book clubs, yoga classes and social events dried up, mum kept her company and she likewise.
Jona was a spectacular character — so warm, funny and deeply original. Her life and work had taken her all over the world, including spells in Israel and spells in the Far East managing offices of translators and interpreters. When I was young, she was the embarrassing aunt who asked me about girls and picked me up from school in cars decorated with hippy flower patterns. In the past few years, she had become a best friend — someone who I could speak to about the loss of my dad and who I felt gave me some sort of connection to him. 
Both of them were born to Czech-Jewish refugees in wartime London (Jona in October 1943 and my dad in May 1945), and both grew up without any grandparents. All four of their grandparents (my four Jewish great-grandparents) were killed in the Holocaust. As Jona and my dad (Mike) were growing up, their parents were discovering — via letters from their home villages and scraps of information on the news — the details of how a large Jewish family from the former regions of Moravia and Bohemia had been almost entirely wiped out. 
I've spent lots of time in the past few years trying to work out what happened to one of my great-grandparents — the one whose death remained something of a mystery. Jona was following that research with great interest, and by a stroke of luck was finally able to find out what happened to her grandmother Erna earlier this year. At some point, I'll write about that. 
But for now, I'll just say: apologies for the absence of a weekend read this weekend and for the absence of a members' story today. Jona's death has been a great blow to me, and while I tried to edit our weekend read together, I wasn't able to focus on it. Since then I've been organising her funeral, while Dani and Mollie have been working on a few stories and getting the ship back on course. As you all know, we're a tiny operation so things like this can knock us out of shape for a few days, but we'll be up and running by tomorrow. We'll do an extra members-only story soon to catch up for today. 
Thanks for your patience and your support, and please think of my lovely aunty and your fellow Miller on Thursday morning when we are burying her in the village cemetery, in the same grave plot as my dad, just as she wanted.