Discover more from The Mill
Award-winning local journalism from Greater Manchester's new quality newspaper - join our free mailing list or support us as a paying member
Over 39,000 subscribers
Boohoo's Broken Promises: a journalist goes inside Manchester's fast fashion giant
Plus: Gary Neville's new development will be home to the city's most expensive flat
Dear Millers — welcome to this week's briefing, which takes a look at the latest investigation into the fast fashion retailer Boohoo. A reporter from BBC Panorama went undercover at the company's Manchester HQ and got an unusual insight into how the company achieves its bargain basement prices and how it treats some of its suppliers.
On top of that, we've got news on Bolton — which is now being dubbed the 'Hollywood of the North' — and the city centre's most expensive new apartment. Plus, we recommend a new public art trail and a tour through a monastery.
Over the weekend, we published a piece about Aki Khan, a butcher in Moss Side who is "one of those rare and lovely things: someone truly, happily, in their element," writes our staffer Jack. There have been some great responses from members, including this one from Anne McCulloch: "Thank you for this. At a time when the news from any other media outlet makes me cry you give me a story which also makes me cry — but because of its humanity rather than its absence." Read the full story below.
On Friday, we revealed what's going on at the Old Courts in Wigan, one of Greater Manchester's most exciting arts venues that has been lavished with public money in recent years. Why then did the Arts Council judge the organisation to be "Very Likely Insolvent" and why did workers not get paid their salaries last week? Read Mollie's latest exclusive and get in touch if you know more.
Could your business or organisation support the Mill? We're now offering discounted group memberships and the opportunity to sponsor these briefings. Good for your organisation, and good for local journalism. Find out more here.
---
Want to get The Mill in your inbox faster than your neighbours?
From today's sponsor: This briefing is sponsored by Brsk, a new independent broadband provider whose engineers are installing lightning-fast internet connections across the south of Greater Manchester. If you live in Stockport, Didsbury, Chorlton, Withington, Sale, Stretford or the Heatons (check out the ever-expanding map of coverage) you can now get your broadband via 100% fibre optic cables, with more areas like Wilmslow, Hale and Altrincham coming online soon. Brsk runs its own full-fibre network, which means crystal-clear video calls, lightning-fast streams and multi-device browsing — so several members of your family can be reading The Mill at the same time. Find out more by clicking here.
Want to support The Mill's journalism by sponsoring an edition — and (as a side benefit) get your message out to 39,000 incredibly engaged Millers? Get in touch.
---
Open newsroom
If you want to tell us about a story or give us some information, please email editor@manchestermill.co.uk. We are always happy to speak to people off the record in the first instance, and we will treat your information with confidence and sensitivity.
We'd still like to speak to anyone who has worked within Greater Manchester Police for an investigation we've had in the works for a few weeks. Any insights at all would be greatly appreciated — email mollie@manchestermill.co.uk.

Plus, we're writing about the campaign to save Withington Baths. If you were involved, please get in touch.
---
🌈
This week's weather
Our local weatherman Martin Miles says this week is good weather for spotting rainbows — a mix of rain and sunshine, with temperatures around average.
Tuesday 🌦️ Breezy with a mix of sunny spells and heavy showers. Max 11C.
Wednesday 🌧️ Windy with heavy morning rain clearing to sunny spells and the odd shower. Max 10C.
Thursday 🌦️ Breezy with bright spells and blustery showers. Feeling chilly. Max 9C.
Friday 🌦️ Breezy once again with bright spells and showers, these becoming isolated later. Max 9C.
Weekend 🌦️ Cold and calm at first before the risk of rain returns on Sunday.
You can find the latest forecast at Manchester Weather on Facebook — daily forecasts are published at 6.15am.
---
The big story: Another look inside Boohoo
Top line: A BBC Panorama investigation has found that Boohoo, the fast fashion retailer, still isn't treating its suppliers fairly, despite making highly publicised promises to "fix everything". The film, which airs tonight, promises to offer new insights into how companies like Boohoo manage to sell clothes at such cheap prices.
Context: Boohoo has been criticised in the past for exploitation in its supply chain. Back in 2020, then Home Secretary Priti Patel asked the National Crime Agency to investigate modern slavery at factories in Leicester supplying Boohoo.
Since then, it has been accused of greenwashing, and last November, Times reporter Tom Ball went undercover as a picker at the company's warehouse in Burnley, where staff have their wrists strapped with trackers and are "treated more as dispensable labour than human beings", and walked up to 13 miles in a single shift. Boohoo denied the claims made in that article, saying:
We strongly dispute the accuracy of the distances cited in the article. According to the company-issued tracker worn by the reporter, he did not walk 13 miles on any shift. The maximum distance he walked was 9.6 miles and his average per shift was 7.6 miles, ie an average of 0.63 miles per hour.
And now, a reporter for Panorama, Emma Lowther, has gone undercover at the company's Manchester headquarters and found that buyers — those who negotiate deals with suppliers — are pushing them very hard to cut prices.
One admitted to lying so they got a cheaper deal. "Go in low and if you're not getting anywhere then just say that you can get it cheaper elsewhere," they told Lowther. "I'm just lying. I just lie."
This pressure to cut prices would sometimes continue even after deals were agreed. In one day, Lowther processed cuts on over 400 orders that were already signed off. In some cases, this left suppliers working under cost, while saving Boohoo thousands. 
The investigation found that this relentless cost-cutting came directly from the company's executive chairman Mahmud Kamani, who apparently confirms all brand new deals himself.
Boohoo also broke its commitment to realistic lead times for its suppliers, shortening them to meet the demands of its client base, who want to buy "rapidly changing fashion trends as quickly as possible." At one point, lead time was reduced from 10 to six weeks.
Peter McAllister, from the Ethical Trading Initiative, said these practices ultimately put more pressures on workers and working conditions, a kind of trickle-down effect. "If you are always putting that pressure on your supply chain," he told the BBC, "what we typically then see are problems."
In fact, secret filming at one of Boohoo's suppliers in Leicester showed workers having to work late to fulfil orders. When they ask when they might be able to go home, a supervisor says: "No-one is leaving at eight, or 10, or later."
Boohoo said the supplier in question is "subject to regular audits and unannounced checks" and said that was the case with all the factories it buys from. "We take any breach of our supplier Code of Conduct extremely seriously and are currently investigating Panorama's claims."
Bottom line: Panorama's investigation — "Boohoo's Broken Promises" — is on at 8pm tonight on BBC1, or you can watch it now on iPlayer.
---
Your Mill briefing
Inside Success, a community interest company that looks to help 18-24 year olds gain skills and talk about social issues, has been fined after admitting to illegally collecting donations in Manchester. You may have seen collectors outside Selfridges on Exchange Square, taking donations with regards to issues like knife crime. The company doesn't have a permit to collect money and isn't a registered charity. Concerns were also raised about Inside Success employees intimidating people into donating.
Is Bolton the Hollywood of the North? The town has racked up 88 days of shooting films and TV shows, mostly around its old magistrates' court and town square. Productions have included the BBC's The Reckoning, about Jimmy Savile; ITV's Sleepover, and Paramount+'s A Gentleman in Moscow. According to estimates by Creative England, around £20,000 is spent locally by film crews per day of shooting.
Finally, Manchester's most expensive apartment is now on the market. It costs £6m and will be part of Gary Neville's St Michael's development, on the site of the former police station between Bootle Street and Deansgate. It costs more than double the next most expensive flat, a penthouse in Deansgate Square priced at £2.5m. 
---
Home of the week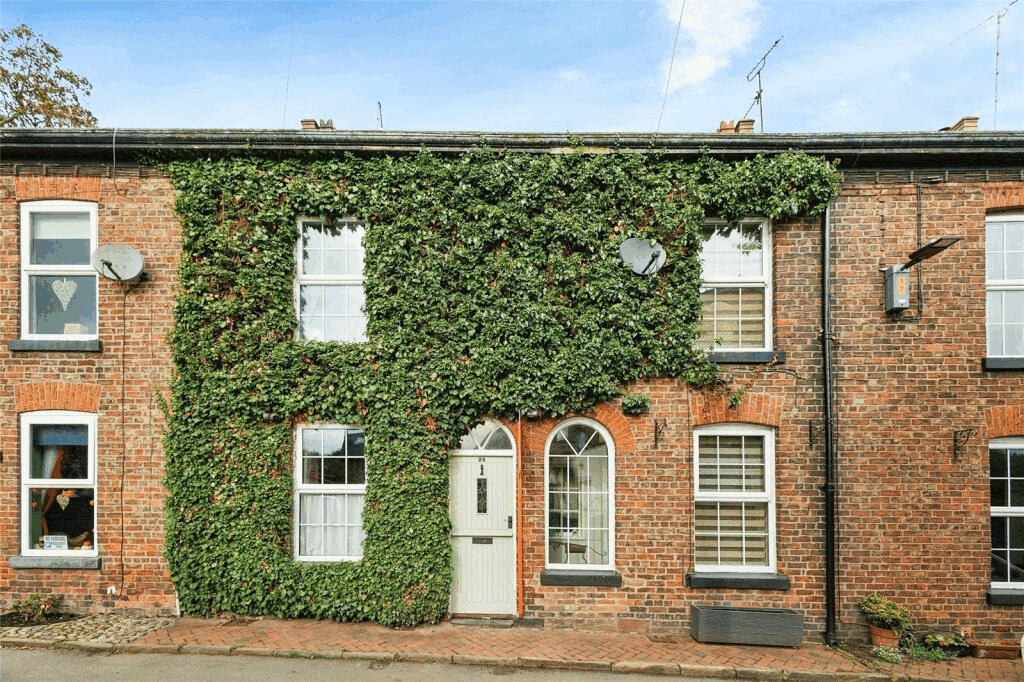 This five bedroom terrace is a short walk from Reddish Vale Country Park in Stockport, and boasts lovely exposed brickwork, a large garden and a fireplace. It's on the market for £390,000.
---
Our favourite reads
At a Manchester bog, conservationists are still battling the damage of the Industrial Revolution — Inkcap Journal
When Will Fletcher, a palaeoecologist at the University of Manchester, noticed black smudges on his microscope, he realised that Holcroft Moss was still suffering the impact of the Industrial Revolution, "a sludgy reminder, just below the surface, of the persistence of our environmental impacts". Now, the peat bog is in the care of conservationists, who are working hard to improve the health of the site, but ecologists fear there is little they can do. "We are fighting history," says Kevin Feeney from Cheshire Wildlife Trust. "We are very limited on what we can do at Holcroft Moss."
Life lessons with Big John Fury — GQ 
Big John Fury — father of Tyson Fury — sits down at a spa hotel in Macclesfield to reflect on how a Traveller family from Manchester became one of the biggest boxing dynasties in the world. It features quotes like this: "I'm looking at the relationship with my mother and father — I was never away, never away. I seen my mother and father every day till the day they died. I used to go Sunday lunch there every weekend — she used to call me up, say, 'I've made you a nice rabbit pie, son, I've made you a nice broth' — bang, I was there. I enjoyed me mother and father's company. But I don't get that from my sons, I don't get it."
A death in the family? My life with the Express and Star — The Birmingham Dispatch
Writing for our new sister title The Dispatch (join the mailing list if you have links to the West Midlands), Kirsty Bosley reflects on her time as a reporter at the Wolverhampton Express and Star, one of the country's great regional newspapers, and the challenges it faces. The paper has just been sold to a big news company after 140 years in family ownership. The piece is a lovely reflection on what local newspapers mean to people. As Bosley writes: "I remember drawing front pages of the newspaper many years before that, filling it with my own scoops, gathered in my imagination at the kitchen table when I was a child."
---
Our to do list
Tuesday
🚶 There's a new public art trail stretching from Mayfield Park to MediaCity, featuring six large, colourful sculptures of heads, intended to provoke discussion about mental health. Find out more and download the trail map here.
⛪ If you need a little bit of culture in your life, head to Gorton Monastery for this guided tour, which takes you through the hidden secrets of sacred architecture, symbolism and mysticism. Tickets are £13.70.
Wednesday
🎸 Theo Bleak, a rising star in the indie scene who cites Jeff Buckley and the Cocteau Twins among her influences for creating her new EP, Pain, is performing at the Eagle Inn in Salford from 7pm. Tickets are £11.50.
🗣️ In the latest of Manchester Museum's monthly discussions on tackling climate change, Jonathan Atkinson of Carbon Co-op and People Powered Retrofit will be talking about the importance of retrofitting our homes. Register for free here.
Thursday
🚀 Biographist Simon Guerrier will be discussing his new biography of David Whitaker, one of the first story editors on Doctor Who, at the Portico, including details of Whitaker's disastrous trip to Moscow and famous falling out with Irving Berlin. Tickets are £5 or pay what you can.
🎨 For its final exhibition of the year, natural wine bar Kerb is featuring Intoxicated by Leeham the Wizard, who creates colourful, chaotic illustrations to explore his extreme emotions. More here.
Looking further ahead? Members get our unmissable weekend to do list in their inboxes every Thursday morning.