Discover more from The Mill
Award-winning local journalism from Greater Manchester's new quality newspaper - join our free mailing list or support us as a paying member
Over 39,000 subscribers
Burnham accuses the government of using 'selective statistics' about hospitals
Also: The latest number of deaths with Covid in GM
Good evening Millers - and welcome to your belated Monday briefing.
My plan was to make today's email Tier 3 themed and send it out straight after an announcement today that we are going into Tier 3, but once again the announcement has not come and negotiations between local leaders and Number 10 seem to be dragging on. So here's a briefing that isn't Tier 3 themed!
Before we get to it, I just want to point you to Saturday's story in case you missed it this weekend, because it's one of the most original pieces of journalism we've published so far. We wanted to understand a bit more about how Manchester flats get sold to buy-to-let investors overseas, so our reporter Andrea Sandor teamed up with a great young journalist in Hong Kong and sent him along to meet property agents, posing as a potential buyer. What they told him sheds some fascinating new light on a big issue in this city.
If you want to fund more of this kind of journalism, please consider joining as a member today. Stories like this take time and money, and they are only possible because of the support of our brilliant members, who are investing in great investigations that increase accountability in Greater Manchester. They also get extra members-only stories every week, including political analysis, arts interviews, pieces about local history and much more. Join with a 10% discount now!
---
Mill news briefing
Tier 3 | "I think the problem now is, to a large degree, the Chancellor," Andy Burnham told The New Statesman this weekend. "I think he's made wrong judgements throughout this." Thus the war between Greater Manchester's leaders and the government drags into another week. A few minutes ago (just before 9pm), Burnham and Sir Richard Leese, leader of Manchester City Council, released a statement calling for further talks but expressing their disappointment that the government had proposed a "Hardship Fund" to top up furlough payments before taking that idea off the table today. They also effectively accused the government of scaremongering about Greater Manchester's hospitals. That part of the statement reads:
Finally, we are disappointed that the Government has today sought to raise public concern about the NHS in Greater Manchester with selective statistics. Greater Manchester's ICU occupancy rate is not abnormal for this time of year and is comparable to the occupancy rate in October 2019. Also, providing information about individual hospitals does not reflect that our hospitals work as a system to manage demand. We are not complacent about the position in our hospitals and are monitoring the situation closely. But in the current situation, we believe it is essential that our residents are given clear, accurate information about the state of the NHS in Greater Manchester and that public fears are not raised unnecessarily.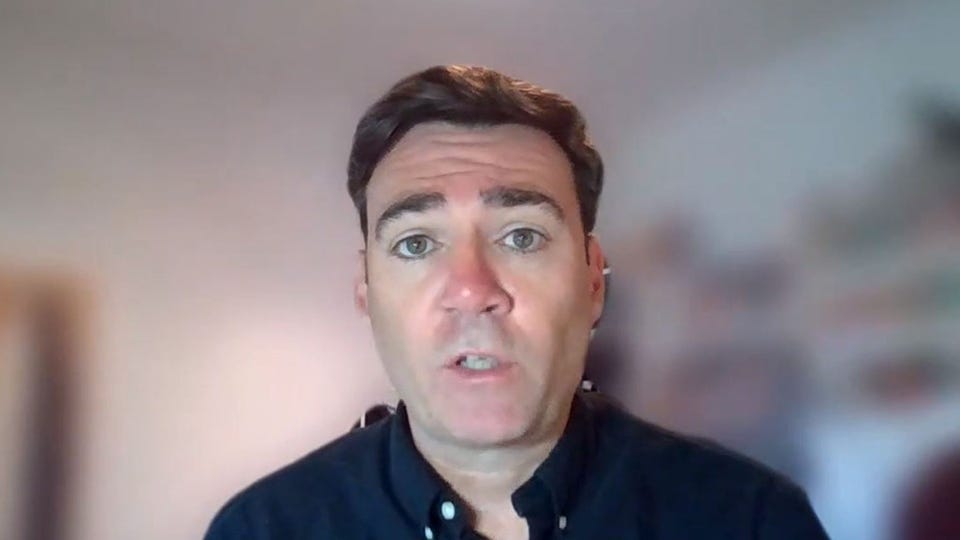 Andy Burnham at a recent press briefing
Hospitals | So, how fast are Greater Manchester's hospital's filling up? And how close to capacity are they? We have heard extremely conflicting answers to that question over the weekend. Figures released by the Combined Authority last week showed that admissions with Covid were still pretty low - 60 over the week, or 8.5 per day - and we had 55 people with Covid in ICU, which means they are taking up about a third of GM's ICU capacity. Burnham said the increases were "steady" and within what the system can cope with. Then today we had a Guardian front-page story saying GM "could soon run out of beds to treat people seriously ill with Covid-19." That story is very likely one of the briefings Burnham and Lease are referring to, and earlier today it was corrected by the newspaper to refer specifically to ICU beds.
A request: We are doing some reporting on the situation inside Greater Manchester's hospitals. The Guardian's story says "the ICUs of hospitals in Salford, Stockport and Bolton at maximum capacity, with no spare beds" - if you work in these hospitals or have spent a night in one of them in the past week, please speak to us in confidence by replying to this newsletter or emailing joshi@manchestermill.co.uk. The same goes for hospital workers at GM's other hospitals.
Covid data | In the week ending on Thursday we saw an average of 9.4 deaths per day among patients who had tested positive for Covid, or 66 deaths in the week. That represents a small increase (about a fifth higher) from 8 deaths per day in the week before (54 over the week). At the peak of the epidemic in April, we saw 395 such deaths in a week, or 56 per day, about six times more than the most recent week (I calculate these numbers every week by adding together GM hospitals in this spreadsheet). Infection rates are still very high across GM, but are now falling in Manchester, Stockport and Trafford, but rising everywhere else. Rochdale has the highest infection rate (new cases detected per 100,000 residents), just over 450, while Stockport has the lowest, just over 270.
Manchester Arena | The public inquiry into the Manchester attack today learned that the most senior police officer on duty at Victoria on the night of the attack took a break of two hours and nine minutes, during which the bomber Salman Abedi walked into the City Room for the final time. The officer from British Transport Police says she now regards the break as "unacceptable". The inquiry also heard from a father who took his children to the concert and says he made eye contact with Abedi and was alarmed by the terrorist's "rock-solid" bag. "The way he was dressed, the way he was acting, the body language was that he was trying to protect the bag," Neal Hatfield said. "He was pretending to be casual, but I could see what he was doing."
Hallé | The Hallé has been named as one of the best symphony orchestras in the world in a prestigious listing by BBC Music Magazine. The group takes its place alongside some of the most famous orchestras on the planet like the Berlin Philharmonic, the Vienna Philharmonic and the Los Angeles Philharmonic. Last week we interviewed the orchestra's chief executive David Butcher about how the Hallé has weathered the lockdown and how it is coming back to life. "They are like racehorses raring to get going again," he says of his players. "It is going to be an emotional time when they play the first notes."
---
Read of the week: When we published this long read about James Watkins, a fugitive slave who escaped from his plantation and found his way to Manchester, we only had about 300 readers on our email list, so many of you might not have read it. Watkins spent years touring parish churches in this part of the country and elsewhere, lecturing against the evils of slavery and building support for the abolitionist cause. He's the kind of figure in our local history whose story should be told by teachers to their classes and by parents to their children. If you like the piece, please do share it with friends.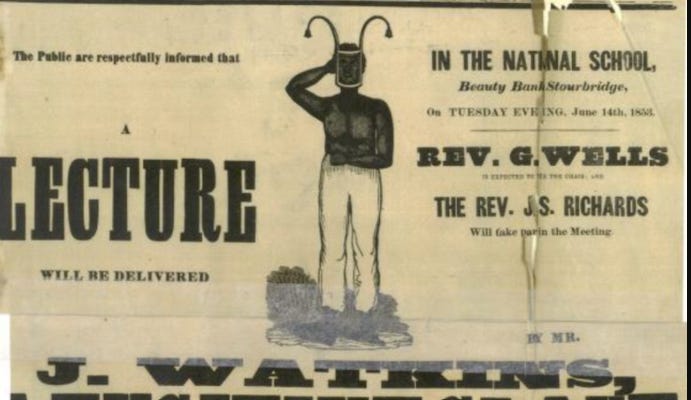 A poster advertising one of the lectures James Watkins gave in England
Join The Mill as a member today with 10% off
---
Things to do this week
Film | Showing twice a day at HOME this week (apart from Friday), Carmilla is a British romantic horror that was scheduled to come out in the Spring. It re-imagines Sheridan Le Fanu's 19th-century novella of the same name, following a 15-year-old girl called Lara who lives in isolation with just her father and governess. "When a carriage crash nearby brings a young girl into the family home to recuperate, Lara is enchanted by the eponymous Carmilla," the listing says.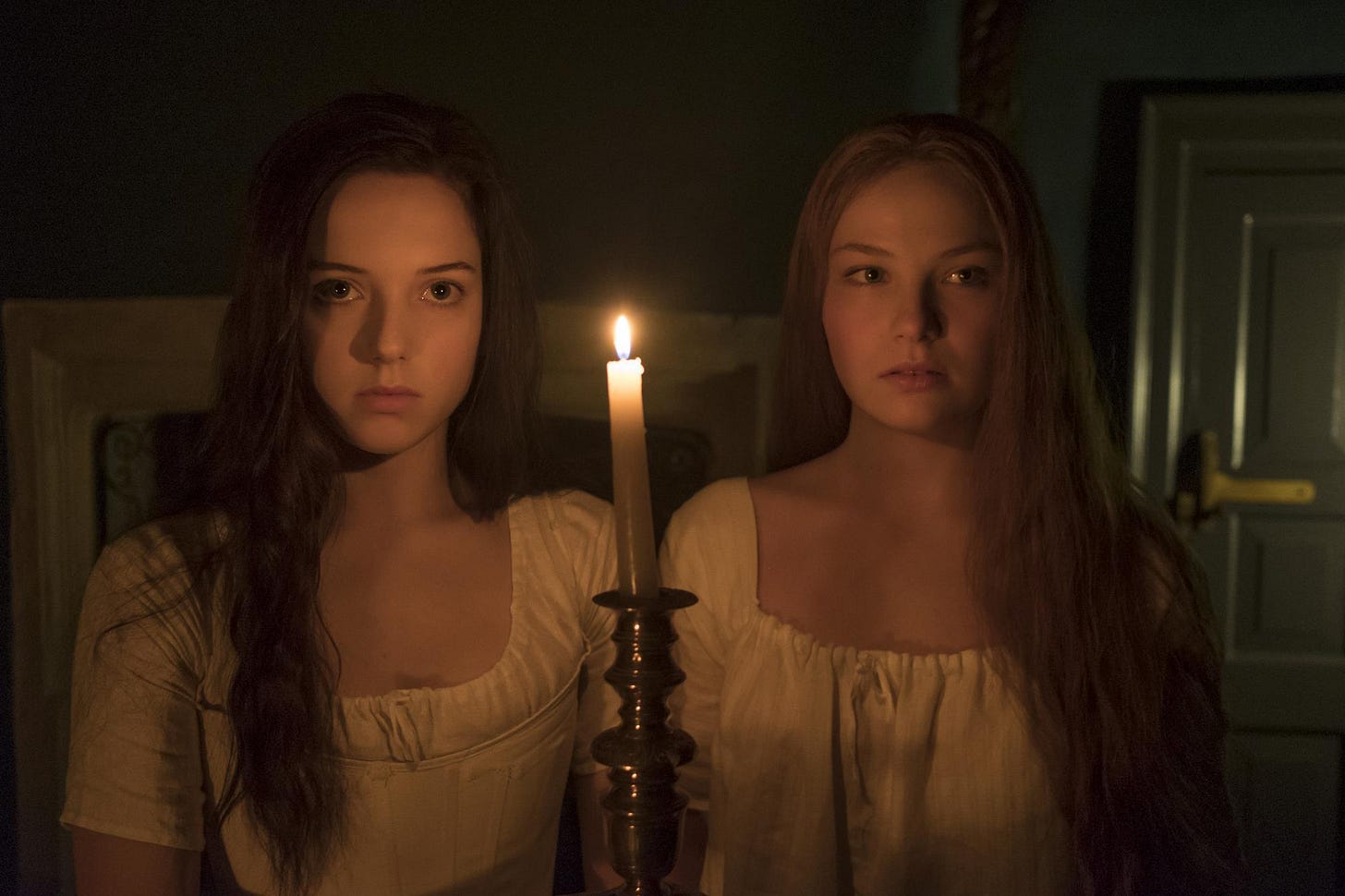 Lara and Carmilla
Art | HOME's also has three illustration exhibitions, which start on Friday, including one comic strip themed around the Black Death called Our Plague Year. Another exhibition by two Manchester-based illustrators features drawings made during a residency at Hospitalfield House in Arbroath, representing their "intuitive, eccentric response to their time spent wandering the hallways of a dead person's dark, dream castle."
Comedy | The past couple of weeks have not been a barrel of laughs over at the Frog and Bucket after they were denied funding from the government as part of its arts rescue package. The comedy venue is now running a fundraiser to stay open which you can contribute to, or you can support them by going along to their Barrel of Laughs night on Friday or Saturday - tickets here.
Shopping | Following the news that Manchester's Christmas markets have been cancelled, Manchester Wire has made a list of great independent shops and markets that you can go to instead for your gift shopping, and which need our support at the moment, including Manchester Makers Markets, Pollard Yard, Form Lifestyle Store and Manchester Craft and Design Centre.
Know of a great event next week? Please reply to this email to tell us. We are particularly interested in Things to do outside Manchester itself, which are sometimes harder to find.
Join The Mill as a member today with 10% off