Discover more from The Mill
Award-winning local journalism from Greater Manchester's new quality newspaper - join our free mailing list or support us as a paying member
Over 39,000 subscribers
Greater Manchester expected to avoid new lockdown measures - as deaths rise
The latest news about the new restrictions, and the rest of our Monday briefing
Good morning Millers - today's briefing will begin and end with Covid coverage. There's a summary at the top and some analysis of the latest data at the bottom, including news about rising deaths among patients diagnosed with Covid in Greater Manchester.
If you know anyone who might find this post useful, please forward it to them or use the share button below. Last week our email list passed 5,000 - in large part thanks to you early readers telling friends and colleagues and recommending us on social media. Thanks - and please keep spreading the word.
News briefing
New Covid rules | The Prime Minister is expected to unveil his new three tier system for local restrictions today, replacing the increasingly haphazard imposition of different rules in different areas. But it now seems like we are going to have to wait a bit longer to find out for sure which tier Greater Manchester will land in. The Times, which has received the most extensive briefings about these new rules in the past couple of weeks, reports this morning that GM and Lancashire "are expected to avoid" Tier 3 for now. Negotiations are ongoing between GM's leaders and the government. Last night Sky News reported that the Liverpool city-region (including Halton, Knowsley, St Helens etc) would be the first to enter Tier 3, meaning that pubs, bars, gyms, casinos and bookmakers would all be closed down, while restaurants would be allowed to stay open, as would schools and universities. The Sun reports that restaurants in Tier 3 areas will not be able to serve alcohol.
HS2 | The government confirmed it is prioritising the western leg of the HS2 railway project, meaning the line linking Birmingham and Manchester is likely to go ahead well before the line to Leeds. Work has begun on the London to Birmingham leg, and the laws required to build the section from Birmingham to Crew (which would later be extended up to Manchester) are expected to pass soon. "The Department for Transport unveiled proposals for a series of improvements to the line which will carry high-speed trains from Birmingham to the northwest of England," The Times reported. "This includes building two additional HS2 platforms at both Manchester airport station and Manchester Piccadilly in the city centre."
Data breach | Greater Manchester's deputy mayor for policing and crime Bev Hughes has formally written to the chief constable of Greater Manchester Police with a series of questions about the data breach we reported recently. "I am taking it very seriously," she told journalists last week. Hughes said the live iOPS system was not breached, and that the data that was mistakenly connected to the internet was "a special data set" which was being used to test a new dashboard. "That was loaded up with some real data, inappropriately, without permission, by the contractor responsible, and that was put online." She said GMP's investigation into the incident, and the one being conducted by the Information Commissioner, are continuing.
Airport jobs | Manchester Airports Group has opened discussions with unions over the loss of up to 465 jobs at Manchester airport. The company has had more than two thirds of its staff on furlough, and the timing of the redundancies seems to be directly linked to the ending of the furlough scheme this month. Charlie Cornish, the company's chief executive, said: "The end of the job retention scheme means that we have to consider the number of roles that we can sustain at our airports."
---
The big read: This week's recommended read is a self-serving pick: my feature in The Guardian this weekend about mentoring students at the comprehensive school near where my mum lives in Sussex, and what it taught me about unfairness in the university admissions system. I share it because I'd like to set up similar mentoring at a couple of schools here - ones that don't tend to send a lot of students to the most competitive universities. If you are a teacher or a parent at such a school in GM, please hit reply to this newsletter. Mill Mentoring will ideally kick off with a couple of Zoom calls in December, with students who are applying to uni this time next year.
Listen out: The BBC Philharmonic has been back in its Salford studio since late August, learning how to play and record with a socially distanced orchestra. Last week their work came to fruition with four afternoon slots on Radio 3, broadcasting some of the material they have recorded this autumn. You can listen to all of them on the BBC Sounds or on the BBC website here, starting with Rossini's Overture to The Thieving Magpie and Mozart's Violin Concerto in G.
---
Things to do this week
Exhibition | Manchester Central Library has an exhibit about the city's Windrush generations, which is running until the end of the month. It tells some of the personal stories of Caribbean immigrants to Manchester, and the experience of their families over the second and third generations here. Windrush arrivals here often found work at the docks, in factories or as nurses in the NHS, and many of them lived in Moss Side and Hulme. The struggles they faced getting decent housing and fair treatment from employers, not to mention their contribution to the city, are now getting more attention.
Theatre | Tomorrow and Wednesday you can head to The Kings Arms in Salford and watch Conversation with Marilyn, a two-woman show that's part of the Greater Manchester Fringe Festival. "Middle-aged mum Kim is tackling her quiet obsession with Marilyn Monroe but beneath the veneer of icon worship are darker themes," writes Manchester Wire. "She finds similarities between the blonde bombshell and her own late mother, who had an unacknowledged mental illness. Joining in with this obsession, Kim's daughter – a struggling actress – seeks to inhabit Marilyn's mind and body." Book here.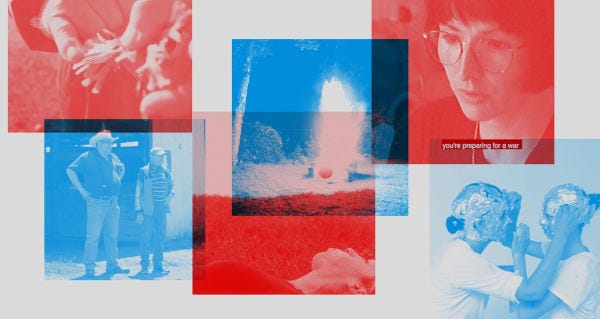 "Correspondance / Correspondence" at The Holden Gallery
Film | The Holden Gallery is co-hosting a marathon online film event on Saturday - six programmes over nine hours. "Correspondance / Correspondence" is a film screening programme pairing Manchester artists with those from Montreal. "These video correspondences encourage dialogue between the cities by coupling two distinct artistic visions and placing them next to each other - one moving image artwork from each city," the curators say. It is free to stream via Vidéographe's YouTube channel.
Art | Manchester Art Gallery's weekly lunchtime talks about works hanging on their walls has now gone online, and there are still places on this Wednesday's call. "Art Bites" only lasts half an hour, and involves staff picking two different works and responding to them. "We discuss what we see, what we think about it, what it makes us think of, how it inspires us or repels us, what we find curious about it, how our own life experiences connect with it," they say.
---
Analysis: the latest Covid data
Infection rates: Greater Manchester's infection rates are still very high - in the region of 300 new cases per 100,000 residents in the past week. The huge spike in cases we've seen in the borough of Manchester now seems to be falling again, with the MEN calculating a rate of 477 for the most recent week compared to 582 the week before. That spike was overwhelmingly driven by new cases and widespread testing among students. Rates in most other boroughs are still rising,
Hospital admissions: Hospital admissions with Covid fell last week, having risen for two weeks before that. The other good news is that the number is still really low - just 31 admissions to hospital with Covid in the week ending last Monday, which is the equivalent of just under 4.5 per day. The data is released weekly in Andy Burnham's press conference, but it was striking that Burnham chose not to emphasise the low hospitalisations number. The figures showed 40 people in ICU beds in GM with Covid, down from 41 the week before but twice the number we had in mid-September.
Deaths with Covid: In the week ending last Thursday there were 54 deaths in Greater Manchester hospitals in which the patients had tested positive for Covid - almost eight per day (the numbers are calculated by adding together the GM hospital trusts on this NHS spreadseet, and not all these deaths are necessarily caused by Covid-19). That represents a meaningful increase from the previous week, which had 31 such deaths, and from the week before which saw 18. How do these numbers compare to the peak of the epidemic in April? Back then we saw 395 such deaths in a week, or 56 per day - meaning there there were more people dying each day than have died in the most recent week. But clearly as we go into winter - when NHS capacity is always stretched - that rising deaths number is a concern. We will continue to update it every week.
---
The Mill is entirely reader-funded. Our income from our paying members is what allows us to produce all of our journalism, and start to build a new future for high-quality news in Greater Manchester. Our next objective is to increase our freelance war chest so we can get more local reporters working on stories and investigations. Support us and be part of it by becoming a member of The Mill today, with a 10% discount.