Discover more from The Mill
Award-winning local journalism from Greater Manchester's new quality newspaper - join our free mailing list or support us as a paying member
Over 39,000 subscribers
Has a 'zombie newspaper' just dropped through your letterbox? 
The New Statesman exposes a worrying trend. Plus: We're hiring!
Dear Millers — welcome this week's briefing on a very windy Monday. As we put this edition together, we could hear the strange, dystopian humming noise coming from the Beetham Tower, a sound that evokes a feeling of dread or perhaps portends danger ahead. 
Is that the case? Is famine or war about to descend on the land? By the time you finish reading this edition, you will be fully briefed on any upcoming threats and will also be armed with recommendations for things to do, eat and read in the intervening days. 
Our big story is about "zombie newspapers" that are cropping up to take the place of legitimate local news. The New Statesman has been investigating these titles in Manchester and even in the High Peak. On a more positive note, the magazine has highlighted us — little us! — as a bright spot in the local news ecosystem. Business Editor Will Dunn writes: 
"Not everything that grows on the bombsite of local news is a weed, however. Back in Manchester, the Mill, an email newsletter of local news launched during lockdown, has grown into a business currently turning over around half a million pounds a year…" 
Plus, Manchester Art Fair kicks off this weekend and we recommend some great klezmer and Balkan music you can go and dance along to. 
Over the weekend, we published an in-depth look at the effects of the conflict in Israel and Gaza on communities in Manchester, one of the most diverse cities on Earth. "People in positions of responsibility are doing the right thing," one senior Muslim councillor told us, "but the tensions are out there in the neighbourhoods." 
"Just to say thanks for writing this," Mill member Mike France wrote in. "It is so important to have well informed pieces like this in the midst of the 'bought and paid for' views promoted in the mainstream press." Read the full story below.
🚨 We're hiring: We're looking for someone with lots of of energy and initiative to join us as our Marketing and Events Assistant, taking the lead on social media and helping organise events for Mill readers. It's a varied role that will suit someone who is exceptionally organised and could see themselves growing into a senior marketing role in the future. The deadline is in just over a week, and we would be very grateful if you could share the link with anyone you know who might be interested. Apply here.
---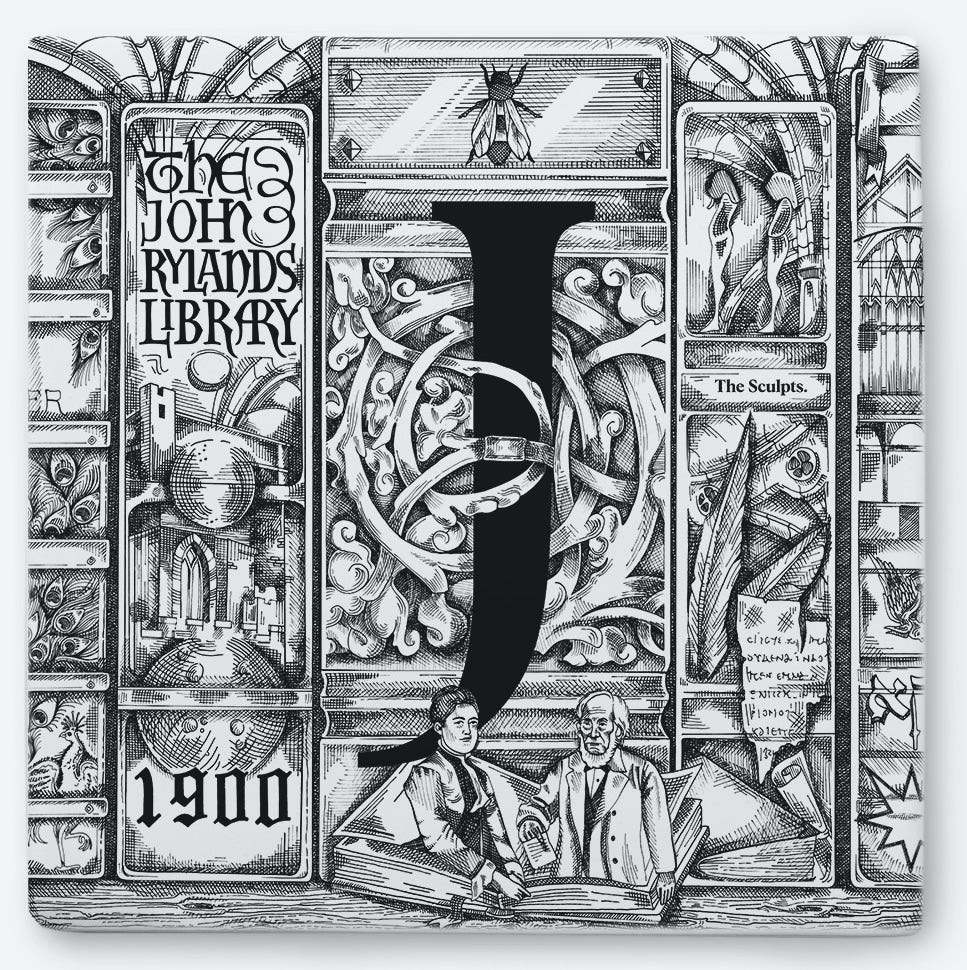 From today's sponsor: This beautiful ceramic tile pays homage to John Rylands Library, one of Manchester's architectural gems and home to a vast collection of priceless works, including one of the earliest New Testament texts and many illuminated medieval manuscripts. The tile is available from The Sculpts, a local company founded by illustrator and architect Richard Bennett in 2020, which designs and makes beautiful homewares and textiles celebrating Manchester's history, heritage and culture. Check out the full range of tiles and artwork.
Want to support The Mill's journalism by sponsoring an edition — and (as a side benefit) get your message out to 39,000 incredibly engaged Millers? Get in touch.
---
🌦️
This week's weather
Yes, the winds might currently be heavy enough that Beetham Tower is emitting its spookily loud humming noise, but our local weatherman Martin Miles says most of the extreme weather will be out of the way by Wednesday, with temperatures turning much milder.
Tuesday 🌧️ Calmer but unsettled with heavy showers and fleeting sunny spells. Max 12°C.
Wednesday 🌦️ Breezy and predominantly cloudy with a few showers. Max 10°C.
Thursday 🌦️ Chilly and murky with occasional showers. Max 9°C.
Friday 🌦️ Bright spells and showers along with light winds. Max 9°C.
Weekend 🌦️ Mild but staying changeable with showers or longer spells of rain at times.
You can find the latest forecast at Manchester Weather on Facebook — daily forecasts are published at 6.15am.
---
The big story: Has a 'zombie newspaper' just dropped through your letterbox? 
Top line: A new investigation in the New Statesman digs into the problem of "zombie newspapers" — titles that are actually promotional material for local MPs or ad-filled PR sites. You might have seen these fake newspapers and news sites in the past, but the piece brings some new details to light — using examples that are very local to us. 
Case studies:
The High Peak Reporter was a local newspaper that delivered news about the Peak District for a century until it ceased publishing in 1998. It was recently resurrected by a company in Manchester as promotional material for Conservative MP Robert Largan, who took the High Peak parliamentary seat off Labour in 2019 by a margin of just 590 votes.

Posing as a prospective advertiser, the New Statesman's reporter asked a Warrington-based company called PR Fire if he could place local political stories on two websites called the Manchester Gazette and Business Manchester. One of PR Fire's directors replied guaranteeing that he would have complete control over the wording and that the stories would not be marked as advertising.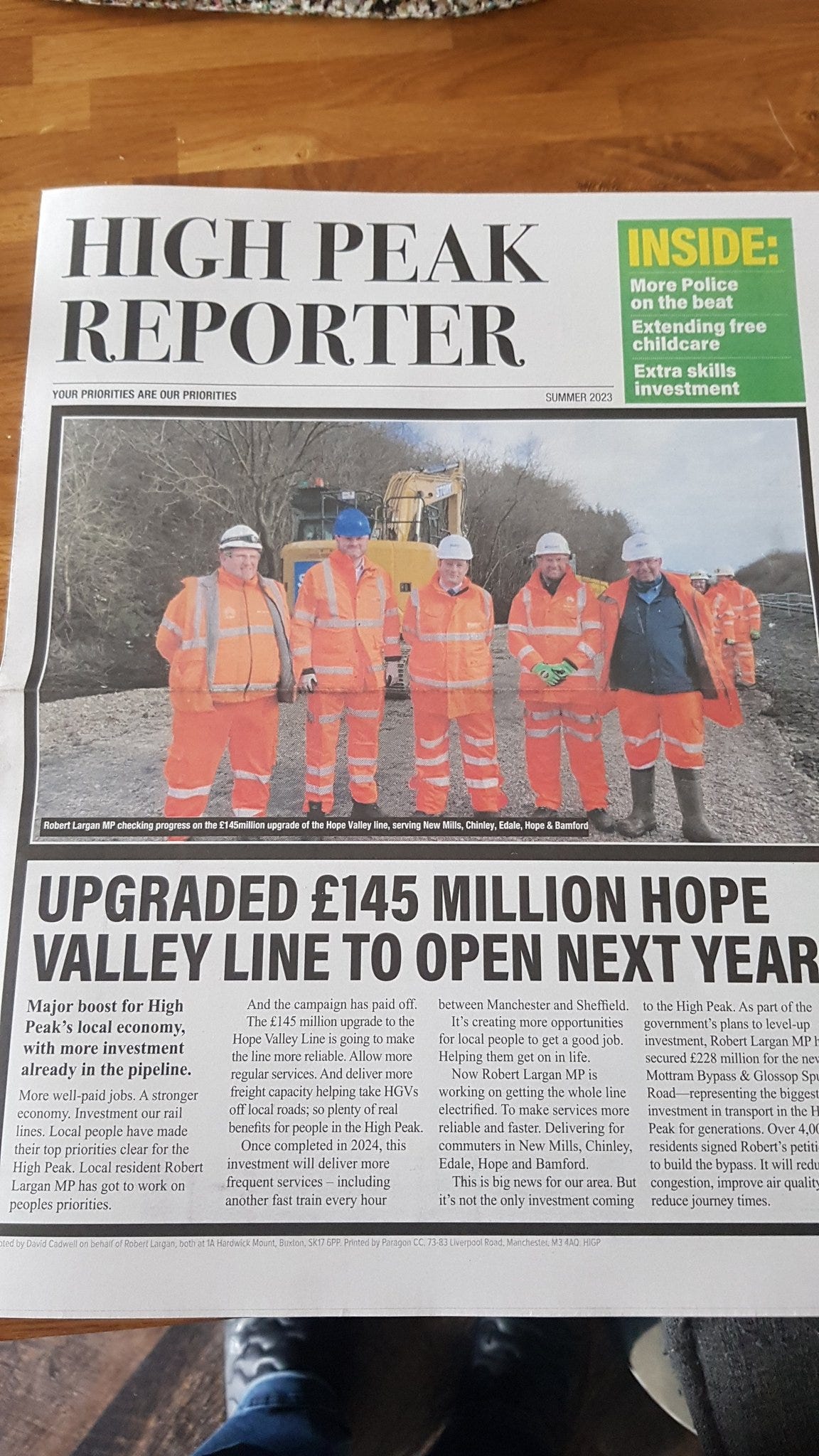 These trends are "the latest example of how the local newspaper industry, which has been all but destroyed, is now being replaced," writes New Statesman business editor Will Dunn. "Freed from the oversight of local reporters and editors, businesses and politicians have begun to create their own information networks — they look like local news, but report only the things their owners want the public to see."
These news sites are popping up as vast swathes of local media are being dramatically scaled back. Last Wednesday, Reach Plc, the London-based company that owns dozens of local titles including the Manchester Evening News and the Liverpool Echo (as well as the Daily Mirror and Daily Express), announced 450 redundancies across the company, including 320 editorial roles. The company's CEO Jim Mullen, whose salary is "174 times that of a typical reporter", was asked by an anonymous commenter in a company livestream: ​​"How long until we are all unemployed?"
Praise for The Mill: "Not everything that grows on the bombsite of local news is a weed, however," writes Dunn in his piece. "Back in Manchester, the Mill, an email newsletter of local news launched during lockdown, has grown into a business currently turning over around half a million pounds a year." 
The piece says: "The Mill has grown quickly, launching newsletters in Sheffield, Liverpool and Birmingham, and recently raised £350,000 from investors including the new CEO of CNN and former director-general of the BBC, Mark Thompson, and the Axios publisher Nicholas Johnston."
Bottom line: The causes of the decline of local news are well-documented — the financial crisis wiping out newsroom's advertising budgets, Facebook and Google swallowing up the advertising market — but less understood is the effect this is having on local communities. Dominic Ponsford, editor of journalism's trade publication, the Press Gazette, told the New Statesman: "All news starts with local media, all democratic accountability starts with local media… I think we're in uncharted territory, in terms of what happens to a country where there's not really any democratic oversight at local level."
---
Your Mill briefing
🎭 Dave Moutrey has announced he is stepping down as director and CEO of HOME after 26 years. Moutrey will pursue a full-time role as director of cultural and creative industries at Manchester City Council, leading Manchester's new cultural strategy. Luthfur Rahman, deputy leader of Manchester City Council, said: "Dave has been a huge figure in the cultural landscape of Manchester for many years and has been instrumental in our approach to culture in the city since 2018. There are few people who understand the symbiotic relationship between the city, our residents and the arts."
⛺ Last week, we reported that Manchester City Council leader Bev Craig publicly criticised former Home Secretary Suella Braverman's plans to restrict the use of tents by homeless people, despite the fact that Manchester City Council had "already banned" the use of tents in the city centre, via a public spaces protection order (PSPO). The council took issue with our wording, saying that the PSPO technically only prohibits tents if they are likely to attract vermin or if they create a significant health and safety risk for any other person (you can read the details here). A spokesperson says "even in these very rare circumstances we take a light-touch approach and would not issue a fixed penalty notice to someone who was homeless". We're happy to clarify this point. 
📈 New data from the Trussell Trust, the largest food bank charity in the UK, shows the number of emergency food parcels distributed to children in Oldham rose by 263% over the last six years. That's an increase of 2,554 food parcels given out a year to 9,273.
📰 Great news for those who'd like to see more Northern-based culture writing. Corridor8, a great online magazine championing arts and culture writing, has just launched on Substack, promising to commission new voices across the region and publish more experimental forms of art writing. Read more and subscribe here.
🎨 Speaking of art, the annual Manchester Art Fair is back at Manchester Central this weekend. The fair brings together a curated selection of galleries and artists selling modern and contemporary paintings, sculpture, photography and prints, plus talks from leading artists and curators. Tickets start at £10.
✈️ And finally, if you're keen for a more unusual city break, you're in luck: Finnair have just announced they're going to be running two flights a day from Manchester to Helsinki in 2024. 
---
Home of the week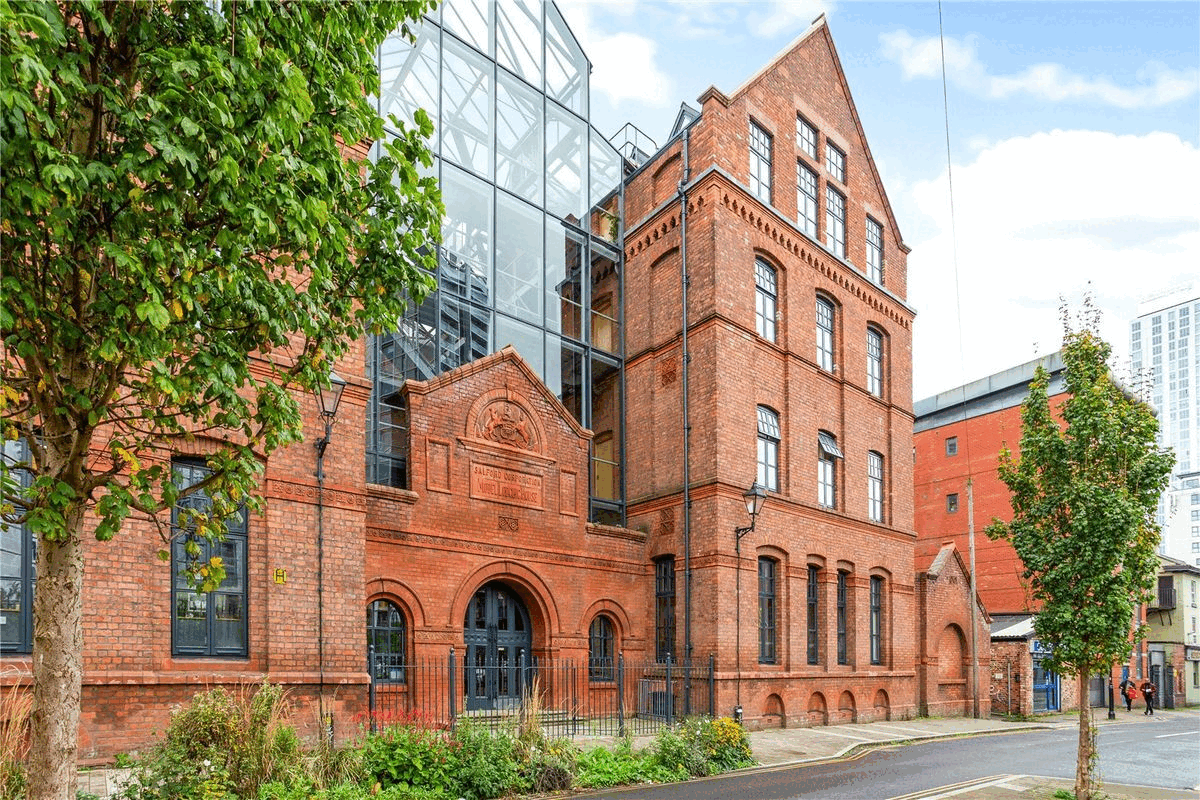 This one bedroom flat is in a listed Victorian building in Salford and has its own private outdoor terrace and a great pub across the road. It's on the market for £215,000.
---
Our favourite reads
Who Is Hannah Grace? And Why Won't She Show Her Face? — The New York Times
Hannah Grace is the Manchester-based bestselling author of two young adult novels, having traded her corporate job to write full time last year. She's also using a nom de plume — not even her neighbours know that she's a writer and she once refused to even share her real name with the CEO of publishing house Simon & Schuster. "I'm not a person who likes attention," she says. "It's a bit of a morbid running joke with my husband. If I ever go missing, he won't have a picture of me to give to the police."
Manchester Unspun: How a City Got High on Music by Andy Spinoza – from Cottonopolis to Manc-hattan — The Observer
Andy Spinoza's Manchester Unspun is an "exceptionally well-informed and hugely entertaining" account of how Manchester reinvented itself, writes Julian Coman in The Observer. Spinoza might "slightly overstate" the role of the Hacienda in the city's transformation — his real strength lies in his wry observations from his many encounters over the years, such as this revealing quote from one of Gary Neville's property consultants: "Gary very much values the views of his consultants — as long as they agree with his own."
Liverpool remains a Michelin star desert. But are we getting our just desserts? — The Post
A 30 minute drive outside of Liverpool, there's a tiny farming village in West Lancashire where you have the choice of three Michelin-starred restaurants. At the other end of the spectrum, Liverpool and the Wirral have been waiting a long time for their first star. "There is, of course, an important question that prefaces all this: does it matter?" writes Jack Walton in his very entertaining piece (which references Mana in Manchester, of course).
---
Our to do list
Tuesday
👾 Want to understand the dramatic life cycle of the salmon? Or the (fictional) story of why a group of Polish soldiers formed an inseparable bond with an orphaned bear? Then the Manchester Animation Festival, running at HOME all week, is the event for you. View the full programme here.
🖊️ There's a creative writing workshop at the Carlton Club in Whalley Range, with facilitators floating around the room giving you little prompts to stimulate your imagination. Book here.
Wednesday
🎨 For £26, West Didsbury's tiny art cafe Sett is offering a two-hour painting class which includes DJs playing all evening, coffee, hot chocolate and nibbles. Book here.
🍷 Esea Contemporary is hosting a wine tasting session based on the theme of home. The wine list includes "a rosé that chronicles a celebrity couple's struggles to find peace at home" and "a light ruby that follows Chile's journey from a deprived colony to a thriving democracy". Tickets are £30.
Thursday
🎻 Kroke was formed in 1992 by three friends from the Academy of Music in Krakow, who found inspiration in klezmer and Balkan music. They're performing at the Stoller Hall from 7.30pm, get tickets here.
📚 Chorlton Bookshop is hosting the launch of You Saw Me Standing Alone, the memoir of former Manchester City goalkeeper Alex Williams, who describes his ascent into football stardom and his "lonely battle" against racist fans. Book here.
Looking further ahead? Members get our unmissable weekend to do list in their inboxes every Thursday morning.