Discover more from The Mill
Award-winning local journalism from Greater Manchester's new quality newspaper - join our free mailing list or support us as a paying member
Over 39,000 subscribers
'I was literally manhandled': Another community divided over traffic and planters
We walked into a blazing row about LTNs. Plus: Our journalism expands to the Midlands...
Dear Millers — welcome to our Monday briefing. On Saturday lunchtime, we attended a protest in Manchester where tempers were running high and critical geopolitical issues were at stake. No, not a demonstration about the war in Gaza but a protest about the "Low Traffic Neighbourhood" or LTN being trialled in Withington.
When we arrived, the protest was good-natured — around 50 people had gathered around a line of planters that are supposed to calm traffic on Parsonage Road, a long residential avenue that branches off from Wilmslow Road and features some beautiful Georgian and Victorian houses. But a few minutes later, a supporter of the LTN turned up and things got a bit unpleasant.
It's the latest flashpoint where a community has seemingly been divided by proposals for an LTN. We'll tell the story below — because we think it features themes and arguments that have been cropping up across Greater Manchester.
Before we get to that it's a big day here in Mill-land. You might have seen a great column about us in the i paper today, bearing some excellent news: we've just helped to launch The Dispatch, a Mill-style quality newspaper in Birmingham. We are absolutely delighted to be spreading our brand of journalism to the West Midlands, and if you have any connections to Birmingham, please share the link to help us get it off the ground.
The Dispatch will be run by Kate Knowles, a reporter who has joined us from the Birmingham Mail and has been a fan of The Mill and our sister titles for a couple of years now. As she writes today, she originally got in touch with us because she "was so excited about what they were offering for their home cities".
No one is more excited today than Anne Forster, who is one of our longest-serving Mill members despite having left Manchester decades ago after growing up in Collyhurst. She now lives in the West Midlands and has been encouraging us to launch something in Birmingham for a while. So she's The Dispatch's member #1.
Ian Burrell — the country's foremost commentator on media issues — writes in his column today:
Delivered in newsletter format to the recipient's email inbox, The Dispatch will offer three heavily researched pieces a week on local matters of political and cultural importance. In an epoch where so much local "news" takes the form of celebrity clickbait, salacious crime round-ups and video clips repurposed from social media, the new title is surely meeting a need.
Please help us spread the good news by sharing The Dispatch's link with friends or on social media, or by sharing Kate's tweet or Joshi's tweet about the launch. If you know of people in Birmingham who might be useful to us, including great writers, please get in touch. 
Over the weekend we published a very funny review of Free Your Mind, the Matrix-inspired dance production that debuted at the newly opened Aviva studios last week. "This is not a performance a person should attempt to appreciate on a logical level," writes our culture editor Sophie Atkinson. "You will strain something. Instead, you will have an Aviva Studios-sized amount of fun if you crack open a beer and simply let the show wash over you."
---
Want to get The Mill in your inbox faster than your neighbours?
From today's sponsor: This briefing is sponsored by Brsk, a new independent broadband provider whose engineers are installing lightning-fast internet connections across the south of Greater Manchester. If you live in Stockport, Didsbury, Chorlton, Withington, Sale, Stretford or the Heatons (check out the ever-expanding map of coverage) you can now get your broadband via 100% fibre optic cables, with more areas like Wilmslow, Hale and Altrincham coming online soon. Brsk runs its own full-fibre network, which means crystal-clear video calls, lightning-fast streams and multi-device browsing — so several members of your family can be reading The Mill at the same time. Because of a Black Friday deal that's running until the end of October, prices start from just £18 a month. Find out more by clicking here.
Want to support The Mill's journalism by sponsoring an edition — and (as a side benefit) get your message out to 39,000 incredibly engaged Millers? Get in touch.
---
☁️
This week's weather
Our weekly forecast comes from local weatherman Martin Miles, who says: "After last week's wet and wild weather, this week will be typical of late October with mixed days and mild temperatures, but hopefully no impacts from rainfall."
Tuesday 🌧️ A dull day with moderate to heavy rain during the morning and early afternoon. Drier later, but staying murky. Max 13°c.
Wednesday ☁️ Murky with low cloud and patchy fog which will gradually lift to let through some bright spells later. Light winds. Max 12°c.
Thursday 🌦️ Mixed with bright spells and heavy showers. Max 13°c.
Friday 🌦️ Mild and changeable with bright spells and showers. Max 14°c.
Weekend 🌦️ Low pressure will continue to dominate, meaning further mixed weather, although temperatures will be mild by day and the risk of frost by night will be minimal.
You can find the latest forecast at Manchester Weather on Facebook — daily forecasts are published at 6.15am.
---
Big story: Withington goes to war over some planters
Top line: At lunchtime on Saturday, we walked into the latest row over a "low traffic neighbourhood" or LTN — a concept that is being tried across Greater Manchester to slow down traffic on residential roads and make it safer for people to walk and cycle in their own neighbourhoods. This latest trial is taking place in Withington.
Context: We've written about LTNs before — you might remember our astonishing long read about the epic row that broke out in Levenshulme and our exclusive reporting on the collapse of the "active neighbourhood" scheme in Prestwich last year. These schemes tend to involve planters or other traffic-calming devices that block key intersections in an attempt to bring residential streets back to their original purpose — allowing residents to get to their homes — rather than being high-speed shortcuts for drivers trying to shave 30 seconds off a journey.
The flashpoint: As we were interviewing anti-LTN residents at a roughly 50-strong protest in Withington on Saturday, a local woman who supports the trial scheme turned up and stood amongst the protestors. That's when things went south. Suddenly voices were raised and a bit of argy-bargy ensued, with the woman's "I 💕 Safe Streets" banner ending up on the ground. "Where is your brain?" one of the anti-LTN residents asked her, objecting to her presence at the demo.
Manhandled: The woman — who lives on Parsonage Road, where some of the planters are — told us:
I was pushed, I was bumped, I was literally manhandled, I had my sign taken out of my hands and thrown on the floor, people have been shouting and swearing in my face.
As we were talking to her — you can watch our video interview on Twitter/X, and read dozens of responses to it — one of the anti-LTN residents interrupted. "We all love safer streets — not just your street, every street," she said. This was Hazel Roy, who opposes the trial, saying it has driven more traffic onto neighbouring roads and made the area harder to navigate for older people who are more reliant on their cars.
The Post Office: Roy points out that the planters have led to a big drop-off in business at the local Post Office, a claim confirmed by Zakir Wahab, who runs it. "Footfall is massively down," he told The Mill, saying he has cut down from four staff to two staff as a result. "We used to have a queue up to the door, now we're waiting for customers."
A class divide? One theme we heard a lot was that the scheme was benefitting a more affluent street. "The people with placards saying 'safer roads' have lovely big houses," said Sian Astley, who says that her business has been detrimentally affected because it takes longer to navigate around the area in her van. "It's all very well for middle-class people," she said, pointing out that people with houses on a traffic-calmed road might expect to see their house prices rise while surrounding streets get shafted. (Proponents of LTNs point to research showing that in the long-term, the schemes do not increase traffic on neighbouring roads. Of course, this research is also contested).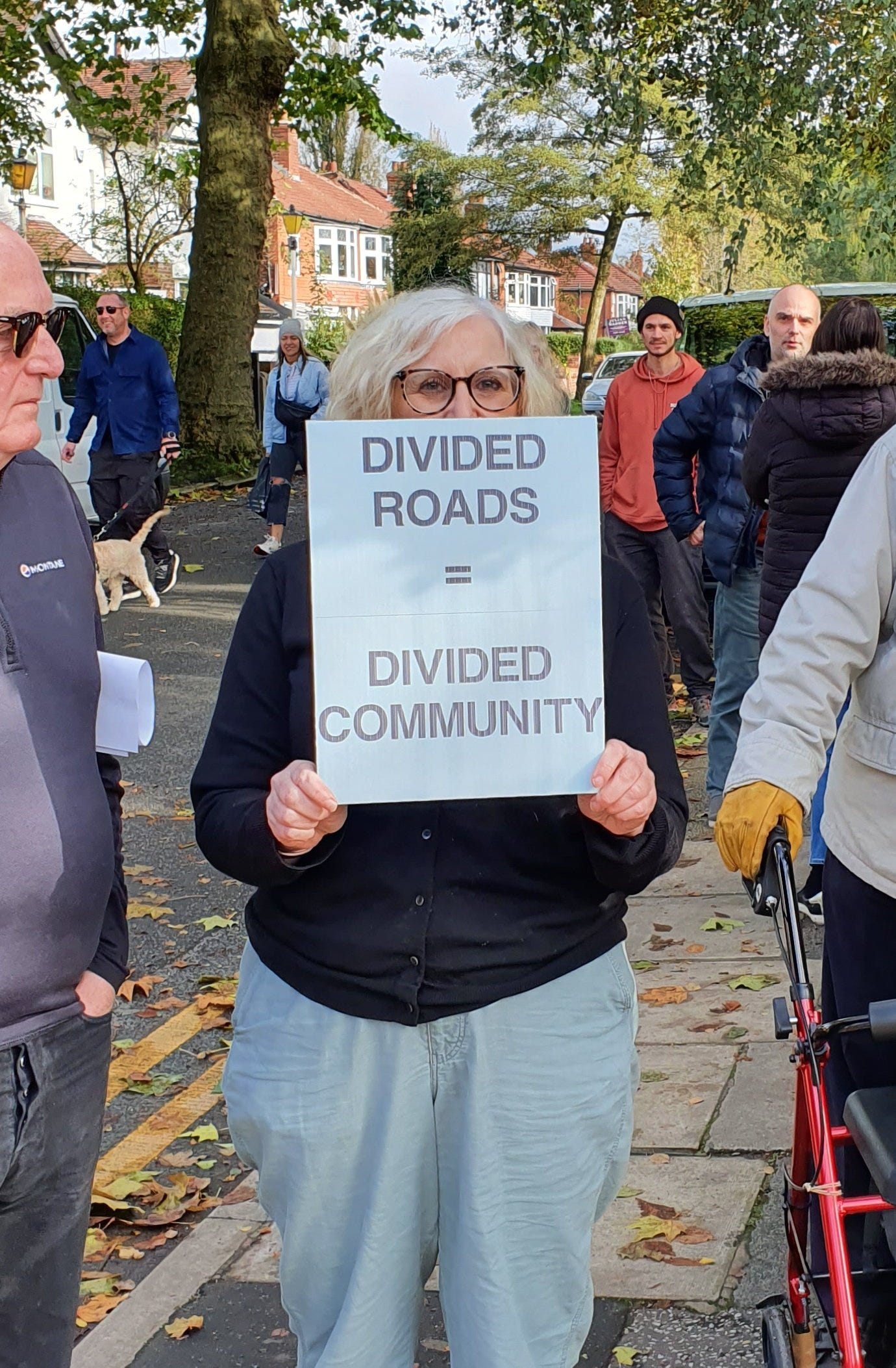 What are roads for? The council says the trial is about creating "streets where the movement, health and safety of people is prioritised over cars. They are safe, attractive spaces for people to spend time chatting or for children to play." And that seems to be happening at least on the traffic-calmed roads. "The effect on traffic in the neighbourhood is nothing short of miraculous," says Sam Easterby-Smith, a local Green Party candidate. "It's so much quieter, both on Parsonage Road itself and right across the estate."
Many residents we spoke to have observed that the streets with planters are more human-friendly now: you see more parents walking on the roads with children, safe in the knowledge the roads are much less busy.
But that argument doesn't work for everyone. "That's not what a road is for," says an LTN opponent called Mark Webster. "That's what footpaths are for. Roads are for traffic." He says his road is now much busier because of the planters, and would rather that the area's traffic issues were dealt with using chicanes or priority signs that slow down cars.
Zooming out: The broader point here is about how communities can be made safer and more livable when people disagree so strongly about seemingly banal street changes like the ones made in Withington. A longtime Miller called James Thomas writes in about a "hostile atmosphere" in the Withington Facebook groups, where "more moderate voices have been drowned out". Admittedly, the people who care about this issue are probably a minority. "My gut feeling is that there are roughly equal numbers of vocally for and against, with the wider majority totally unphased by it," says local resident Iain May.
Bottom line: The council is set to review the evidence in the Withington LTN trial, and it may identify specific issues caused by the planters. But across Greater Manchester, there's no doubt that we need our communities to be safer and more livable. It is noticeably more pleasant to walk down a street that has LTN planters on it, and even many of the protestors seem to acknowledge that benefit, arguing that it needs to be spread more widely. Instead of this row causing tension in one community after another, Andy Burnham and local council leaders need to work out a way of testing and communicating these schemes in a way that doesn't alienate so many local residents.
---
Home of the week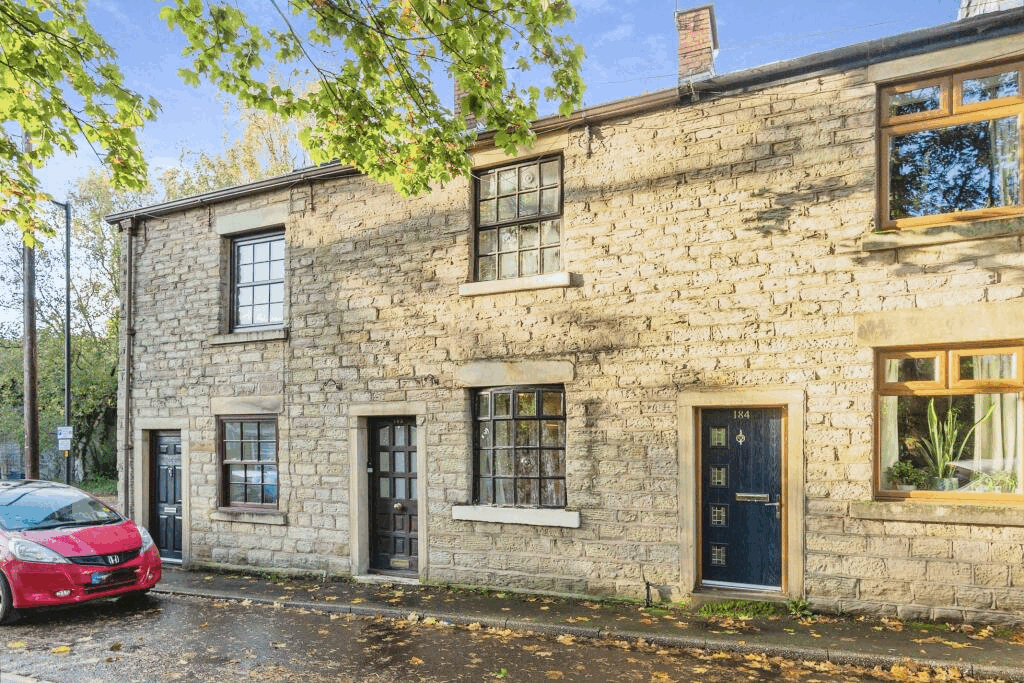 This bright and spacious two-bedroom terrace is near the picturesque Etherow Country Park in Stockport. It's on the market for £260,000.
---
Your Mill briefing
An inquiry into the proposed demolition of four Victorian warehouses in Shudehill will begin tomorrow. The plans were put forward by developer Interland Holdings, who want to build three high-rise towers — the tallest at 19 storeys — on the site, which is next to Shudehill bus station. This was refused by Manchester City Council back in April on heritage grounds (the warehouses sit within a designated conservation area). The council said the scheme would "undermine the ongoing regeneration of the city centre", but in June, Interland appealed the rejection. SAVE Britain's Heritage, a conservation group, will give a statement at the inquiry tomorrow, Henrietta Billings, SAVE's director, said: "The site's Conservation Area location and historic warehouses offer a unique opportunity to regenerate this area with a high quality proposal for new development that works with the existing buildings instead of demolishing them."
Plain-clothes ticket inspectors are monitoring Metrolink. They were introduced last month, when fines for riding without a valid ticket were increased from £100 to £120. The head of Metrolink, Danny Vaughan, told the MEN that the tactic has been effective. In the past, it was pretty easy to spot a ticket inspector — clad in hi-vis — with enough time to hop off the tram. No longer. Riders have taken notice, although there has been some confusion. One Reddit post a few days ago entitled "Strange man on the Tram" described an interaction with a seemingly random person asking to see tickets and scanning cards. After some discussion on whether it was a scammer collecting card details or a mentally ill person who "likes being the 'tickets please' guy", it turned out it was a plain-clothes inspector.
If you have found yourself in Piccadilly Gardens recently, you may have noticed the Christmas Markets taking shape there. The countdown has begun, with the markets set to open in various locations across the city on November 10th (naturally). It'll be the markets' 25th year in the city, but even putting the ludicrously-early starting date to one side, they split opinion. Last year, we asked if Mill members thought the Christmas Markets should come back in 2023, and 66% said "please, no". So we'll broaden it out to all Millers now. Vote in the poll below and members can meet us in the comments to expand on their votes.
Tributes have flooded in from all over the world to Sir Bobby Charlton, the Manchester United legend and 1966 World Cup winner, who died aged 86 on Saturday. He was described as "England's greatest player," and radio phone-ins over the weekend received calls from deeply emotional fans who described how much Charlton meant to them. Fans gathered at Old Trafford to remember him, and United's home game against Copenhagen in the Champions League tomorrow night will be dominated by tributes to a man who has been central to the club for decades.
We're also remembering Tony Husband, the Private Eye cartoonist and political satirist who died aged 73 last Wednesday. He was crossing Westminster Bridge on the way to a Private Eye leaving party when he died and his son, Paul, wrote on Facebook: "It's somewhat ironic that he somehow managed to survive 30 years of Private Eye parties but the one he didn't make…" Many Millers will remember the cartoons Tony did for us a couple of years ago and the very moving interview we did with him about his father's descent into dementia. We have made that article free to read. Tony was a Mill contributor and a member — we send our best wishes to his family and everyone who loved him.
---
Our favourite reads
Tony Husband obituary — The Times
After Tony Husband was beaten up by a gang of skinheads in the 1970s for being a "long-haired hippie", he decided to get his own back by drawing them on paper, leading to regular commissions in Private Eye and national acclaim as a legendary newspaper cartoonist. In this obituary, The Times writes: "His final cartoon was perhaps the most poignant squiggle he ever drew. He was on his way to a Private Eye boat party on the River Thames when he died of a heart attack. Before he set out he doodled an image of himself missing the boat and waving goodbye."
Putting on Black Rap Gigs Is Still As Hard As Ever — VICE
Two researchers from the University of Manchester found evidence of prejudice from Manchester venues "going back at least 20 years", which has a "direct effect on rappers' and DJs' ability to earn a living from their craft". GAIKA, a rapper and promoter, remembers struggling to book gigs for local rap artists in the 2000s. "They'd come to me as a booker, as a promoter, and say we wanna do this party or this show, and we'd try to do it but the police would say, 'We've got intelligence you're in a gang'," he says. "They'd just say, 'Nah, we're going to shut you down' or would find out who the venue owners were and terrify them."
Bobby and Jack Charlton: the brothers who won together but lived apart — The Observer
Jack Charlton was a "rugged, combative, tall defensive" centre-back who could appear "cocky and insubordinate", whereas Bobby Charlton was "a shorter, lighter, more floaty, creative attacking midfielder" who seldom challenged authority. Due to their contrasting characters, the two brothers were never close, but experienced a rare moment of connection when they both played in the 1966 World Cup final. Bobby would later become a "stabilising presence" as director of Manchester United, while Jack became resentful for not being offered an interview for England manager, and became somewhat exiled in Ireland. "Their lives ran down parallel tracks that converged beautifully on a honeyed day in 1966, but then diverged again, as if to remind the world that sibling bonds are fragile and conditional. Now the scourge of dementia has made them equal in death."
Aviva Studios — the UK's biggest cultural investment in a generation — The Financial Times
"[Aviva Studios] is not a beautiful building," writes the architectural critic Edward Heathcote in the FT. Though Heathcote blames stringent planning requirements for the £242 million arts centre's "brutish appearance", he adds that the interiors are also "depressingly generic" and "harshly illuminated by strip lights". But this shouldn't necessarily be a bad thing — "it also feels like a faint echo, a nostalgia for a different time when the warehouses and industrial buildings represented an infrastructure ripe for appropriation, for raves and squats."
---
Our to do list
Tuesday
🎹 If you find yourself inadvertently stumbling into YES this week, we recommend heading to the Pink Room to see John Carroll Kirby perform. The American composer and pianist "has earned a reputation as an artist's artist", according to Pitchfork, and his music is "irresistibly fun". Tickets are £20.
🎨 There's a new exhibition at HOME that focuses on "unearthing hidden layers within the city of Manchester". It features four installations, with drawings, films and sound compositions that invite you to take a closer look at where we live. It's free.
Wednesday
🎞️ As part of the Manchester Indian Film Festival, the Carlton Club in Whalley Range is showing Mutiny, a documentary exploring the contribution of Asian musicians to the British pop scene. Tickets are £8.30.
🏛️ Salford Museum and Art Gallery has a new exhibition about the many lives of Islington Mill, a former cotton spinning mill that is now home to many local artists and puts on fantastic exhibitions and DJs. It's free to visit.
Thursday
👻 In Withington, our friends at Cafe Blah are hosting a screening of the original Texas Chainsaw Massacre with a surprise horrifying guest who will be revealed on the night. Not for the faint-hearted. It's free to join.
🧑‍🎨 The School of Digital Arts at Manchester Metropolitan University has a new exhibition looking at how contemporary digital artists respond to the internet and reflect the media of the time. More here.
Looking further ahead? Members get our unmissable weekend to do list in their inboxes every Thursday morning. 
---
Coming up this week: Members will hear about the global fashion brand hosting a show in Manchester for the first time, and we will get inside the internecine battles behind the otherwise joyous return of Bury Football Club. If you're not a member yet, do join up to read those and support our work.