Discover more from The Mill
Award-winning local journalism from Greater Manchester's new quality newspaper - join our free mailing list or support us as a paying member
Over 39,000 subscribers
Inside an overwhelmed Ukraine donation centre
'As you can see it's just mayhem, people have been so kind'
Dear Millers — welcome to the 61 (!) new members who joined up since Joshi sent his editor's note last night. The influx has swelled our member ranks by 5% overnight, and we're hoping for another clutch before the end of the day. Thanks for your many, many tweets since we sent the note, like the one below from Ceri Thomas at Tortoise, who is the former editor of Panorama and Radio 4's Today programme.
We'll have more on this later in the newsletter, but if you fancy joining the rush and helping us to bulk up our finances for the battle ahead, please do join now or buy a gift membership for a friend using the button below.
---
Overwhelmed with generosity
By Dani Cole
Nerves were frayed and emotions high at the Polish Social Centre in Bury last week. By the end of Thursday, the message had gone out that they could no longer accept donations. Members of the public who drove in with their carloads of children's toys, sanitary products and tins of food were turned away. Over the weekend the centre issued a plea for warehouse space.
In between helping with his family's business, Polish Centre committee member Peter Kluj, 70, had been pitching in. "One 40ft trailer's gone out, two or three 15ft wagons have gone out," he said. "The response has been phenomenal. Everyone wants to do something. If they're not donating, they're volunteering." 
The sheer volume of items arriving placed volunteers — the number of which at one point reached 120 in a day — under pressure. Their job was to sort through and separate items into boxes and package them for their long journey to the Polish-Ukraine border. Compounding the issue, there was also a shortage of drivers and vehicles to transport the donations to a distribution centre in Wrexham.
"I hate putting people off when they have good intentions," Teresa Hassane, one of the centre's longstanding committee members, said. "As you can see it's just mayhem, but people have been so kind."
On Saturday we published a great piece by Jack Dulhanty, who met a woman called Kateryna Tyshkul, who is from Kharkiv in Ukraine and saw a video of her family home being bombed on Telegram. You can read that here.
On Sunday, we were at the Ukrainian Catholic Church in Salford, whose mass was attended by Andy Burnham and Salford's mayor Paul Dennett. Burnham said he was moved by the service, and promised to push the government for more support for Ukraine in the weeks ahead.
---
Other local news in brief
Friedrich Engels isn't going anywhere, it seems. Last week we inadvertently ignited an enormous global panic (seriously, look at the shares of our tweet) after reporting a statement from HOME that they were "in discussions" about their statue of the German writer (because the statue originated from eastern Ukraine). After thousands of angry tweets flew in from socialists around the world, HOME clarified that they have no intention of pulling Engels down. They say they "want to do more to explain how the installation came to Manchester and the reasons behind this".

Manchester Airport has been having a tough few days. Queues of delayed passengers ran the length of Terminal 1 yesterday, according to one of our podcast producers, Paul Fernley, who had a flight to Berlin. Announcements were sparse and tempers were high. Airport staff blamed the furore on airlines scheduling too many flights. Flights which they, airport staff, weren't expecting. The Mill is still awaiting comment from Manchester Airport. Paul, in the end, caught his flight. More here. 

GMP have paid £8,000 to a woman after she was told "nothing will come of" her report that she was drugged and raped. It's another detail emerging from the police inspectorate report, which found that GMP "doesn't investigate crimes effectively." More here.

Salford Mayor Paul Dennett has written to Michael Gove about how Russian energy firm Gazprom is "woven inextricably" into the delivery of council services. Dennett said his council wants to cut ties with Gazprom, in protest of the invasion of Ukraine, but public procurement regulations are getting in the way. More here.

The owner of a Bolton children's home spent public money funnelled into the scheme on holidays, bar furniture and nights out. Meanwhile, one boy in its care had not bathed or changed his clothes for four months. More here.

Work started on the Castlefield viaduct today, it's set to open in July 2022 as an urban sky park. The viaduct has been in a state of disuse since 1969, and the first phase of its renovation will cost £1.8m. More here.

Rates of Covid-19 in Greater Manchester are still falling. The region's case rate is 181, down 6.6% in a week, compared to England's 303.4, down 9.1%. Stockport has the highest infection rate, Oldham has the lowest.
---
Home of the week
This stunning detached house in Littleborough was once a bar but has heaps of potential as a home — it just needs updating. It's on the market for £340,000.
---
'Doing it first and best'
We've been moved by the response to our post last night about the competition we now face from the media giant Reach Plc, and how we need more members in the coming months. Here is a small selection of the tweets we got in response.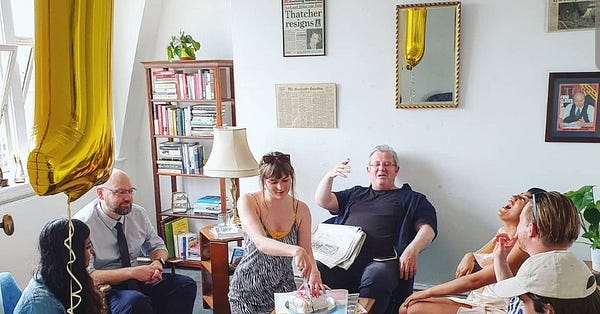 manchestermill.co.uk
A surreal headline - and why we need your help
An editor's note
If you haven't yet, please do join us as a member now, for £1.34 a week if you pay for a year upfront. You will get two extra members-only editions of our journalism every week and will be invited to our first ever members' get together, which we've been planning today.
You can also support us — and give your colleagues the benefit of great local insights — by buying a set of memberships for your company or organisation, with a 20% discount. One of our members bought the first-ever corporate subscriptions the other day — just hit the button below to buy.
Or, buy a friend a Mill membership using the button below, as a handful of people have today.
---
This week's weather ⛅️
Our weather forecast comes from local weatherman Martin Miles, who says: "Mild and windy weather will replace the dry, bright and chilly weather later this week. Despite a little rain, there will still be plenty of dry weather to enjoy."
Tuesday 🌤 Dry and very breezy with plenty of sunny spells. Chilly. High 9°c.

Wednesday 🌥 Mostly cloudy and windy. Patchy rain preceded by drizzle will edge in from the West towards sunset. High 13°c.

Thursday ⛅️ Mostly dry and less windy. Cloud breaks will allow for occasional sunny intervals. High 13°c.

Friday 🌦 Bright and breezy with occasional showers, mainly during the afternoon. Mild again. High 14°c.

Weekend 🌦 Relatively mild, however, there will be a risk of rain with low pressure likely to be close by.
You can find the latest forecast at Manchester Weather on Facebook. Daily forecasts are published at 6.15am.
---
Our to do list
🎶 Concert | Our friends Manchester Baroque will be performing "Intimate Notes: Upbeat" at the Manchester Jewish Musem on Thursday evening. Book here.
📷 Exhibition | Tomorrow, in celebration of International Women's Day, The Refuge is launching "A Woman's Work", an exhibition of documentary photographer Tish Murtha's photographs of 1970s-80s Newcastle. Info here.
🎥 Festival | Manchester Film Festival is back, and it starts on Saturday. Get ready for 130 films, including a wealth of talent from North West filmmakers. Book here.
🖼 Exhibition | "For the Love of Hulme" is on tomorrow at the Brooks Building. It's an open exhibition featuring artists, historians and photographers who celebrate Hume. Book here.
📚 Books | Thursday is book launch day for Here Again Now by Okechukwu Nzelu, described as "a heart-breaking and immensely uplifting novel". The event kicks off at 6.30pm. Book here.
🥘 Eat | Did someone say bottomless brunch? Head over to Sicilian NQ on Sunday for unlimited prosecco and homemade Limoncello. Info here.
---
---
Our favourite reads
"I like being on telly. Judy didn't" — The Sunday Times
The Good Morning Britain presenter spoke to Reverend Richard Coles about being Tony Wilson's neighbour in Didsbury. "'I was quite intimidated by Tony at first,' Madeley says. 'He was already Mr Manchester, running the Haçienda and Joy Division. I had a huge row with him, actually, about why they were called that. It was the name given to the women the SS kept for sex — they raped them. I told him, it's not on, but that's by the by…'"
How Manchester's youth are carving their own style in 2022 — The Face
What are the young people wearing these days? We enjoyed this piece about the Northern Quarter's unique fashion and the people who create and wear it. "As a de rigeur destination for hangover cures, it's not surprising that everyone in The Koffee Pot is dressed comfortably. Tracksuits are, after all, a sartorial cure for sore heads."
Northern supremacy: the political rebirth of Andy Burnham — Prospect Magazine
Andy Burnham has finally worked out who he stands for in this interesting article in Prospect Magazine. "As we walk into the college gym, Burnham gets out his phone. 'Have a look at this,' he says, proudly. It is a shot from the ITV drama Anne—based on Anne Williams's fight to uncover the truth of her son's death at Hillsborough. It's the first time he's seeing himself portrayed by the actor who is recreating the moment at the Anfield podium. 'It really was life changing that day,' he says."
Giles Coren reviews Dakota Grill, Manchester — The Times
Known for his spirited and sometimes off-colour reviews (like the one about Peckham's Kudu, where he writes that after a visit to the borough you'll end up "with so many stab holes"), Giles Coren graces the Dakota Grill with the formidable Anne Robinson. She says that dinner in Manchester, "requires a girl to have a spray tan, stick-on tattoos and stilettos. I am often mistaken for a homeless person." All in all, the dinner went down well. The red deer was "terrific, so grainy, stern and ferrous after the fat wagyu, so full of the flavours of heather and gorse", Coren writes.
---
Letters to the editor
For the record, I think Nikolaus Pevsner has a point, ('Puccini's was once a VIP hangout — now it's trapped in a downward spiral') but inside the managed decline is a fine modernist building on a pocket scale that a few people (myself included) would consider a great loss. Phil, Wythenshawe
My childhood home in Collyhurst wasn't devoid of books ('The extraordinary stories of Manchester's Ukrainians'), we had our Sunday School prizes for good attendance and also we had two sets of encyclopedias. I can't remember them being particularly useful but at least they were books. We did though, visit the library regularly on the edge of Queens Park. I now have plenty of books and many of them are very precious to me. Anne, West Midlands
---
That's it, you're up to date
.
Thanks for reading.