Discover more from The Mill
Award-winning local journalism from Greater Manchester's new quality newspaper - join our free mailing list or support us as a paying member
Over 39,000 subscribers
Manchester's infection rate is sky-high - but it should be treated with caution
And the rest of our Monday briefing
Good morning Millers - welcome to this week's Mill briefing, which has the latest Covid data for Greater Manchester and some things to do that don't all stretch the verb "to do" to sitting in front of your laptop and firing up Zoom. Enjoy.
Monday news briefing
Lockdown measures | Pubs and restaurants in Bolton opened for the first time in three weeks on Saturday, after special restrictions there were lifted. Bolton's extra measures were one of the dozens of variations of the Covid rules that exist across the country, causing confusion in many areas. Andy Burnham yesterday called for a clearer system for local restrictions, with three tiers of measures and clear entry and exit criteria for each. "Without urgent change, the North of England will be thrown into one of the most difficult winters we have ever experienced," the Mayor of Greater Manchester warned.
Covid data | Manchester now has the highest infection rate in England, with 495.6 new cases per 100,000 residents detected in the week ending October 1st. However, a massive government data screw-up revealed this weekend meant that thousands of positive tests weren't counted at the right time, meaning that we have to take infection rates with a massive pinch of salt for a few days at least. So let's look at the other data points. There were 41 Covid patients in intensive care beds in GM at the end of September, up from 20 in the middle of the month. In the week ending September 29th, there were 49 people admitted to GM hospitals with Covid, so that's about seven people admitted per day across the city-region. That's more than three times higher than we saw a month before (late August). Covid deaths in the North West have crept up to a 7-day average of 12 deaths per day, up from 2 or 3 a day a month before. But as this graph shows, they are still a fraction of the April peak, when we had just under 150 deaths per day.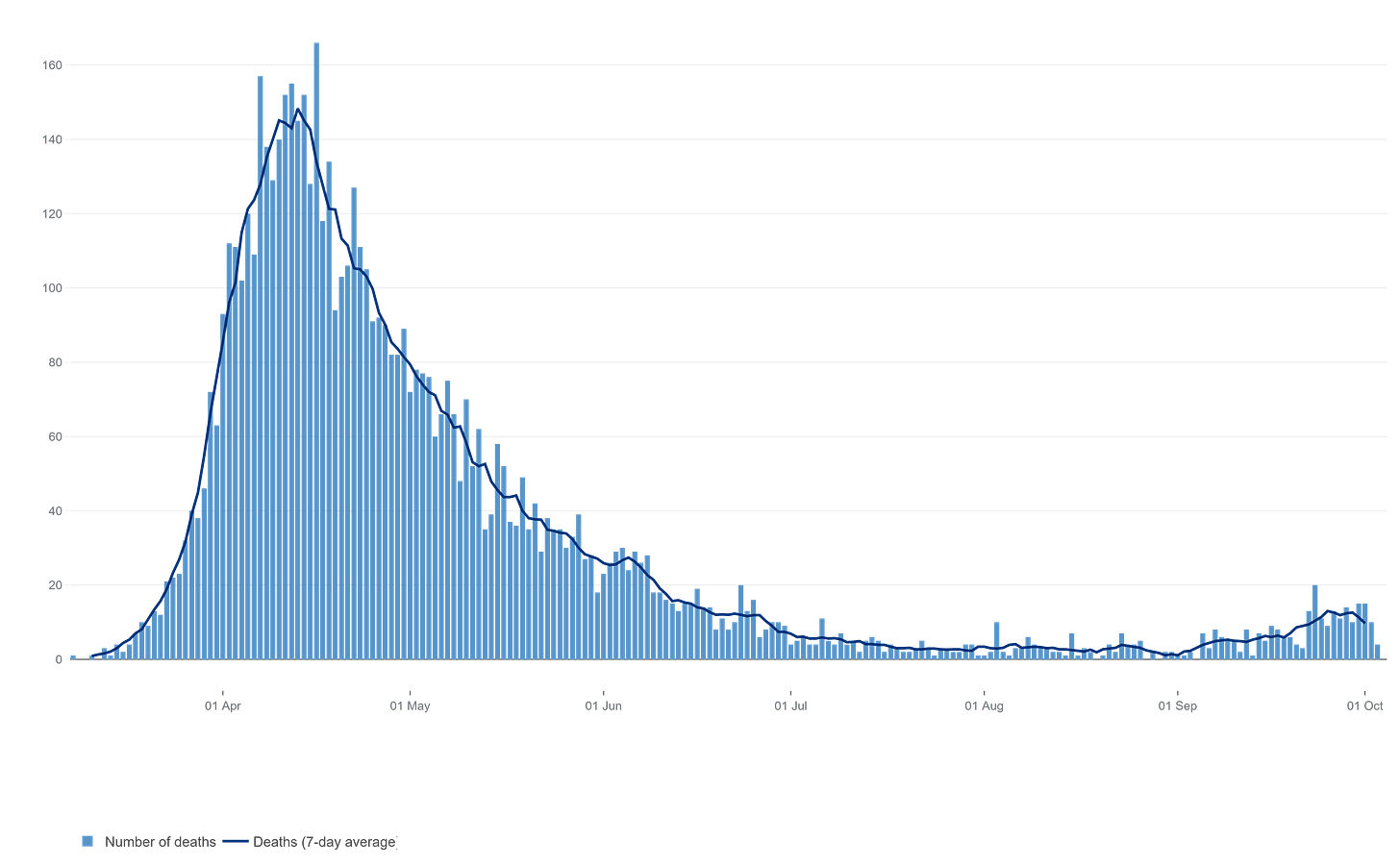 Deaths in the North West since the start of the pandemic of people who had had a positive test result for COVID-19 and died within 28 days of the first positive test. Source: PHE.
Asda brothers | In 2001, Zuber and Mohsin Issa were the owners of a single petrol station on Brandlesholme Road in Bury. Now the brothers, aged 48 and 49, own more than 5000 of them, across Europe and the US, and have just bought Asda for £6.8 billion. The secret of their success has been turning forecourts into retail destinations where motorists can buy a wider range of food and coffee and do some of their weekly shop. Their company EG Group is still headquartered in the brothers' hometown of Blackburn, and last year reported £18 billion in sales.
Spatial framework | The latest draft of the Greater Manchester Spatial Framework (GMSF) is supposed to be published today, the grand plan for homes, jobs and the environment in GM. Previous drafts of the GMSF have caused significant controversy, most notably its allocation of green belt land for development. The MEN reports that the latest version features a 60% reduction in proposed green belt development compared to the initial 2016 draft. If the councils can agree on the new draft this month then we are expecting a public consultation in November, submission to central government next year, and finally adoption in 2022.
Things to do this week
Ghosts | The postponed Greater Manchester Fringe Festival has begun and will be putting on comedy, music and theatre through October and November. And not all of it is online! One in-person event is by New York entertainer Mister Dusty Rose, who is hosting a Ghost Show at Antwerp Mansion in Rusholme. Rose invites you to an "evening of history, mystery, and mind reading in this modern take on a Victorian Ghost Show." The shows start on Wednesday and can be booked here.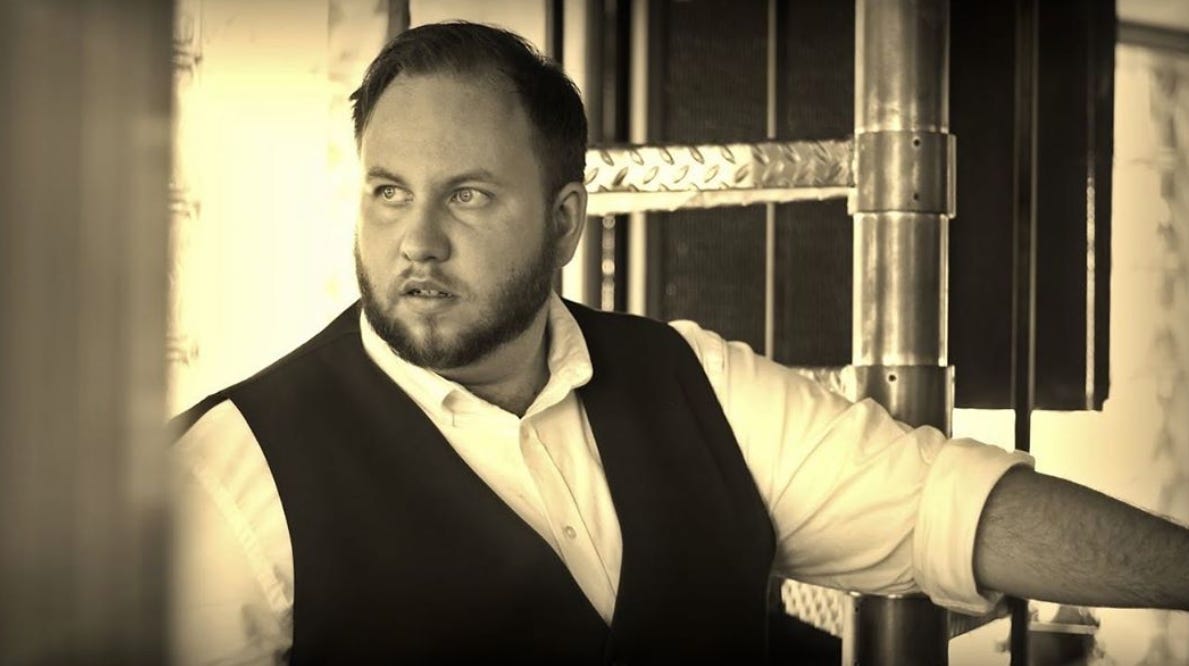 New York performer Mr Dusty Rose
Film | This week HOME is showing films as part of the BFI London Film Festival 2020, and the only one that isn't sold out yet is "Time", a Sundance-winning documentary about a Louisiana woman's 20-year effort to get her husband released from prison. The Hollywood Reporter called Garrett Bradley's film a "concise and impressionistic account of love and waiting, of the American justice system and the fight to keep a family whole." You can book your tickets here.
Theatre | Also as part of the Fringe Festival, Saturday sees two performances of a new play by students from the University of Salford. 'It's Complicated' is a series of monologues and duologues "exploring the complications of life in a changing world," the festival says. "The show focuses on topics, experiences, and relationships that tend to go unspoken in everyday life, such as grief and disability." The show is at the King's Arms is Salford, and tickets can be booked here.
Books | Attend the Altrincham Word Fest on Thursday night via zoom as writers Tom Jenks and Sarah-Clare Conlon talk about the role of music in their work. The evening will be hosted by author C. D. Rose, who is behind a new anthology of short stories inspired by Bolton band Buzzcocks. "Love Bites is a book which set out to be about the music of Buzzcocks, but ended up becoming much more – it's about growing up, getting old, being in love, being out of love, and the joy and mystery you can find in old 7 inch singles," the festival website says. The event is free and you can register here.
To receive all of The Mill's journalism and great writing, join as a member today with 10% off