Discover more from The Mill
Award-winning local journalism from Greater Manchester's new quality newspaper - join our free mailing list or support us as a paying member
Over 39,000 subscribers
My long afternoon trying to verify a viral video of a racist attack on a Chinese takeaway
It's been called 'The ugly face of corona related racism'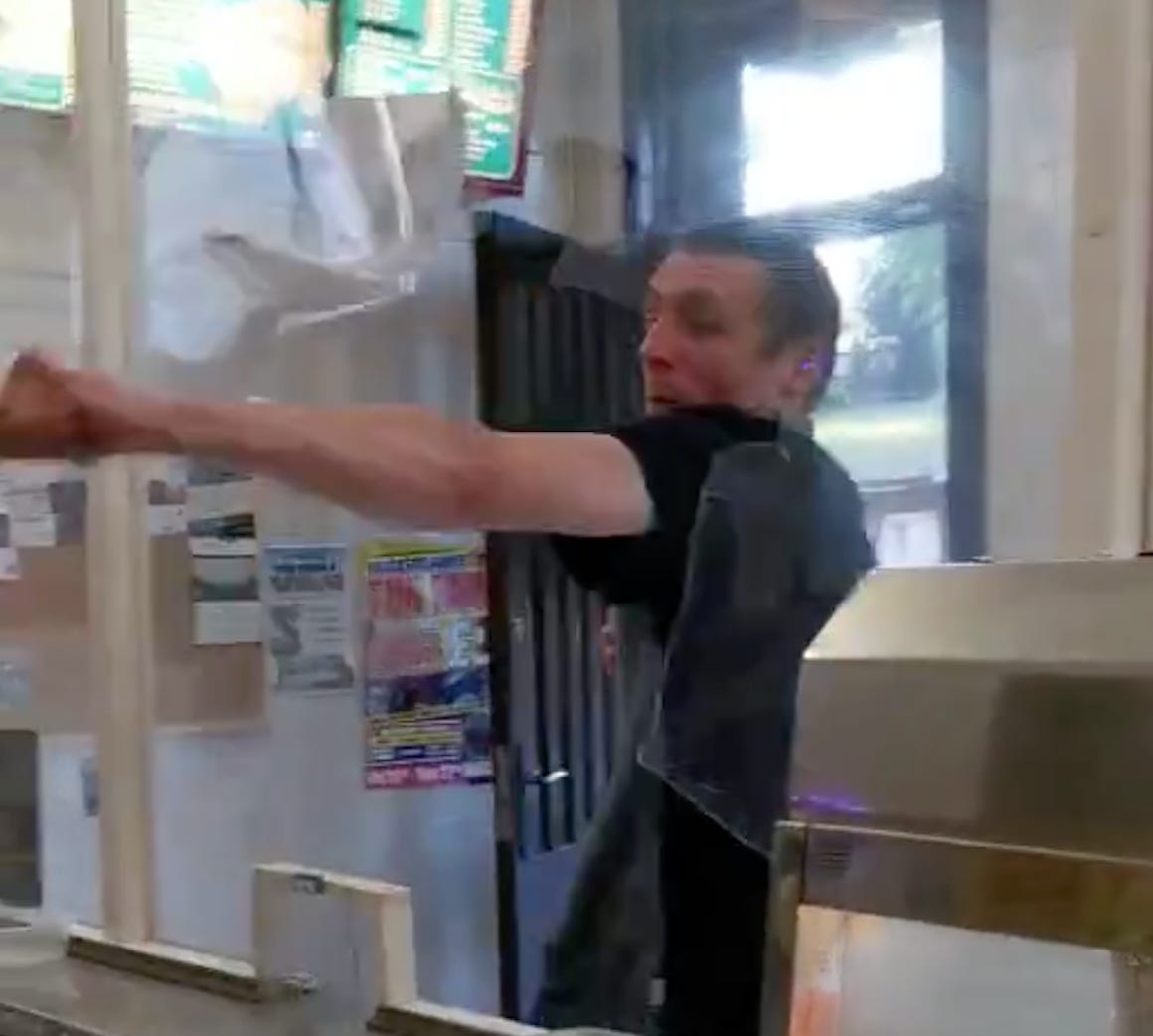 There's a video blowing up on Twitter, showing a man smashing up a Chinese takeaway, seemingly terrorising the staff by punching violently through the perspex counter screen. It's a terrifying clip, and unusual for having been shot from behind the counter, so you can see the man's face very clearly as his fist repeatedly shatters bits of the plastic separating the shop's staff from customers.
It was tweeted out on Wednesday by a university academic called Dr Adam Elliott-Cooper, but it really started picking up steam yesterday, helped by retweets from George Galloway and Labour shadow minister Karl Turner. At time of writing, the video has had almost 4,000 retweets and been watched more than 250,000 times. Elliott-Cooper said the video showed a racist attack on a Chinese takeaway in Blackburn. His tweet is embedded below.
On the face of it the tweet had a solid source. Elliott-Cooper works at the University of Greenwich, where he researches anti-racism and British policing. He got his doctorate from Oxford and has worked at the University of Warwick and King's College London. He's also on the board of The Monitoring Group, a group that tracks incidents of racial violence.
Karl Turner MP, a lawyer and Labour shadow minister for legal aid, retweeted the video, saying: "Very much hope the police have managed to identify this suspect. Looks like Racially Aggravated Criminal Damage from this clip @LancsPolice. Very serious matter." Another Labour MP, Sarah Owen, made the link to anti-Chinese prejudice resulting from the pandemic, tweeting that the video shows "the ugly face of corona related racism". Elliott-Cooper made the link too, telling another Twitter user that "racist attacks on East Asian people has escalated massively since the lockdown." He added that the attack took place "about two weeks ago."
I'll say from the outset: I invested most of my afternoon yesterday peering at the exteriors of Chinese takeaways in the Greater Manchester area on Google Street View to try to establish what the story behind the video is. If you just want to know the outcome, scroll down to the bottom of this post. For the hardcore Millers, I'm going to outline how I got there, because I think it illustrates an interesting point about how much time and effort you sometimes have to invest to verify something that is spreading so effortlessly online.
Part 1: Not Blackburn
The first sign that something was amiss was in the tweet's replies. Several people tagged Lancashire Police under the video to get their attention, including from the former MP and Celebrity Big Brother contestant George Galloway, who tweeted "Arrest this man @LancsPolice". The force replied that the incident hadn't taken place in Lancashire. In a reply to someone else, they said they believed the attack was in Greater Manchester, and they had informed Greater Manchester Police.
When I contacted Greater Manchester Police at lunchtime yesterday, they told me they couldn't help unless I knew the address of the takeaway (this is fairly standard practice for a police press office). Elliott-Cooper didn't answer my tweets or emails, asking where he found the video or where the takeaway was, and he hadn't replied to other journalists asking. Reverse image searches and tools like InVID, which help you figure out if a piece of content has been shared before, all came up empty, suggesting Elliott-Cooper was the first to share this video publicly.
There is no sign of the name of the takeaway in the video. It's only 13 seconds long. You can see a red Chinese-style lantern hanging from the ceiling, and you get a good view of what the other side of the road looks like. Only a few words are spoken, which sounded to me like cries of anger or fear from a male staff member in the shop. I thought my best bet for identifying the shop was a fun fair poster on the pin-board in the background, visible in the screenshot below.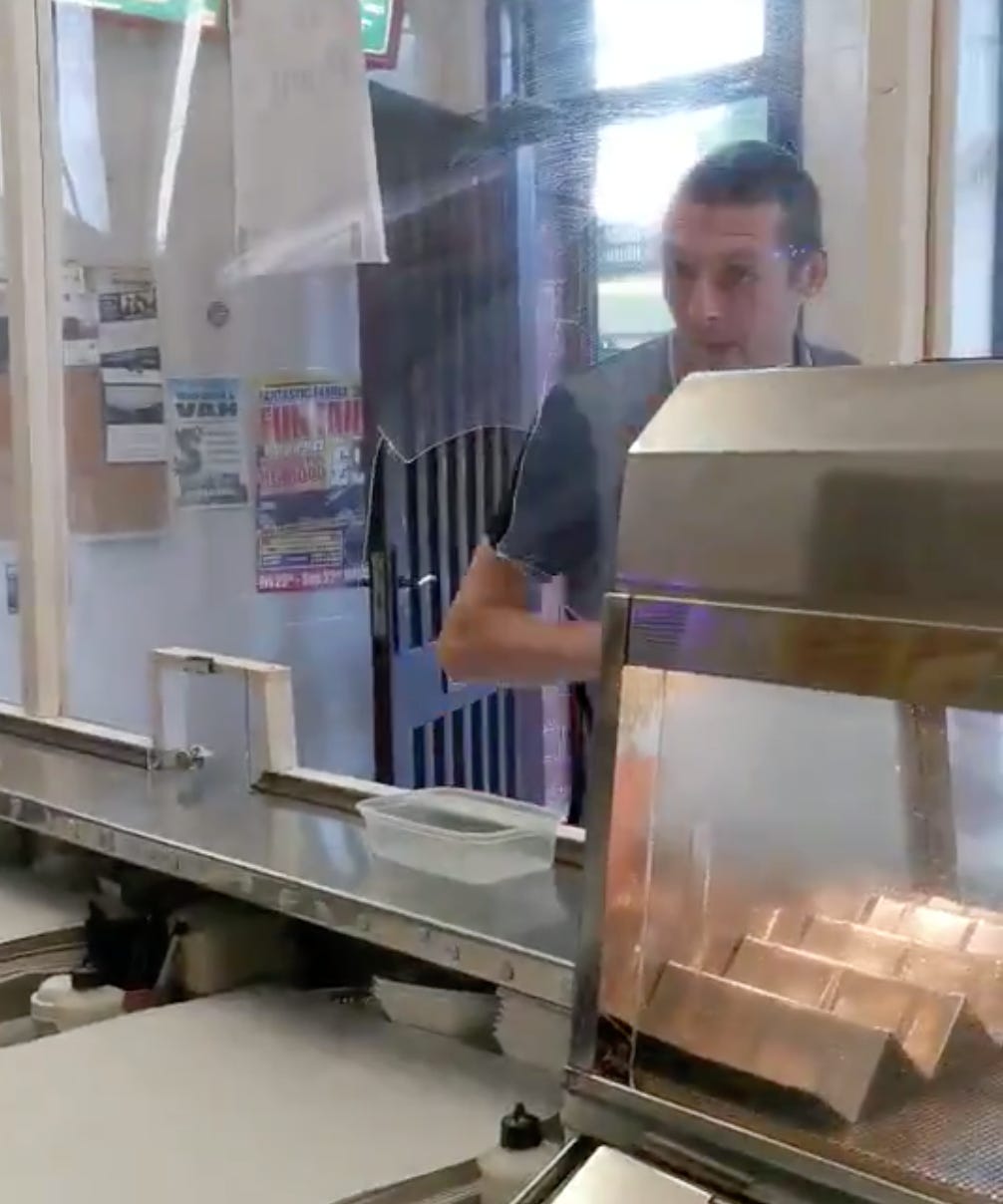 I spent about an hour googling fun fairs in Greater Manchester, but most of them had posters that looked different to this one. Finally I got a good still of the video which allowed me to see the fun fair dates. Using those, I searched for fun fairs events listed on Facebook with those dates, and found a poster that looked very similar or identical: Heywood Fun Fair.
As most readers of The Mill will know, Heywood is a small-ish town about 7 miles north of Manchester, close to Rochdale and Bury. Assuming that fun fairs are usually pretty local events, and therefore that posters for Heywood's fun fair would probably only be advertised in Heywood itself, I started lurking around the town on Google Street View, trying to find Chinese takeaways or chip shops with the shape of windows and the type of door visible in the video. None of the ones listed prominently on Yell or Trip Advisor matched the video, and the grassy bank with trees visible across the road in the video was easy to check for.
Eventually I got there. Someone on Facebook had asked for Chinese takeaway recommendations in Heywood and one of the suggested restaurants was Summit Chippy, on Bury New Road. The takeaway has a minimal online presence, but the doors and windows in their Google listing photos matched the video, the green menu on the wall looked the same, and the grassy bank opposite confirmed it. Confirmation also came from regulars at Summit Chippy, one of whom found me on Twitter after she had seen the video posted in a local Facebook group.
I gave Summit Chippy a call.
Part 2: 'Nothing racist'
The first time I called Summit Chippy, a male member of staff directed me to the police. "We really don't want to talk about it," he told me, describing what happened as "a bad day". When I rang back later to try to speak to another member of staff, I spoke to a woman, who told me she was present during the attack, which she thinks happened on Monday, but possibly Sunday.
She described the man in the video as a "drunkard" who was "messing about" in the shop, being rude and causing a scene. Another customer had tried to get him out of the shop, and the staff called the police, but they were "taking ages" to arrive. She thinks he hung around for about 20 minutes.
I asked her if he said anything racist to her or the other staff, all of whom she described as Chinese. "No, no, no he didn't" she said. "He was just drunk." She told me she thought he was "trying to show he's a tough guy". He said "nothing racist" she said again, repeating the fact that he was "just drunk."
Of course, it's possible that the man's motive for attacking the shop was racist, even if he didn't say anything bigoted or make any reference to race. Sadly, immigrant businesses are frequently the target of harassment and anti-social behaviour, and each time it happens it must be terrifying for the staff. But it's important to establish what actually happened when an incident like this goes viral, and to try to find out whether the original tweet was based on a first hand account.
The woman I spoke to says none of the staff got hurt. One of her colleagues shot the video, but she said she doesn't know how it made its way to Elliott-Cooper. She assumes it was shared privately to friends, and spread that way. Again, at the end of our short call, she said there was "nothing racist" about the incident.
Part 3: Still spreading
Since I emailed Elliott-Cooper last night, telling him about my conversation with the woman in the shop and asking again what he actually knew about the attack, the video has been watched another 150,000 times and has received around 1000 more retweets. He did post a reply to his tweet, correcting the location of the takeaway, again wrongly ("I've now been told the video is from Bury (Greater Manchester), not Blackburn."), but he hasn't told his followers how much or little he knew about the attack shown in the video. Just before I published this post, he sent me an email, saying:
"This case is more complicated than you understand, and has effected more than one or two individuals, who are responding to this attack in different ways. They are being supported by anti-racist and Chinese community organisations that have been challenging this kind of violence for over 30 years.

I am not going to comment on your article, and I will not be taking the video down."
He didn't say where he found the video, nor why he got basic details like the time and location wrong. And he didn't tell me what had given him confidence to describe the video in the way that he did. At the very least, we can conclude that the incident isn't as clear cut as his tweet made out, and that he isn't keen for his followers to be aware of that nuance. I'll update this post if he replies with more details.
This kind of thing happens all the time on social media. Someone shares a video they don't know much or anything about, confidently attaching emotive details that spread virally on platforms like Twitter. Very quickly the video reaches a massive audience, before anyone has been able to verify it. As the aphorism often wrongly attributed to Mark Twain has it, a lie can go round the world while the truth is still pulling its boots on.
In this instance it is notable that the sharer was a professional researcher, whose university job presumably requires high standards of evidence handling. It's not surprising that so many people felt comfortable sharing a video from someone like Elliott-Cooper. But people share unverified videos all the time, especially ones that allow them to make a political point they wanted to make anyway. Most people don't have time to spend a few hours checking out a video they find, and there are fewer and fewer journalists paid to do that kind of work.
Greater Manchester Police told me this morning they have identified the incident in their database, but can't say at this point whether any arrests have been made. I'll update when they get in touch.
UPDATE, Saturday June 6: The police have been in touch with the following statement:
At 8.05pm on Saturday 30 May 2020, police were called to reports of criminal damage at a business premises on Bury New Road, Heywood. Officers attended. An investigation is underway. No arrests have been made.
UPDATE 2: Monday June 8: A second update from the police, who say that this matter will be dealt with by way of restorative justice, as per the wishes of the victim. They say the victim has told officers they do not believe the attack was racially motivated, and add: "Following enquiries, a man aged 32 has been identified and spoken to by police."
To get more stories like this, join The Mill's email list below. The Mill is a new quality digital newspaper covering the Manchester area, and launching in full soon. We send in-depth reporting and useful news briefings straight to your email inbox.